The combination of thin pasta, prawns and chillis is a classic one, and it pops up all over the place. This particular version was invented on the fly by me when I cooked it for my partner one evening in a welcome reversal of roles. The only deviation from Italian authenticity comes with the optional addition of Parmesan, which is something the late Antonio Carluccio was at pains to tell us is simply not the done thing with seafood.
Caution … this was invented by a lady with a strong stomach for spice. That's all I am saying on the matter.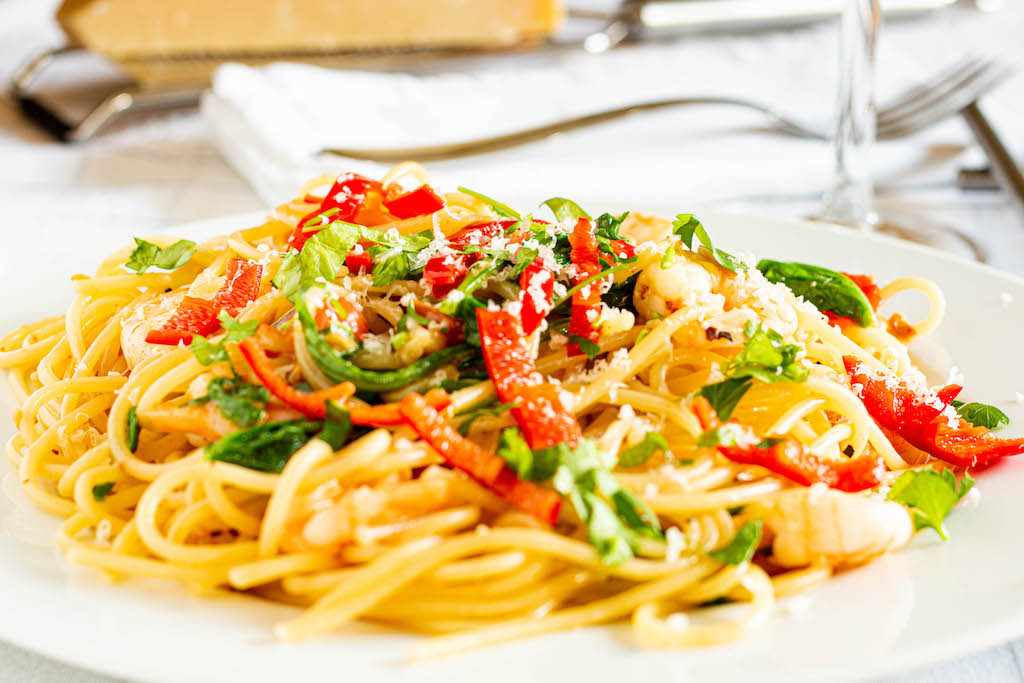 Print Recipe
Linguine di gamberi e peperoncino Ann Marie
Ingredients
200g dried linguine or spaghetti

1 tbsp olive oil

5 cloves of garlic, sliced

Pinch of chilli flakes

Juice of half a lemon

12 pomodoro piccolo, halved

150g raw king prawns (see notes)

1 handful rocket leaves

2 red chillies, seeded and sliced

1 tbsp fresh parsley, chopped

1 tbsp Parmesan, grated (optional)

Sea salt and freshly ground black pepper
Instructions
1
Cook the pasta per the packet instructions (usually 10 mins in rolling, boiling water).
2
While the pasta is cooking, heat the oil in a frying or sauté pan. Fry the garlic with the chilli flakes gently for 5 mins, taking care not to burn. Add the lemon, tomatoes and raw prawns (see notes), and cook until the prawns are done.
3
Toss in the rocket and mix through. Season.
4
To serve, drain the pasta and mix thoroughly with the sauce. Portion into bowls and sprinkle the raw chillis over. Cast over with fresh parsley. Add a sprinkle of Parmesan if liked (but don't tell the Italians).
Notes
If your prawns are pre-cooked, leave them out and add them only at the very end to warm through.