If you want to find out about the World's only mackerel war (no shots fired), and the blockade of Peterhead Harbour, which cost an Icelandic skipper dome £400,000 in lost catch, then check out our piece of grilled mackerel.
This beautiful marinaded mackerel dish comes from the kitchen of Raymond Blanc. He has cooked this on television and couple of times, and I eventually got around to making it. It's gorgeous, and super healthy. No carbs.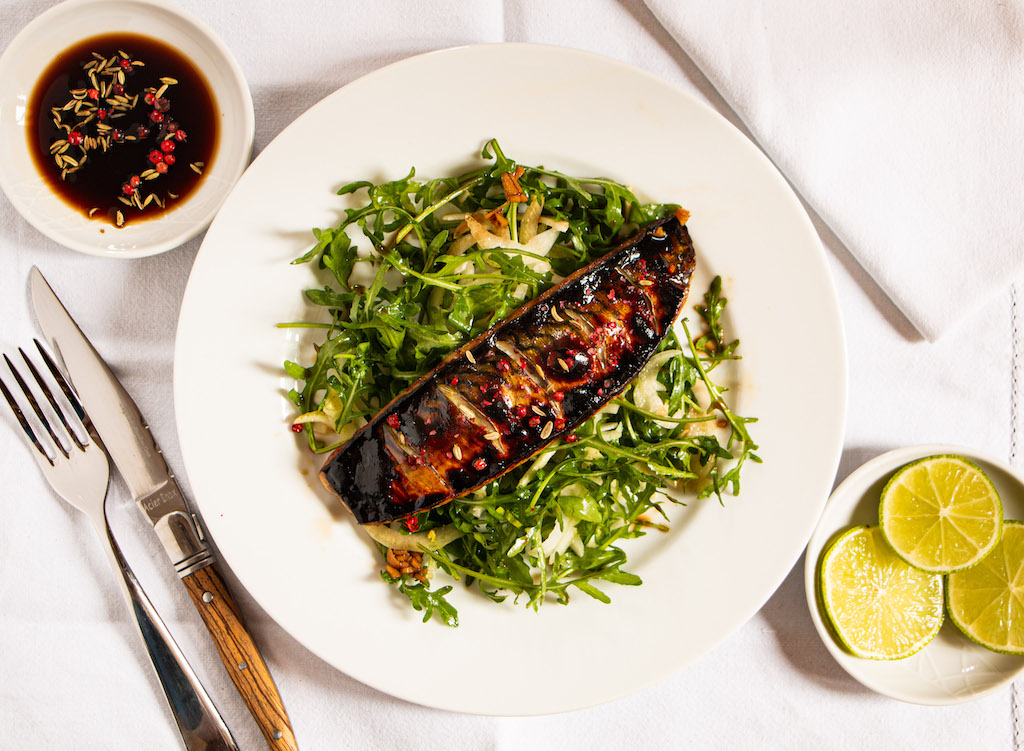 Print Recipe
Grilled mackerel with soy lime dressing
Ingredients
For the mackerel:

250ml cider vinegar, or white wine vinegar

250ml water

5–6 coriander stalks

40g caster sugar

35g red onion, finely sliced

Half tsp whole pink peppercorns

3–4 lemon slices

2 whole mackerel, filleted, pin bones removed

1 tbsp oil

For the soy and lime dressing:

1 tbsp soy sauce

1 tbsp water

1 lime, juice only

1 tsp fresh root ginger, peeled, finely diced

Half tsp dark muscovado sugar

For the fennel salad

1 tsp fennel seeds, soaked in water for 2 hours, drained and toasted in a dry pan

1 fennel bulb, finely sliced on a mandoline, slices soaked in ice-cold water for 20 minutes, drained

1 tbsp olive oil

½ lime, juice only

1 bunch rocket leaves

2 pinches sea salt

1 pinch cayenne pepper
Instructions
1
For the mackerel, heat the cider vinegar, water, coriander stalks, caster sugar, red onion, peppercorns and lemon slices in a medium saucepan over a medium heat. Heat the mixture until just warm, then remove from the heat. Transfer the contents of the pan to a flat, shallow container and set aside to cool.
2
When the mixture has cooled, place the mackerel fillets into the container, flesh-side down. Set aside to marinate for 20 minutes.
3
For the soy and lime dressing, combine all the dressing ingredients in a small pan and gently heat through until the sugar has dissolved. Set to one side.
4
Preheat the grill to its highest setting.
5
When the mackerel fillets have marinated, remove them from the marinade and pat dry with kitchen paper. Make several diagonal scores in the skin, going across the length of each fillet to stop them from curling up during cooking.
6
Brush a baking tray all over with oil. Arrange the mackerel fillets onto the greased tray, skin-sides facing upwards. Place under the grill and cook for 4-5 minutes, or until the skin is crisp and the flesh is cooked through.
7
For the salad, combined. all the salad ingredients in a large bowl.
8
To serve, divide the fennel salad equally among four serving plates. Place a grilled mackerel fillet on top of each portion. Spoon the salad dressing around the edge of the plate. Scatter over the remaining toasted fennel seeds.