Hähnchenschnitzel is the chicken version of the veal-based Wiener schnitzel. It is a breast of chicken, hammered flat, breaded and fried.
It origin is one of the most complicated things anyone might care to dissect, and it is completely confused by the simple fact that it comes from the Tyrollean Alps, which is an area that straddles the border of modern-day Italy and Austria. The problem is that when schitzel was coming to the fore, neither Austria nor Italy existed.
In Milan, which lies in Northen Italy, just south of the Alps, there is a food tradition of 'alla Milanese,' which relates, among other things, to fried, breaded meat, and if you go to almost any small restaurant in that area, you will run across 'pollo alla Milanese,' which is exactly the same thing as hähnchenschitzel.
The idea of schnitzel may have taken on by the Austrians after an adjutant to the emperor Franz Joseph I of Austria, Joseph Radetzky von Radetz, was tipped off by Count Attems in 1857 on a dish described known in Austria as Italien Tafelt. This appears to be analogous to the veal-based Wiener schnitzel. But, notably, breaded and deep fried 'Backhendl' (fried breaded chicken) is recorded in Austria as long go as 1719, although these appear to have more in common with KFC and nuggets than flat, fried escalopes.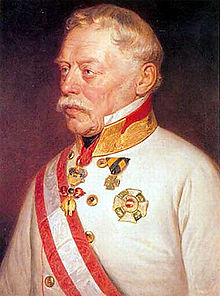 As we said when we covered Wiener schitzel, there is nothing to be gained from working out where schnitzel of any kind came from. It is 'middle European,' and that is the end of it.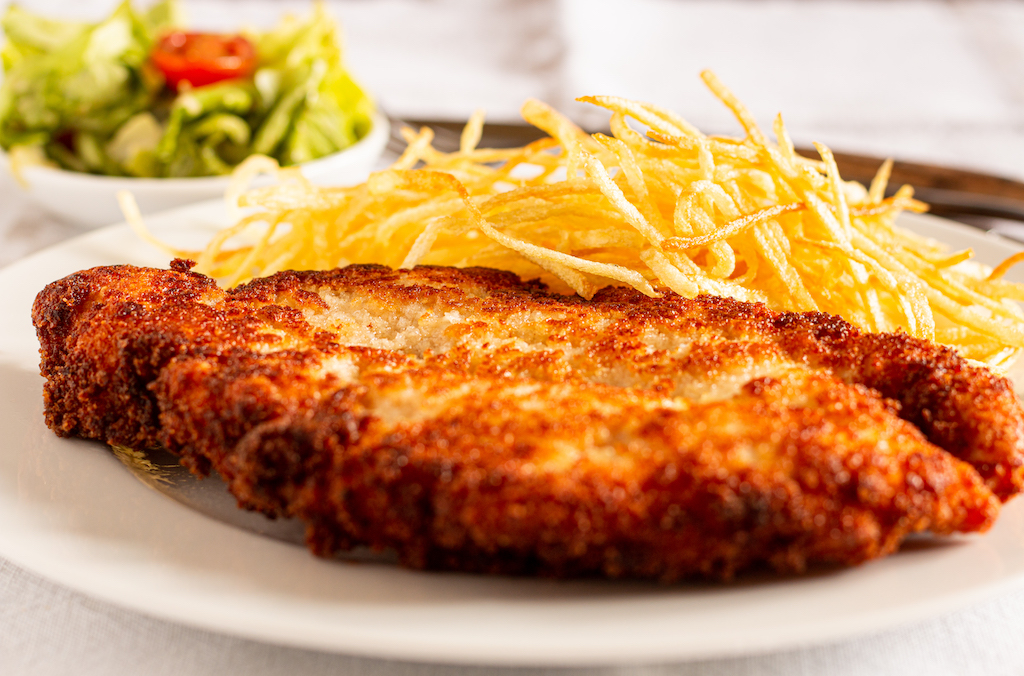 Print Recipe
Ingredients
2 skinless chicken breast fillets, hammered to 3mm thick (do not make any holes)

2 eggs

50g tbsp plain flour

50g fresh white breadcrumbs, dried in an oven and re-blitzed, or fresh white breadcrumbs frozen and defrosted (both will be sufficiently dry)

75g lard, goose fat, duck fat or ghee (un-clarified butter will burn, and oil does not belong here)

1 lemon, cut into wedges

Salt and freshly ground black pepper
Instructions
1
Season the chicken on both sides with salt and pepper. Place flour and breadcrumbs onto separate flat plates; beat the eggs together in a bowl using a fork.
2
Coat each schnitzel on both sides in flour, then dredge through the beaten eggs, ensuring that no part of the schnitzel remains dry. Lastly, coat in the breadcrumbs and carefully press down the crumbs using the reverse side of a fork.
3
In a large pan, melt enough fat for the schnitzel to be able to swim freely in the resulting oil.
4
When the fat is so hot that it hisses and bubbles up if some breadcrumbs or a small piece of butter is introduced to it, you are ready to put the meat in. Depending on the thickness of the meat, fry for between 2 minutes and 4 minutes until golden brown. Turn using a spatula taking care not to damage the coating. Fry on the other side until similarly golden brown.
5
Serve with a lemon wedge to squeeze over.