You do not need to spend long in the food section of Twitter before someone gets triggered by a pie that is not a pie. According to the Twitterati, a pie needs to be encased on all sides by pastry. It is not acceptable to fill a pot with filling, top it with pastry and call it a pie.
Certainly, the travesty served to me at a local pub in the Peak District ought to be held up as an extreme example of what not to do: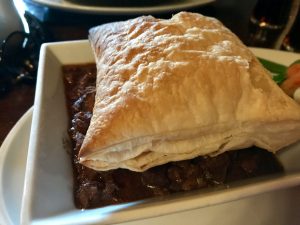 That said, as a quick way of making a dish that has half the carbs of a normal pie, the pie-in-a-dish has some merit. The question is what to call it. I think 'pot pie' is the way to go.
This recipe uses leftover roast pork, and is adapted from a dish by Kevin D Weeks of The Spruce Eats. We make pot pies on Mondays after roast lunch Sundays, and make sure we have enough roast potatoes and sprouts left over to make a bubble and squeak to go with them.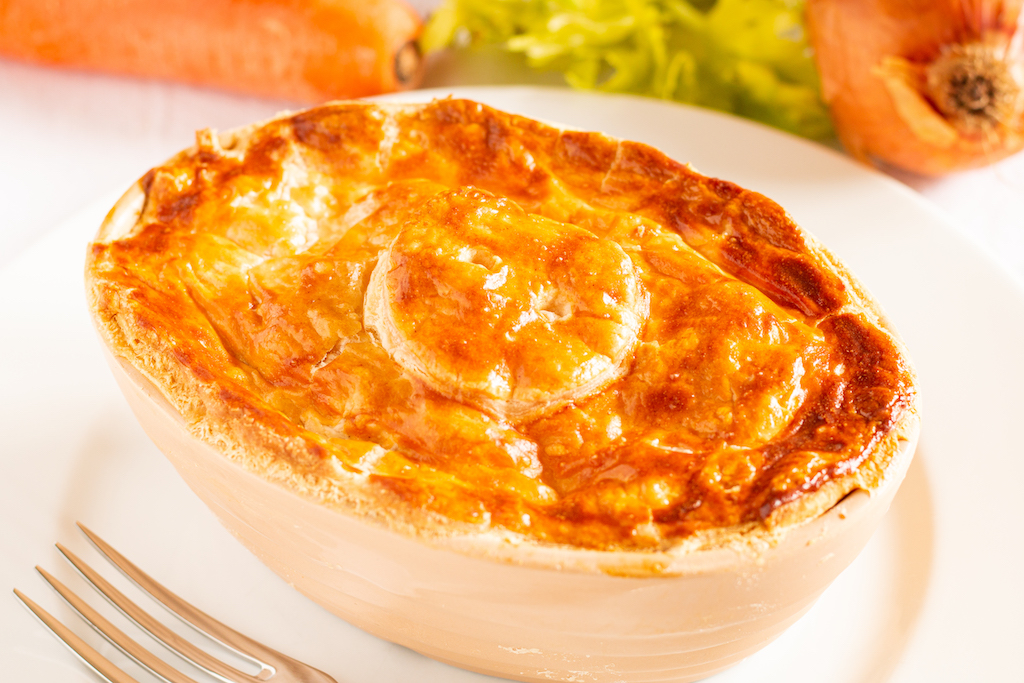 Print Recipe
Ingredients
375g ready-rolled puff pastry

50g butter

Half an onion, finely chopped

1 stick of celery cut into a mirepoix (1cm dice)

1 carrot peeled and cut into a mirepoix

Half a tsp each of fresh chopped marjoram and thyme

1 clove garlic. finely chopped

1 Knorr chicken stock cube dissolved in 200ml hot water (or use pork/ham stock if you have it)

2 tbsp plain flour

1 tbsp dry white wine

400g leftover roast pork cut into 1cm pieces

Small handful of frozen garden peas

1 egg, beaten

Sea salt and freshly ground black pepper
Instructions
2
Heat half the butter in a saucepan and gently fry the diced/chopped vegetables and herbs until softened (10 mins). Add the garlic and cook for another minute. Remove to a bowl.
3
In the same pan, melt the rest of the butter and add the flour to form a roux. Cook the flour and butter for a minute or so before adding the stock. Whisk into a very thick velouté. This will be way thicker than any normal velouté, but this is correct. Stir in the wine and season.
4
Add the pork, peas and vegetables to the velouté, mix well and portion into 3 large ramekins or put the whole lot in a gratin dish.
5
Turn the rolled pastry out onto a floured surface and made sure you have enough area to cover the 3 pie dishes. Cut the pastry to just target than the pie dishes and drape over. Pinch the pastry to the edge of the dishes and trim off with a knife. Make two holes in the top to let steam out and brush over with beaten egg.
6
Put the finished pies onto a baking sheet and bake in the oven for 40 mins until golden. Remove and allow to cool before serving straight from the dishes.
7
As this dish is made with leftover roast pork, it makes sense to serve it with bubble and squeak made with leftover roast potatoes and sprouts.