For such a simple dish, parmigiana di melanzane (often called 'eggplant parmesan' by you know who) causes a disproportionate amount of fuss. Sicily, Naples and Parma all lay claim to it. The invention stories are manifold, and are mostly based on fantastic-sounding stories about where the word 'parmagiano' came from. One such tale suggests that the famous cheese is names after 'parmiciana,' which are the slatted strips used to make window shutters, layered in the same way as the aubergine slices in parmigiana di melanzane. Another suggests that the cheese is named after 'petronciana,' which is the Persian word for aubergine (given that the vegetable made its way to Italy from India via Persia). Regardless of which version of events you prefer, it is clear that the combined fates of Parmesan and aubergines are inextricably linked via parmigiana di melanzane.
Parmigiana di melanzane was first written down in 1733 by high-end Puglian cook Vincenzo Corrado in his book Cuoco Galante. The corrode version used courgettes rather than aubergines.It took until 1839 for Ippolito Cavalcanti's Cusina Casarinola co la Lengua Napolitana to add the eggplant.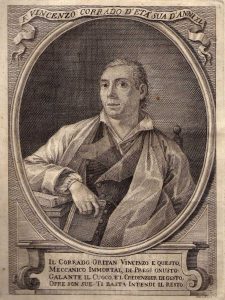 The recipe given here is a synthesis of many sources to hopefully provide an authentic version. Many recipes call for a sauce made of fresh tomatoes. But if you look carefully at those, it is clear that decent canned, chopped tomatoes will give the same result as cooked down San Marianos in a fraction of the time. Some recipes additionally dip the aubergine slices in beaten egg after the flour.
Print Recipe
Ingredients
4 aubergines

Bowl of flour

Cooking oil

2 tins chopped tomatoes (800g)

1 tbsp olive oil

Dash of Worcestershire sauce

300g parmesan, grated

400g fresh mozarrella, drained, squeezed and diced.

Sea salt and freshly ground black pepper

Basil leaves
Instructions
2
Heat enough cooking oil in a high-sided sauté pan to shallow-fry the slices aubergines
3
Work quickly to peel and slice the aubergines into 2–3mm slices. Flash them under a tap and then coat them in the flour. Fry the slices in batches and set aside on some kitchen paper.
4
While you are frying the aubergines, heat the tomatoes in a saucepan with a dash of olive oil and a dash of Worcestershire sauce. Simmer to reduce a little (10 mins) and season to taste.
5
WIth everything prepped, smear some of the tomato sauce in the bottom off a baking dish, and then begin layering with overlapping slices of fried aubergine, parmesan, mozzarella and tomato sauce. Alternate the layers and finish with tomato and cheese.
6
Season the top a little and place in the oven for 30 mins. If it is not golden at the end, finish under a grill.
7
Scatter over with fresh basil leaves.