For those not familiar with Flammekueche (aka tarte flambée), it is simply a bacon and onion pizza made with fromage frais.
While Flammekueche is probably best known as Alsatian tarte flambée, it appears to have origins that are more Germanic than French – certainly a shade more Germanic than the Alsace-Lorraine classic quiche Lorraine.
Food hounds tell us that tarte flambée started out life in the Baden-Württemberg area of Germany as flammekueche. This region directly borders Alsace. Alsace, of course, is famous for changing hands more times than a five quid note, so the cuisine of the area often goes by both French and German names.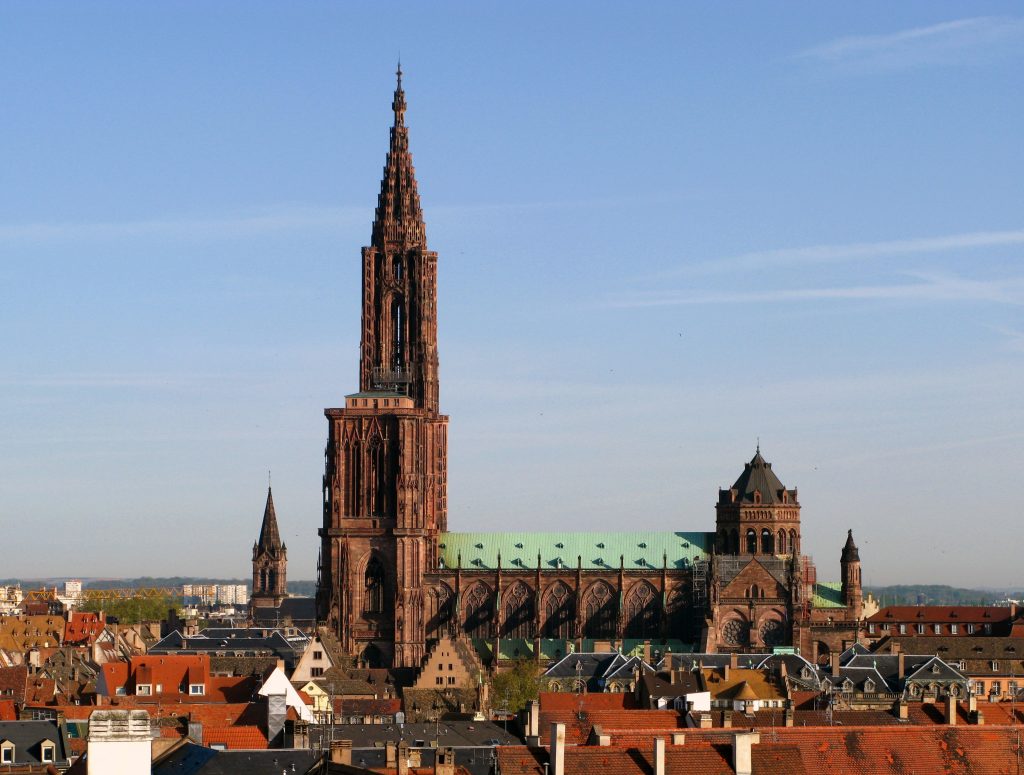 In the early days, Flammekueche was a simple domestic dish for peasants. In the 19th Century, German inn keepers started making it to keep drinkers in the taverns. What follows was a period of war and land swaps that bounced this specialist form of pizza over the border into France.
Flammekuche/tarte flambée became super-popular in the 1960s when the new wave of German and French pizza restaurants would use a the dish to test the temperature of their wood-fired ovens. In fact, it has even been suggested that the whole idea of flammekueche is derived from German/Prussian bakers testing ovens with small pieces of dough, getting bored and sticking toppings on them as a sustaining snack.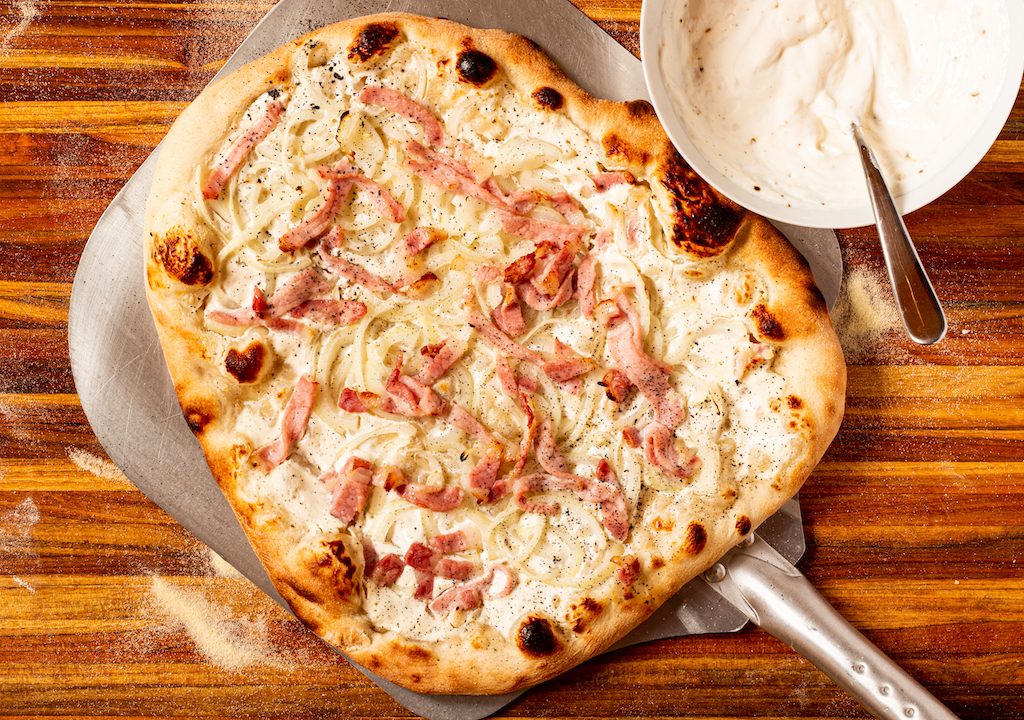 Print Recipe
Flammekueche or tarte flambée
Ingredients
1 large, fist-sized quantity of pizza dough (see notes)

2 tbsp fromage frais (note that French recipes will call for 'fromage blanc;' this is the same thing as fromage frais)

1 tbsp creme fraiche

Freshly grated nutmeg

Sea salt and freshly ground black pepper

1 medium onion, thinly sliced

3 rashers of dry-cure, unsmoked bacon, sliced (some recipes suggest smoked – I don't think it needs it)
Instructions
1
Roll or stretch the pizza dough to about 2mm thick on a floured surface.
2
Combine the dairy and season with nutmeg, salt and pepper to taste. Spread the mixture over the dough.
3
Sprinkle over the onions and bacon.
4
Bake as you would for pizza. This process varies depending on equipment. You can put it on a baking tray or pizza stone in an oven as hot as it will go for about 15 mins until done. You can use all the various of broilers and baking steel methods that do the rounds on YouTube; or you can use a pizza oven for 2–3 mins depending on oven type.
Notes
For the dough, just use your favourite pizza dough recipe. I use a Panasonic bread maker to do that bit.