The more you learn about classic French cooking, the more you realise how important demi-glace is to sauces. A traditional demi-glace is a sauce espagnole mixed 1:1 with brown stock and reduced to a near syrup. Fortified wine may be added to finish it.
This is a superficially simple idea, but its execution in a domestic kitchen is anything but.
Demi-glace is a daughter sauce of espagnole. For a home cook, this is a massive problem. Demi-glace is made simmering espagnole down to a syrup and then finishing with a meat glaze, which is a whole other batch of demi-glace reduced even further to a jelly. Madiera or sherry is added at the last moment.
The espagnole base is traditionally made by simmering brown stock with standard stock vegetables, aromatics, pork belly, white wine and tomatoes … for about a day. That 'brown stock,' known as an 'estouffade,' is a whole other bundle of trouble as it calls for bone-in beef shin, veal trimmings, a knuckle of ham, pig skin, more veg and a bouquet garni. That puppy is simmered for 12 hours.
So, from start to finish, a demi-glace requires about 3 days of cooking and half a farmyard of animal bones.
Nobody in their right mind is going to try to make a proper demi-glace at home.
However, there are ways around this. Firstly, you can buy commercially made demi-glace to make up to volume with water. But, equally, you can get a good stab at a 'demi' without buying any special ingredients. Our method for demi-glace relies on the realisation that those jelly-style stock pots are technically a meat glaze.
So, we make up a commercial beef stock with water and add a squirt of tomato puree and a splash of white wine. If we are feeling frisky, we can add a pig's trotter to the mix to obtain the pork flavour in the original. The usual vegetables are added. If that stock is reduced down a long way, then it can be finished with a Knorr beef stock pot to ape the glaze and create a demi-glace. We are not pretending that 3 hours and a pig's foot are not trivial, but this method does cut out an awful lot of bother while retaining the true sense of the sauce.
Very occasionally, we will have faffy homemade beef stock, so obviously that is used instead of commercial stock.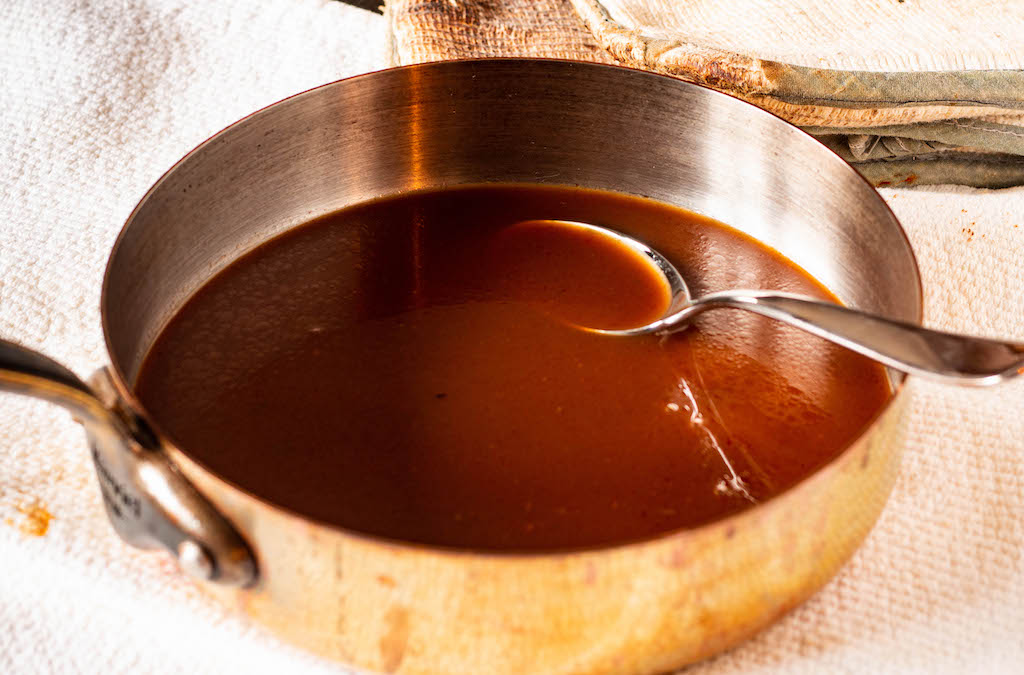 Print Recipe
Demi-glace for home cooks
Ingredients
3L beef stock

1 carrot, split

1 stick of celery, split

1 onion, halved

1 bouquet garni

3 tbsp tomato puree

2 pig's trotters

250ml white wine

2 Knorr beef stock pots (cubes will not do)

Splash of sherry (optional)
Instructions
1
Put all the ingredients except the jellied stock and the sherry in a large stock pot and simmer for about 2–3 hours until very reduced. Skim any impurities off as needed. Strain into a fresh pan, skim and add the stock jelly. Whisk in and simmer until a thick, coating consistency is obtained. Add the sherry and bubble a bit more to get some of the alcohol out of it.
Notes
It can help to have some unmolested stock left over in case the thickening step takes things a bit too far.