Pierre-Auguste Renoir lived from 1841 until 1919 and made like living from spreading pigments on canvas to make the likenesses of other people … and sometimes himself. He turned out to be quite good at it.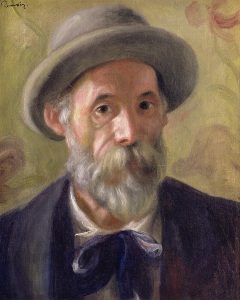 But, we are not here to talk about Monsieur Renoir – we are interested in his wife, Aline.
By all accounts, Aline Charigot (1859–1915) was a fabulous cook. Dinner at the Renoir's was legendary, and the family would hold an open house on Saturdays where guests would eat from a big dish of pot au feu. During the week, Mme Renoir would collaborate with the servants to invent new dishes. The most famous of these was her sauteéd chicken, which was heralded by the family as:
"Aline's great triumph."
We encountered the dish when it was detailed by Rick Stein in Episode 1 of his BBC TV series Rick Stein's Secret France. The recipe given here is as it was related in the show rather than taken from the accompanying book.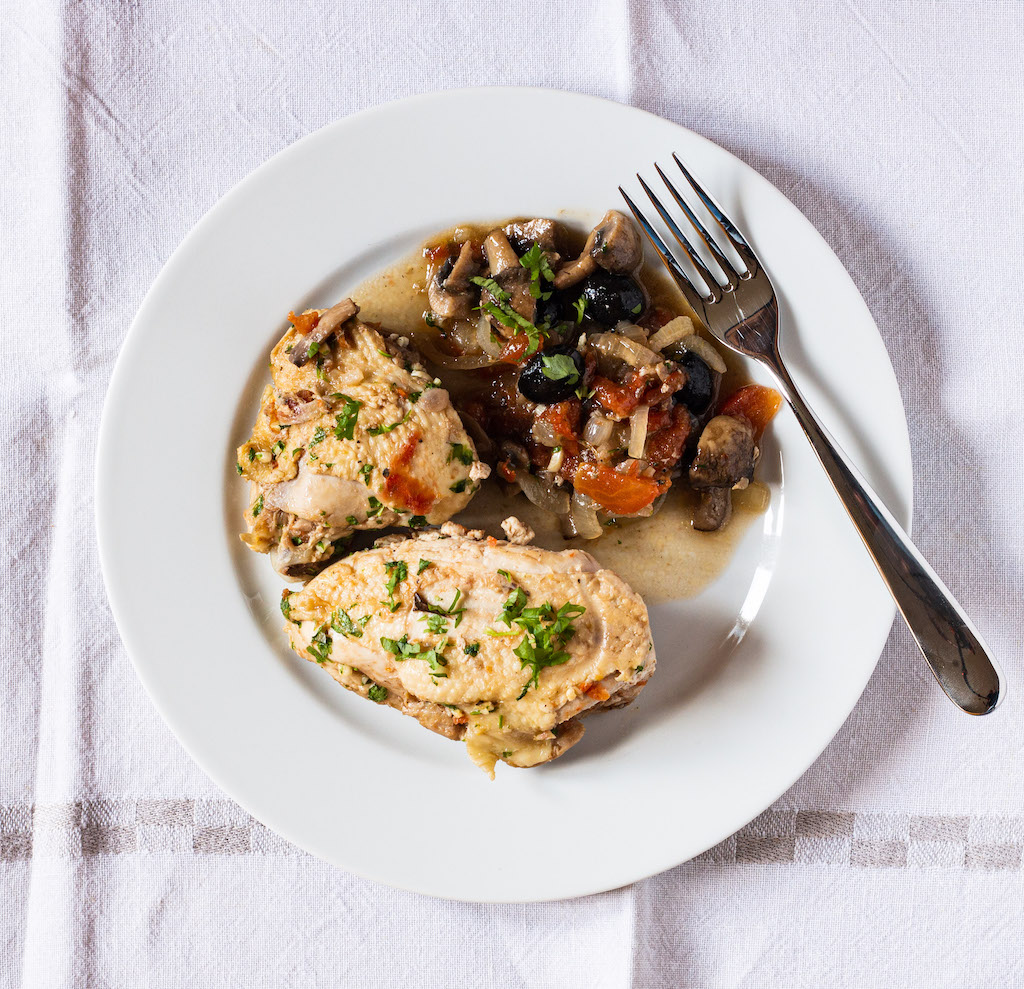 Print Recipe
Poulet sauté Madame Renoir
Ingredients
1 chicken, jointed

2 tbsp olive oil

Knob of butter

2 fresh tomatoes peeled, seeded and chopped

2 medium onions, sliced

Bouquet garni of tied parsley and thyme

Couple of cloves of garlic, peeled

150g mushrooms, roughly chopped

1 large handful black olives

2 tbsp cognac

2 tbsp parsley, chopped

2 cloves garlic, chopped

Sea salt and freshly ground black pepper
Instructions
1
Heat the oil in a large sauté pan (it really needs to be something like a 26cm straight-sided behemoth pan because it needs to cope with all the chicken pieces). Brown the chicken on all sides. Remove the chicken pieces to a plate, discard the oil.
2
Heat the butter in the same pan as above. Put the chicken back in the pan, and add the tomatoes, onions, bouquet garni and whole garlic cloves. Loosen with a little hot water, and simmer on low for 30 mins, stirring occasionally to prevent sticking.
3
Add the mushrooms, olives and cognac and bubble until the mushrooms are just cooked.
4
Right at the end, combine the chopped garlic and parsley (this is called a persillade), and sprinkle over the dish. Serve.