We are posting salt herring as a quick, simple preparation that is needed for another dish. History? Long. Fish has been salted for preservation for centuries. The Scandinavians are the modern-day masters of the salt herring, but it was the Dutch who invented a method of curing herring at sea with their secret recipe dating from 1736.
YouTube is awash with handy-looking Americans salting fish in oil-drum quantities. We needed a simple cure for a couple of herring. We simply threw a handful of Maldon sea salt in a vac bag with a gutted fish, sucked the air out and let time do its work. The result is a firm flesh, that still benefits from secondary cooking. The firmness of the fish means that I imagine it would be pretty much amazing in a salad. We made salt herring so we could do the traditional Scottish dish tatties an' herrin'.
See recipe notes on how to handle this without a vacuum packer.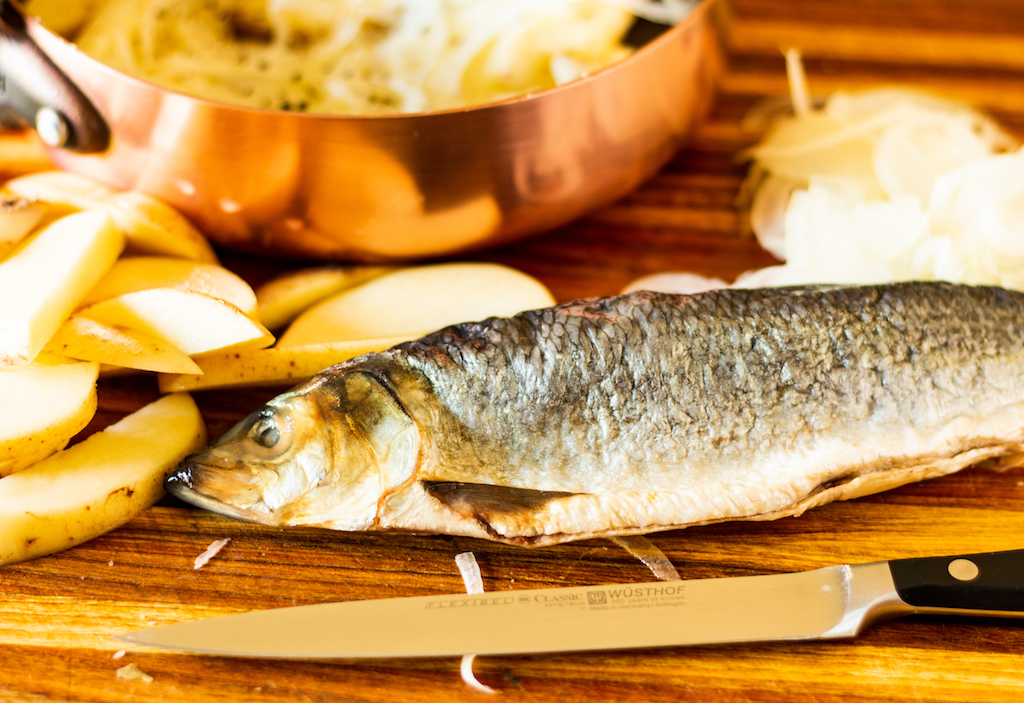 Print Recipe
Ingredients
2 whole herring, gutted

6 tbsp Maldon sea salt
Instructions
1
Seal the herring in a bag with the salt. If you have a vac-packer, then use that to get the air out too.
2
Refrigerate the fish for a week, turning over every day or so.
3
Open the bag, pour off any fluid and wash the fish briefly under a cold tap.
4
Bone the fish with a filleting knife – it will be much firmer than filleting a fresh fish. Remove the belly flap and associated bones, but leave the skin on (you will never get it off).
Notes
You can achieve vac pack without a vacuum packer. Place the cure and the target food in a ziplock bag, and lower it into a sink of water until the air is pushed out, but the opening is still clear of the water. Seal.