Who knew that the Italians have a cauliflower salad that is special for Christmas? Neither did I until I found out about the 'insalata di rinforzo' that 'reinforces' other dishes to provide some of the additional sustenance that characterises the day-long feasts of a European Christmas Day. Originating from Naples, insalata di rinforzo is often used as a 'between course' snack to entertain the palette while the next major course is in final preparation in the kitchen. The dish first appears in Ippolito Cavalcanti's 1839 cookbook 'Cucina teorico-pratica.' The dish originated with aristocracy whereby rich, exotic ingredients were used; before landing with the peasants in the classic dish we present here.
This version of insalata di rinforzo is from Ursula Ferrigno's Truly Italian, which is sadly out of print for now.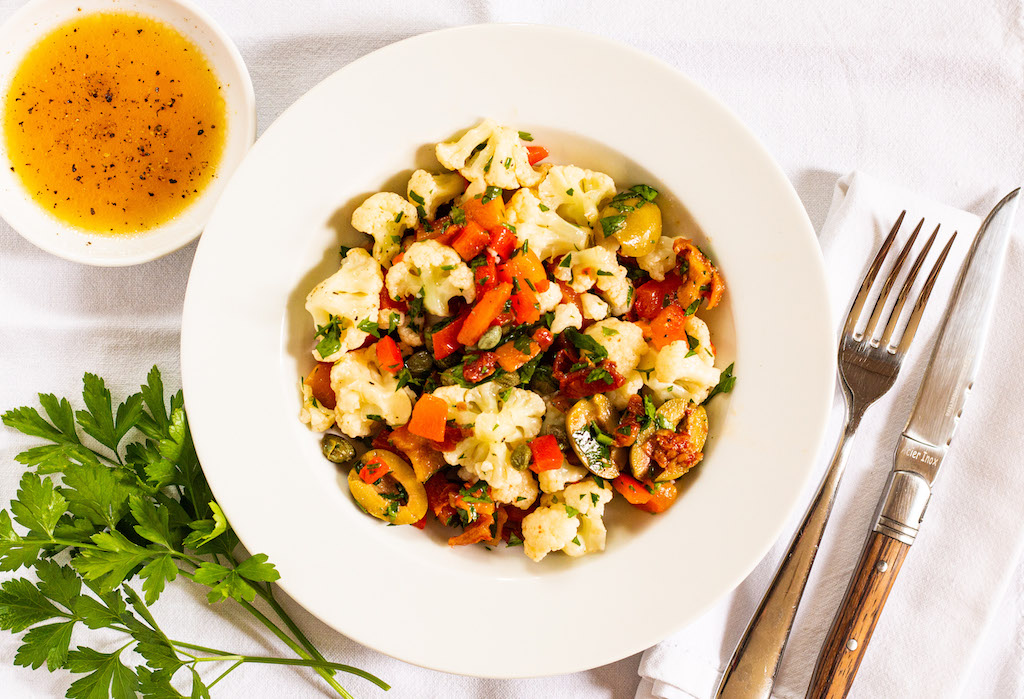 Print Recipe
Ingredients
For the salad:

1 red pepper

1 cauliflower, broken into florets

55g green olives, pitted and halved

1 tbsp capers

1 tbsp sun-dried tomatoes, roughly chopped

1 handful fresh parsley, chopped

Sea salt and freshly ground black pepper

To dress:

2 tbsp extra-virgin olive oil

2 tbsp red wine vinegar
Instructions
1
Begin by roasting the pepper. Place in an oven at 200˚C and roast for 25 mins. Peel, deseeded and chop up.
2
Next, cook the cauliflower. Put the florets in a pan on cold water, bring to the boil and cook for about 5 mins until al dente.
3
Combine all the salad ingredients in a bowl. Season to taste.
4
Shake the oil and vinegar together in a jar. Pour over the salad, mix and refrigerate for about an hour before serving.