Colcannon (possibly from the Irish 'cál' meaning cabbage, and 'ceann-fhionn' meaning white head) is a mixture of mashed potato, kale and onions. Its utter simplicity means it has been around for ever, and there are endless adaptations of it. The Scots have a version they call rumbledethumps, which swaps out the kale for white cabbage. The English have their bubble and squeak, which is essentially the same thing.
Although probably a lot older than this, there is a reference to colcannon in the diary of Wiliam Bulkely of Anglesey (probably related to William Bulkeley, MP for Beaumaris). In 1735, Bulkely made two trips to Dublin and recorded the colcannon in his journal. From there, the dish was introduced in England, and was embraced by the upper classes who probably preferred to call for the exotic sounding 'colcannon' rather than the bubble and squeak the servants were eating.
In modern-day Ireland, colcannon is a tradition for Hallowe'en when charms are hidden inside the mash. A lady finding a thimble will be forever a spinster. A ring means marriage. A coin for wealth. There was once a very peculiar custom of ladies filling socks with colcannon and hanging them on their front door in the vain belief that the next gentleman caller would marry them.
The Nosey Chef loves colcannon, and leaves the charms out for fear of breaking a tooth. He puts feet in his socks.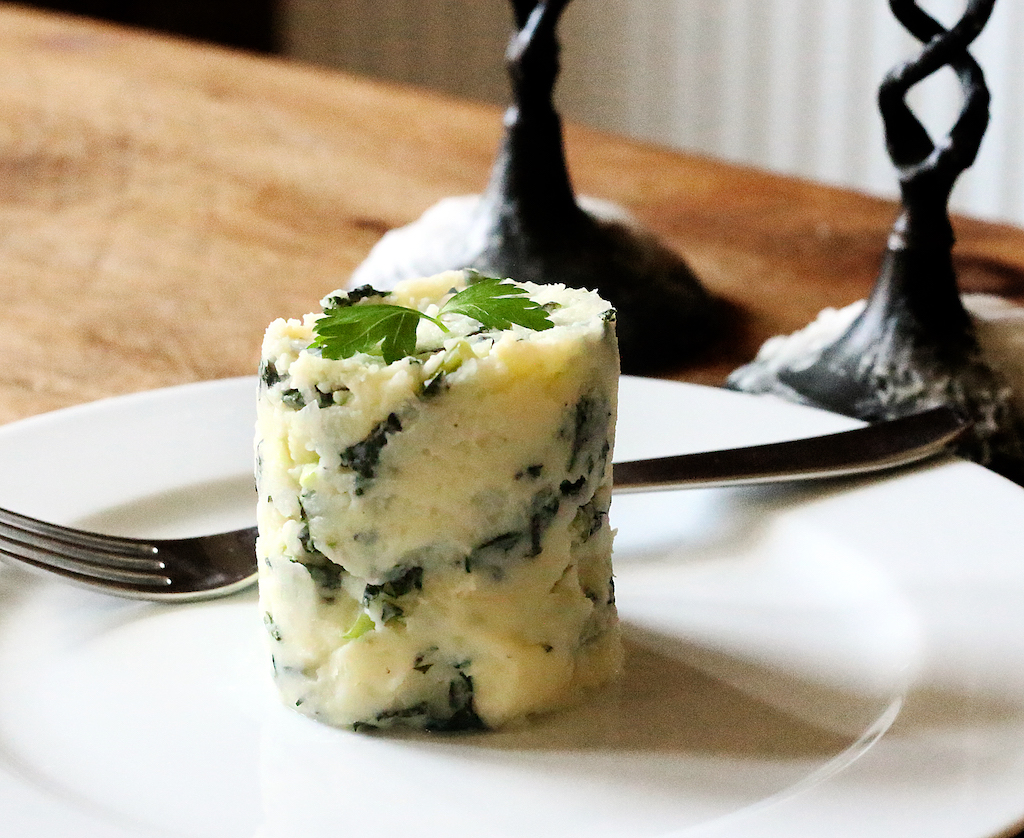 Print Recipe
Ingredients
300g white potatoes, peeled and halved

200g black kale, chopped a bit more than it might be chopped in a supermarket bag

4 spring onions, sliced

150g butter

100ml milk

Salt and freshly ground black pepper
Instructions
1
Boil the potatoes until cooked through. Drain and mash.
2
Meanwhile, simmer the kale until tender at the stalk.
3
Combine the potato, butter, milk, kale, onion and seasoning over a low heat. Colcannon demands fairly robust seasoning.
4
You can serve this as is, or you can spoon it into a gratin dish and bake at 240˚C for 20 mins to get a golden crust on it.
Notes
We have seen many variants of this dish. A Scottish recipe swaps the kale for cooked white cabbage, and drops the onion. The proportions of that are 50/50 w/w. It seems like a LOT of cabbage, but trust me. I also enjoy a version of this that uses Brussels sprouts instead of the kale.