I used to really dislike pesto. If I saw it, usually adhered to cold penne in a buffet salad bar, I would avoid its unpleasant oily grittiness. I had, for too long, filed pesto in my 'List of inedible Italian foods.' Then for some reason that may have had something to do with Jamie Oliver, I decided to sacrifice a basil plant and make my own. Like all good romances, from visceral hatred comes passionate physicality, followed by life-long love. That's how I feel about pesto.
Pesto is on record as coming from the Liguria region of Northern Italy. It's modern form, based on mashed up basil, was first committed to print by Giovanni Battista Ratto in his 1863 book 'La Cuciniera Genovese.' However, you don't have to look far with Italian food to find out that the ancient Romans got there first. The fighty inhabitants of ancient 'Italy' had a sauce called 'moretum,' which was made by combining crushed garlic, salt, cheese, herbs, olive oil and vinegar – i.e. all the elements you find in a modern pesto. The Romans liked to eat this by spreading it on bread, which was probably stale (because all these recipes, including pizza, seem to be derived from the need to use up almost mouldy, week-old bread).
The name 'pesto' comes from the Genoese word 'pestâ,' meaning 'to crush.' Prior to the invention of the food processor, crushing was the only way to blend the ingredients and release the flavour of the basil. Thankfully, we now have mechanised kitchen equipment, and a good home-made pesto can be made in seconds. If you store it in a jar in the fridge, you can have a very tasty spaghetti con pesto at lunch time in all the time it takes to cook the pasta. Simply toss some pesto through the drained, cooked spaghetti, and garnish with some toasted pine nuts and fresh Parmesan.
One of the most important ingredients in a pesto is the olive oil. While extra-virgin olive oil gets suggested as a cooking starter in all sorts of unlikely and idiotic places (who the hell puts it in risotto?), pesto is one of those things for which it is essential. I am extremely lucky because my Dad knows a chap who presses his own oil from the fruit of his own orchard, producing extra virgin olive oil of vintage quality. When choosing an oil for your pesto, if you can't get vintage, then you should certainly not descend the oil ladder one rung past 'EVOO.'
With pesto now elevated to greatness, the sole remaining item on the 'List of inedible Italian foods' is polenta. If anyone can convince me that polenta can taste of anything more than bland baby food with all the appeal of grits, then I am listening.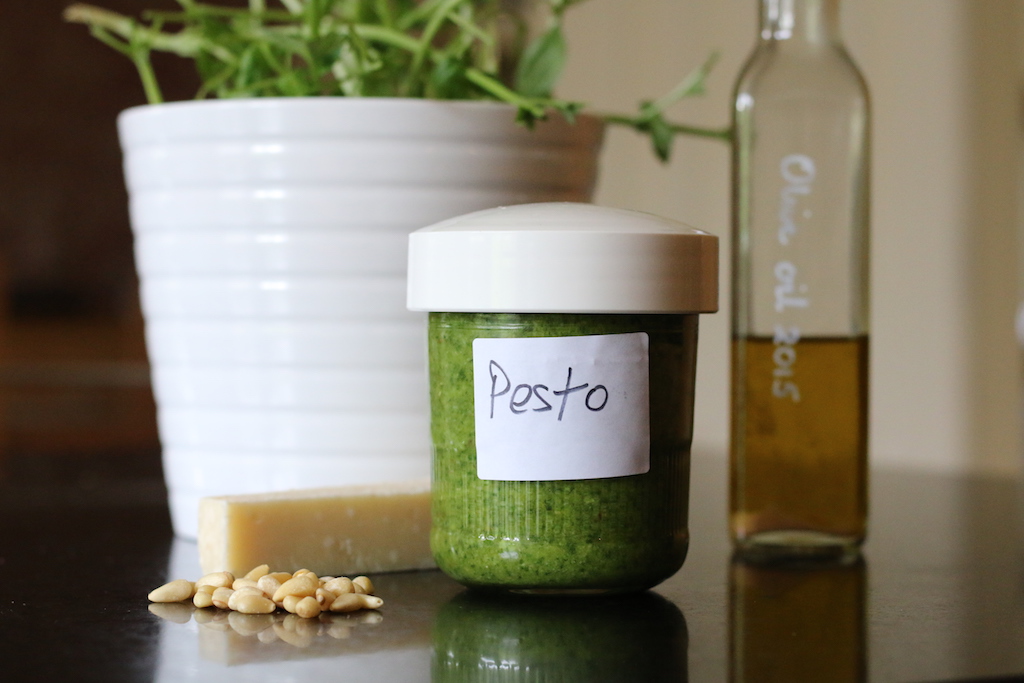 Print Recipe
Ingredients
1 garlic clove, chopped

3 handfuls fresh basil, leaves picked and chopped (essentially one whole growing plant from Tesco)

1 handful pine nuts, very lightly toasted in a frying pan

1 good handful Parmesan cheese, freshly grated

Extra virgin or vintage olive oil (the very best you can get)

Sea salt and freshly ground black pepper
Instructions
1
Run a food processor, and put in all the ingredients except the oil.
2
With the mixer running, slowly add the oil until the mixture gets an oozy consistency. You want to go a little beyond just binding it, but not so far that it is loose.
3
Season and store in a jar in the fridge.