The drinking habits of Ernest Hemingway are legendary. While he abstained while actually writing, Hemingway was known to be a prodigious drinker of Dry Martinis, the recipe for which is revealed in Across the River and Into the Trees, where Colonel Richard Cantwell orders a Montgomery Martini, which is 15 parts gin to one part vermouth – i.e. as dry as hell. Indeed, most of Hemingway's books contain details of drinking, and the author often used sensations brought about by certain cocktails to express the moods of his characters.
Before shooting himself with a shotgun in 1961, Hemingway had visited a doctor in 1937 where he was diagnosed with a fucked up liver. Refusing to give up alcohol, he is on record as saying:
"I drink to make other people more interesting."
Although preferring Martinis, Hemingway has become associated with Daiquiris. One day, Hemingway wandered into El Floridita in Havana and tried their house version of the Daiquiri. He announced to the bartender Constantino Ribalaigua Vert that he liked the drink, but preferred twice the rum and no sugar. Hemingway was known for an aversion to sugar because he had haemochromatosis, which is an iron uptake disorder that can result in hyperglycaemia. His father had diabetes, and Ernest Hemingway was fearful of the lifestyle changes needed to deal with that condition.
On that day in Havana, Vert named the cocktail the Daiquiri Like Papa. Later it became the Papa Doble. Antonio Meilan, who later occupied the post of head bartender at El Floridita, added the grapefruit and maraschino, changing the name to the Hemingway Special Daiquiri.
The recipe given here recognises that Hemingway liked harsh, sour drinks, so we have added the sugar back to make a modern cocktail that everyone can enjoy.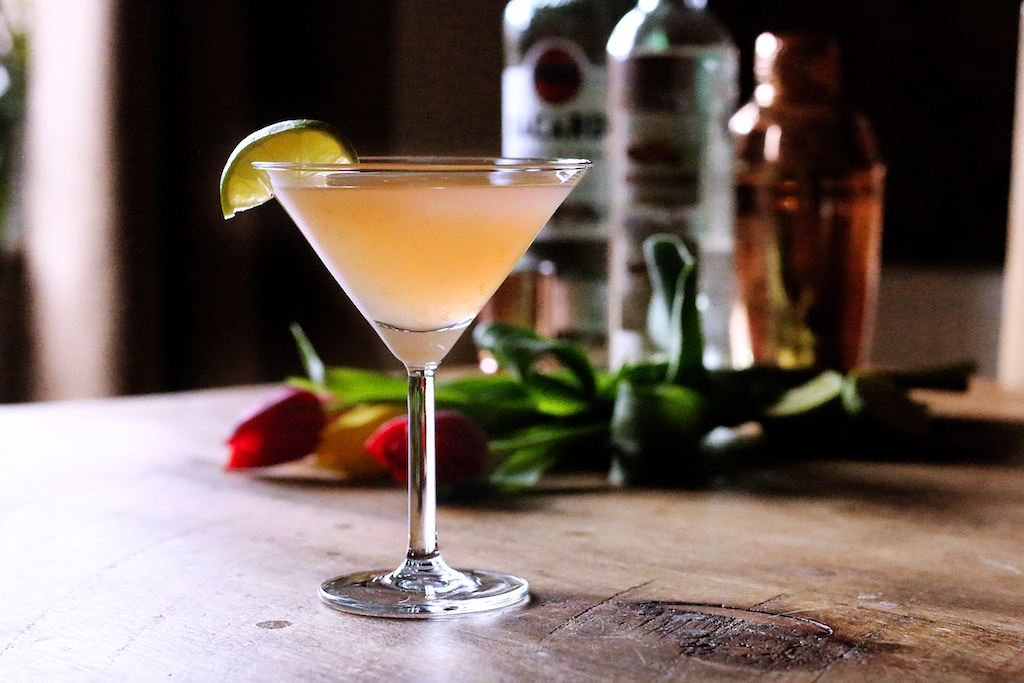 Print Recipe
Hemingway Special Daiquiri
Ingredients
100ml Bacardi

30ml pink grapefruit juice

25ml maraschino cherry liqueur

30ml lime juice

15ml simple syrup
Instructions
1
Shake all the ingredients with ice, and strain into a Martini glass.
2
Garnish with a lime slice.