I know, I know! I can hear you shouting at your computer "Tournedos de boeuf á la Rossini, what does he think this is, Masterchef?" Hear me out. The adaptation of classic recipes, to make them accessible to everyone is one of the key tenets of The Nosey Chef. This is one of the first properly grown up recipes that I ever cooked, about 15 years ago. There was a group of four of us, whose wives were all away; at first we thought about a 'big night out', you know, beers, table at a decent restaurant, wine, more beers etc. until, before you know it one hundred quid has mysteriously evaporated from your wallet for what was in essence a mediocre meal, washed down with some mediocre wine and a nauseous taxi ride home!  So I suggested that if everyone gave me £100 I would source the best ingredients and vintage wines and would cook a full-on five course black tie dinner party. That is what I did, and tournedos de boeuf à la Rossini was on the menu. I suspect that one person who attended that evening will read this article and remember the event.
Fifteen years ago, before children, I wouldn't have thought twice about using filet mignon, as per Larousse to create this dish. However, on this occasion I used rump, cooked sous vide, and pan fried to finish. The pungent woodiness of the truffles add an extra dimension and makes this dish really special. I used bottled whole black summer truffles from Italy, which are about a quarter of the price of the more highly prized winter black truffles.
While the original iteration calls for one to simply deglaze the steak pan with Madeira, I opted for something that is pure umami, and it is the sauce alone that elevates this dish to the next level. Auguste Escoffier coined the five mother sauces of classic French cuisine, and this uses one of them – espagnole. Espagnole gets its name from the Spanish tomatoes that were first used to make it. In this instance, the espagnole base is combined with beef stock and butter to make a thick, glossy sauce, known as a demi glacé. When served, rivulets of mahogany sauce cascade over the deep pink, cut edges of the perfectly cooked rump steak. All this sits proudly atop a golden crouton, spread liberally with paté de foie gras, and the whole dish topped over with slices of pungent truffle.
Unfortunately, for any purists reading this, whole foie gras is not that easy to come by in Hampshire, but I'm working on it. In the absence of the genuine article, and in the spirit of The Nosey Chef, I used what I had to hand – a tin of paté de foie gras given to me by a friend after a ski trip to France earlier in the year.
As well as turning out the occasional opera during the first half of the 19th century – 40 to be precise, by the time he was 40 – Gioachino Rossini was also rather fond of his grub. So much so, that he is quoted as saying "I know of no more admirable occupation than eating." The origin of the name of this dish is particularly interesting. It is believed to have come from the fact that Rossini's butler was obliged to 'tourner le dos' – turn his back – on his master's dinner guests so as not to reveal the final touches of this magnificent dish; created by the famous chef of the time, Antoine Carême, under Rossini's supervision. Thus arose the name 'tournedos.'
Serve this dish with a fresh crisp salad and a glass of chilled Beaujolais Nouveau for a summer lunch to entertain friends; or, as I did, with sautéed or fondant potatoes and French green beans with a bottle of full bodied Shiraz to brighten up a damp and gloomy Winter evening.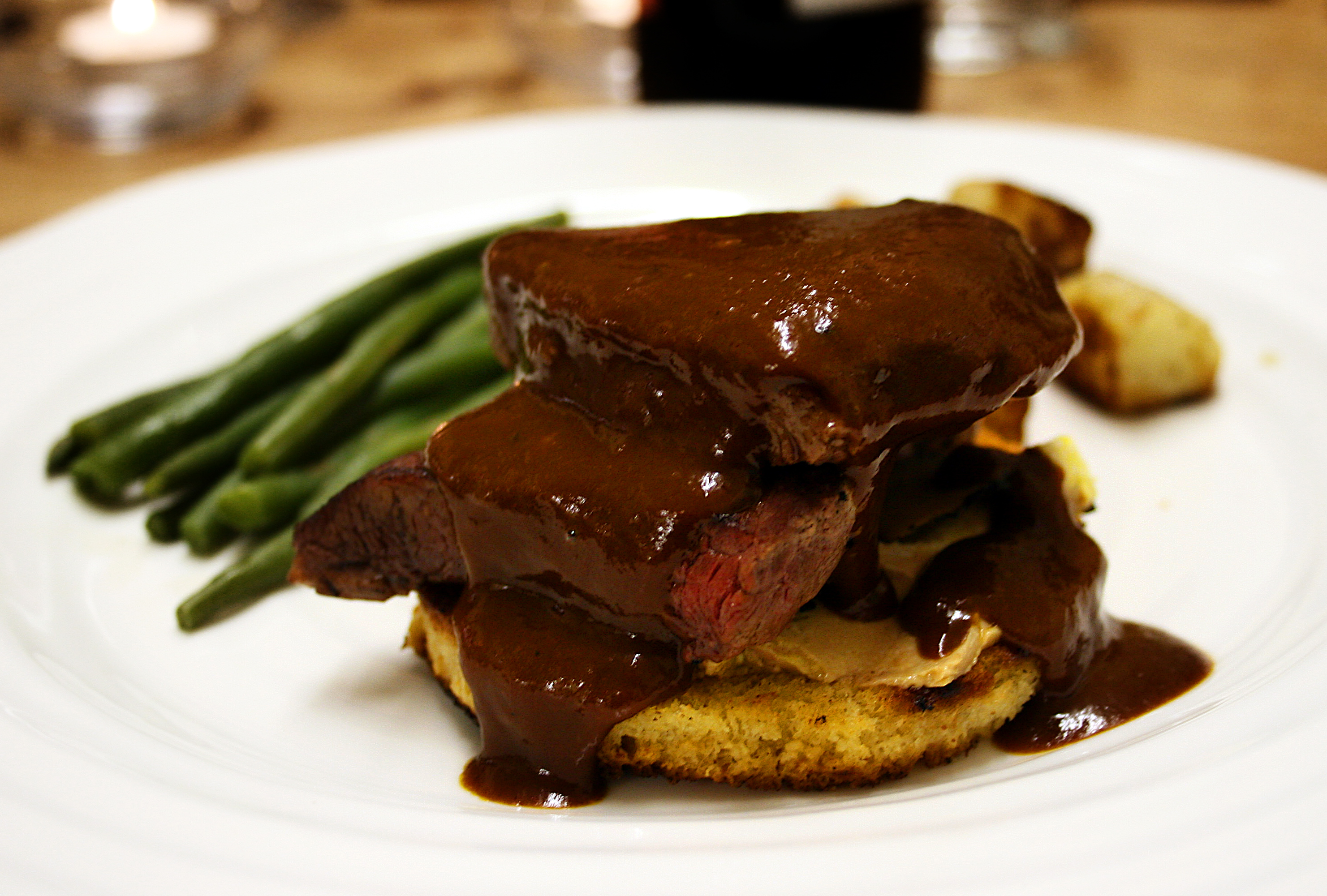 Print Recipe
Tournedos de boeuf à la Rossini
Ingredients
1 large piece of rump steak

1 tbsp olive oil

Bay leaves

500ml sauce espagnole

500ml beef stock

100g unsalted butter cut into small cubes

2 tbsp clarified butter

4 slices of white bread

Pate de foie gras

Thin slices of black truffle
Instructions
1
Trim the steak, removing all fat and sinew, leaving just the lean meat. Brush with olive oil and season. Add a bay leaf to each portion and vacuum seal. Place in a water bath at 52°C for 1 hour.
2
Place the stock and sauce espagnole in a pan. Bring to the boil. Reduce the heat to a rolling boil and reduce the volume by half. Reduce the heat further, add the butter, a cube at a time, whisking continuously, ensuring each one is fully incorporated before adding the next. At the end you should have a rich glossy sauce. Season and keep warm. The sauce cannot be reheated, as this will split it, and the butter will separate out
3
Cut circles from the centre of each of the slices of bread, using a pastry cutter and set aside.
4
Heat the clarified butter in a frying pan until 'nuclear' hot. Flash fry the steak just enough to brown the outside. Place the meat on kitchen roll and wrap in foil to rest
5
Fry the bread circles in the same pan until golden on both sides to make the croutons. Spread thickly with pate de foie gras and top each one with a few slices of truffle
6
Pile the pieces of steak, cut to size, on top of each of the croutons. Pour over a generous helping of sauce and serve.
Notes
If you don't what the faff of sous vide, just cook the steak to your liking in a good old fashioned frying pan. The secret of this dish was out a long time ago, so no need to turn your back on your diners. However, whilst we are on the subject of idioms, this is most definitely a recipe to 'keep up your sleeve.'