We have covered tariwala before. It is the popular Punjabi you have never heard of, with a name derived literally from 'gravy' ('tari') As we have said before, we cannot understand why tariwala does not make it onto British Indian restaurant menus. It is easy to make, quick to cook fresh (for the chicken version), and tastes amazing.
This recipe is adapted from Atul Kochhar's mother' recipe for murgh tariwala. The use of lamb makes it perfectly suitable for a slow cooker.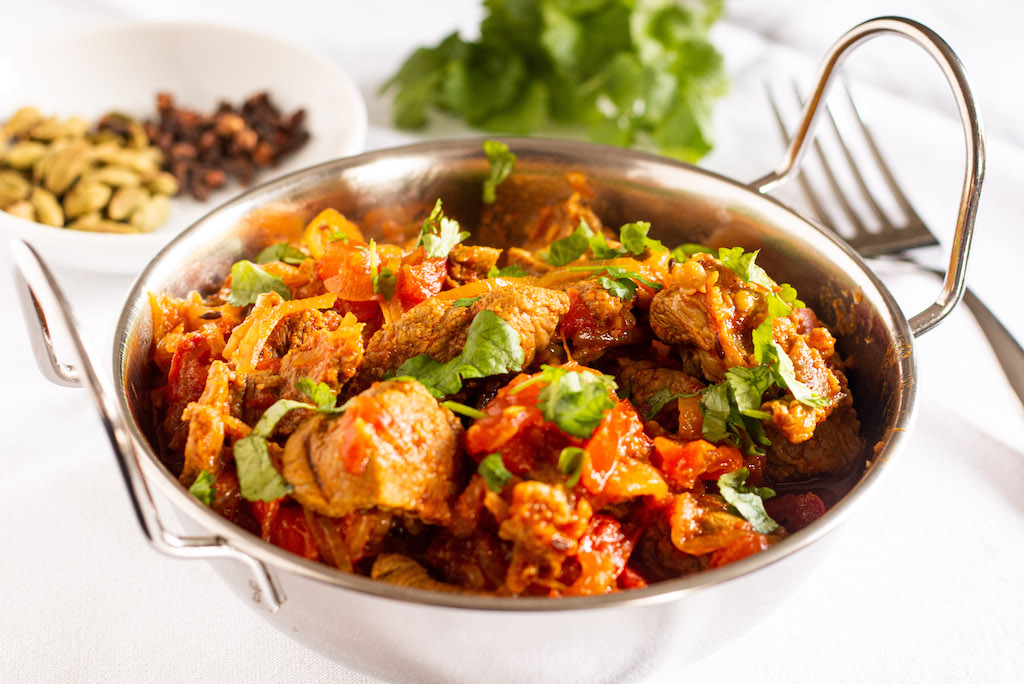 Print Recipe
Ingredients
600g of diced lamb (avoid too lean – you need the fat)

100ml vegetable oil (if you want less fat, you can reduce this volume, but take extreme care not to burn the spices)

1 bay leaf

4 green cardamom

1 inch cinnamon stick

10 whole black pepper corns

1 tsp cumin seeds

2 cloves

250g onions, finely sliced

1 tbsp ginger-garlic paste (see notes)

0.5 tsp red chilli powder

1 tsp coriander powder

0.75 tsp turmeric powder

100g tomatoes, roughly chopped

1 tbsp tomato paste

1½ tsp salt

1 tsp garam masala

2 tbsp finely chopped coriander leaves

1 tbsp finely chopped ginger
Instructions
1
Heat the oil in a pan, add the whole spices and the bay leaf, and stir till spices crackle and change their colour.
2
Next add the chopped onions and sauté till golden brown.
3
Add the ginger-garlic paste, stir continuously and keep scraping the bottom of the pan to avoid the mix getting burnt.
4
Add lamb and sauté for 5–7 minutes or until evenly coloured.
5
Next add the powdered spices except the garam masala. Mix quickly, don't let the spices get burnt at the bottom, sauté for 1–2 minutes.
6
Add salt, chopped tomatoes and paste.
7
Cook on slow heat, covered, stirring slowly for 1 hour until the lamb is tender (or chuck it in a slow cooker for half a day).
8
Sprinkle with the garam masala and simmer to finish cooking (or sprinkle with the garam masala 10 mins before stopping the slow cooker).
9
Add chopped coriander leaves and sprinkle chopped ginger for decoration.
Notes
Ginger-garlic paste can be made by blending equal amounts of peeled garlic and ginger in a blender with a touch of neutral oil and a splash of water. Or, you can cheat by blending equal quantities of garlic and ginger puree from tubes. Of you can cheat even more and get it pre-made from Aldi.