If a stew and a sauté made the beast with two backs, then the issue would be a fricassée. Broken down, the word (which is French, but was first written down in England), appears to mean 'fried bits.' And that is all you need to know. You take some meat, chop it up, fry it and then bake it with some vin blanc. This method of cooking is so obvious that it is not surprising that proto-versions of it first appear as far back as 1300 AD.
A bit of research has revealed that traditional fricassée is cooked with mushrooms and cream (like a lot of French things), often with glazed baby onions added.
When I was growing up, my mother used to do a chicken fricassée. I have no idea where the recipe came from, but I distinctly remember chicken, mushrooms and cream. I also recall the completely off-piste sultanas and boiled rice.
The recipe here is one by Raymond Blanc in his highly accessible Simple French Cookery, in which he reiterates classic recipes from his mother's kitchen. I am attracted to this because the chicken is in full-size joints, the vinegar and tarragon work nicely together, and it is really not that calorific because the fat quantities are very low. Despite the vinegar, kids will wolf this down no problem because the boil and the long cooking time knock back the acidity beautifully.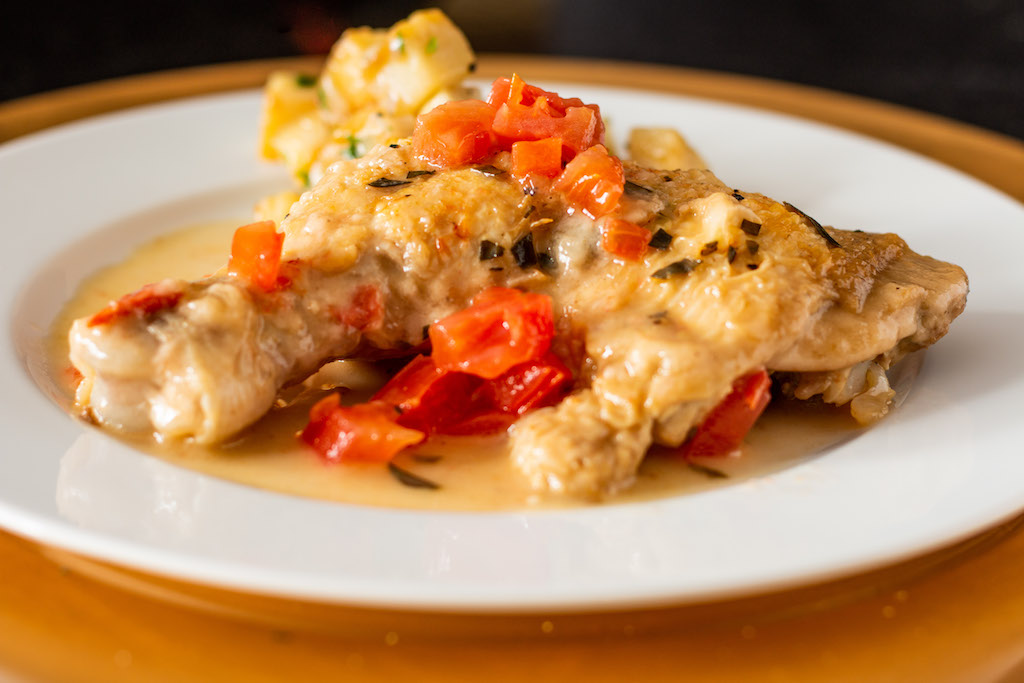 Print Recipe
Fricassée de poulet Maman Blanc
Ingredients
4 chicken legs, jointed into thighs and drumsticks, skin on (or use whole legs)

1 tbsp olive oil

4 tbsp red wine vinegar

15g butter

100ml dry white wine

4 garlic cloves, peeled and whole

2 fresh tomatoes, seeded, cored and finely chopped

2 sprigs of fresh tarragon, leaves picked and chopped

1 tbsp flat leaf parsley, chopped

Salt and freshly ground black pepper
Instructions
1
Preheat the oven to 150˚C.
2
Heat the oil on the hob in an oven- and heat-proof casserole (like a Le Crueset cast iron casserole). Season the chicken on all sides, and brown in the oil.
3
Using the lid to hold back the chicken, pour the oil out of the casserole and discard.
4
Return to the heat and deglaze the casserole with the vinegar. Boil it for a moment and add the butter. simmer until reduce a bit, and turn the chicken pieces over in the sauce to coat.
5
Add the white wine, bring to a simmer and add the tomatoes, garlic and tarragon.
6
Cover and place in the oven for 30 mins.
7
Hook the chicken out with a slotted spoon and plate up. Spoon over the tomato and herb sauce.
8
Serve with some french-style potatoes (we sauté potato cubes and finish with shallots and butter), and a green vegetable. Garnish wth parsley.