Steve Schneider is principal bartender at Employees Only, at 510 Hudson Street in the West Village of New York City (NY 10014). Left in a life-threatening coma after a near fatal accident, Schneider was invalided out of the US military, and took the only job he could – working a dive bar. From there, he has risen to the dizzy heights of bartending royalty, winning the 2012 Cocktail World Cup, and going on to considerable fame.
In 2014, Scheider was in the UK for London Cocktail Week, and a Twitter-based challenge was set up to ask Scheider to come up with a cocktail. The challenge was filmed for Jamie Oliver's Drinks Tube. During the challenge, a Jeff Fairbanks wrote in and asked Schneider to produce a cocktail based on a Bakewell tart. With me being from Derbyshire and all, and Bakewell being only minutes away on my motorcycle, I had to have go at this. The result is a subtle drink in which the almond and cherry swap places your palette, just like biting through the layers of the the original tart.
Yes it has raw egg white in it, but so do many cocktails. Deal with it.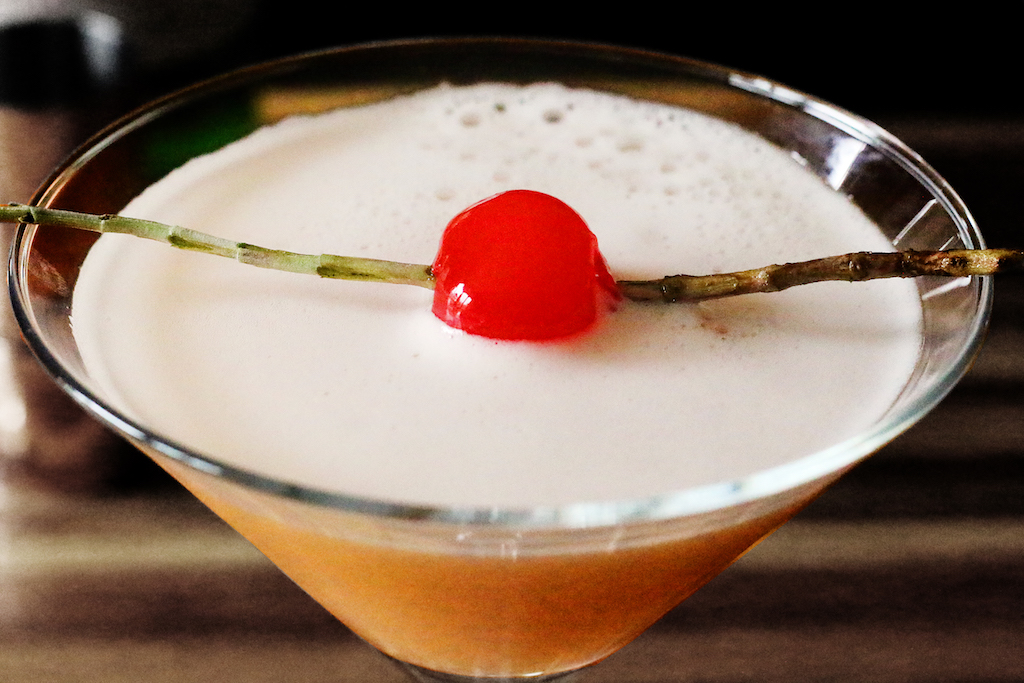 Print Recipe
Ingredients
15ml orgeat

15ml maraschino liqueur

45ml gin

30ml lime juice

1 egg white
Instructions
1
Dry shake the ingredients in a cocktail shaker to emulsify the egg (no ice).
2
Add ice to shaker and shake until the outside of the shaker frosts ups frost. Pour into a Martini glass.
3
Garnish with maraschino cherry speared with a rosemary stalk.
Notes
Luxardo is the usual brand for maraschino liqueur. In a fix, I guess cherry brandy would be fine. Orgeat is that Monin brand almond syrup that Costa and Starbucks use to destroy coffee. Both are available online, and I have seen Monin orgeat for sale in small bottles in Costa et al.