If you like pizza, then never, ever go to Naples. We like pizza, and we went to Naples, choosing to eat at Pizzeria Brandi. What followed was an education on the meaning of a real, Neapolitan pizza, and a grumpy rejection of anything that falls short. In the U.K., it is still fairly difficult to buy genuine pizza outside of London, and making it at home is really very hard indeed. So, in going to Naples and eating the pizza there, we have completely gone and shot ourselves in the metaphysical pizza foot.
The history or pizza is very, very long. Something like pizza was recorded in the 1st Century. These were round breads dressed with oil and cooked on hot stones. Even Virgil wrote wrote about a dressed flat bread, and he was living 20 years before the birth of Christ. But then you would expect that 'putting stuff on bread' would be invented pretty soon after the invention of the bread itself.
When the Neapolitans got hold of pizza in the 18th Century, the dish became what it is (and sadly isn't in some places) today. Pizza Napoletana added the new fruit known as 'pomodoro' (tomatoes), and the breads were (and still are) cooked in wood-fired ovens at temperatures in excess of 400˚C. At Brandi, the oven is a two-skin affair with the void between the two skins filled with four tonnes of volcanic ash from Mount Vesuvius. This oven will cook a pizza in 90 seconds, and cooking at this temperature puts a black char on the base of the pizza that does not occur at lower temperatures.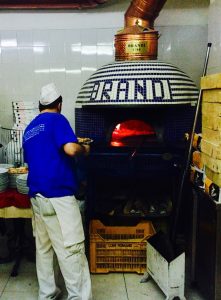 Pizzas cooked in very hot, wood-fired ovens have a chewy crust, and a barbecued taste that is really not like the pizzas you can make in a domestic oven. They are also very different to the pizzas you might get from a Dominos or Pizza Express in the UK.
Interestingly, when Pizza Express was first opened in Wardour Street in London's Soho in 1965, the founder, Peter Boizot, brought a pizza oven from Naples and put it in the restaurant. Clearly he never bought another one because the pizzas coming from Pizza Express ovens today are not Napoli style. If you want a pizza Napoletana in Manchester, the nearest city to the Nosey kitchen, then you need to seek out Rudy's in Ancoats, or The Honest Crust in Altrincham.
These technical difficulties in making Neapolitan pizzas are probably the reasons why most Italians don't try to make pizzas at home. They can nip out and get the real deal so easily, and 450˚C ovens are not really suited to domestic kitchens, unless you have space to install one and the asbestos face needed to stand in the same room as it when it is running at full chat. If you want the definitive treatise of making all kinds of pizza, including oven methods and dough recipes, then look no further than Tony Gemigniani's The Pizza Bible. If you can get over the fact that Tony loves himself, there are some gems of information in here.
We have tried a whole bunch of ways of making pizza at home, including using a stone, heating with a grill, and using an out-door gas grill. Alex 'French Guy Cooking' on YouTube has a series of 13 videos where he tries to make pizza Napoletana at home, and he settles on using a very expensive piece of steel that is heated using the oven grill. This is the same method recommended by Gemigniani.
Now, we could just build a wood-fired oven in the garden, and I may do that one day, but in the meantime, we have come up with a solution. We picked up a BakerStone pizza oven that is placed on a three-burner Weber gas grill. If the instructions are ignored, and the grill lid is partially closed over the oven, then it is possible to get the BakerStone up in the 350˚C area – hot enough for pizza Napoletana. With this setup, we can get a Napoli-style pizza in 3 mins. We also cheat with the dough and just give that job to a Panasonic SD-2500 bread maker. I would love to make genuine dough all the time, but it is not really suited to everyday eating.
The tradition of the toppings on pizza is worth a note. There are only really three 'authentic' original recipes. There is pizza alla Romana (tomato, mozzarella, anchovies and oregano), pizza alla marinara (tomatoes, garlic and oregano), and aglio e olio (just garlic, oil and oregano, which sounds a lot to me like garlic bread). In 1889, King Umberto I of Italy took his wife, Margherita, to Naples, and she insisted on trying these new 'pizza' things. A restaurantuer was dispatched to the Palazzo di Communale to present some dishes to the Queen. Among the choices was a pizza with mozzarella, tomato and basil, which the Queen announced as her favourite as it recalled the colours of the Italian flag. Of course, this is one of those food stories that does not stand up to vigorous poking with the stick of truth. There are at least two pizzaiolos who have been accredited with cooking the pizzas that day. One is Raphael Esposito from Pizzeria Brandi, and the other is the then owner of Pietro il Pizzaiolo. Food historians will also point out that this recipe existed before 1889, but was not called 'Margherita' until the Queen rocked up.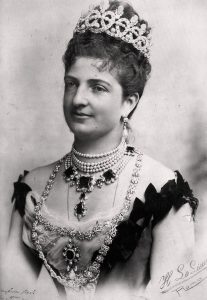 In any case, once established in the cuisine of Naples, the pizza was exported to the USA (where they inexplicably call it a 'pizza pie') and then to the UK. The technical difficulties of making it meant that the product altered over time, and it is only now that the Brits are really waking up to the fact that a genuine pizza Napoletana is worth seeking out.
To go to all this bother, you really, really have to like pizza, but for us, this has been worth the hassle and experimentation. Just don't expect everyone to enthuse along with you. At a recent family gathering, someone suggested "Why don't you just dial for a takeaway?"
Pizzeria Brandi is at Salita Sant Anna di Palazzo 1-2, 80132, Naples, Italy. We visited on 4 January 2014 for dinner.
Print Recipe
Ingredients
430g portion of pizza dough

3 tbsp passata

125g mozzarella

5 basil leaves
Instructions
1
Preheat a Bakerstone pizza oven on a three-burner gas grill on full heat for 1 hour with the grill lid propped open by the top of the Bakerstone box.
2
Stretch the dough out on a floured surface, leaving the edges thicker than the centre.
3
Spoon over the passata and spread it just shy of the edges of the dough.
4
Scatter over the mozzarella, and arrange five whole basil leaves on top.
5
Scoop the pizza up onto a pizza peel, and throw the pizza neatly into the oven.
6
Wait for about a minute, and then collect the pizza on the peel, turn it, and put it back in the oven.
7
Take the pizza out when the crust looks cooked, and the cheese is bubbling (about 3 mins total).
Notes
If you don't have the fancy oven, then heat a pizza stone for an hour in an oven at 250˚C. Cook the pizza on the stone in the oven until lightly browned and bubbling. This will take about 20 mins. If you lack the stone too, then you can use a baking tray, but remember to pre-heat this too and work quickly because baking trays cool down very fast. You will end up with a 'export'-style pizza.