As a narrow-minded Brit living on our freezing island in the North Sea, I don't get out much. And for some reason, I had assumed that because Roquefort cheese comes in a branded packet in Tesco, it is somehow 'not traditional.' It turns out that nothing could be further from the truth.
While the packaged stuff we get in the UK may not be the best example of Roquefort, this stuff has one of the longest histories of any varietal cheese in Europe.

Roquefort is AOC controlled for production in the Combalou caves of Roquefort-sur-Soulzon, in Aveyron, France. If it is not from those caves, it is not Roquefort.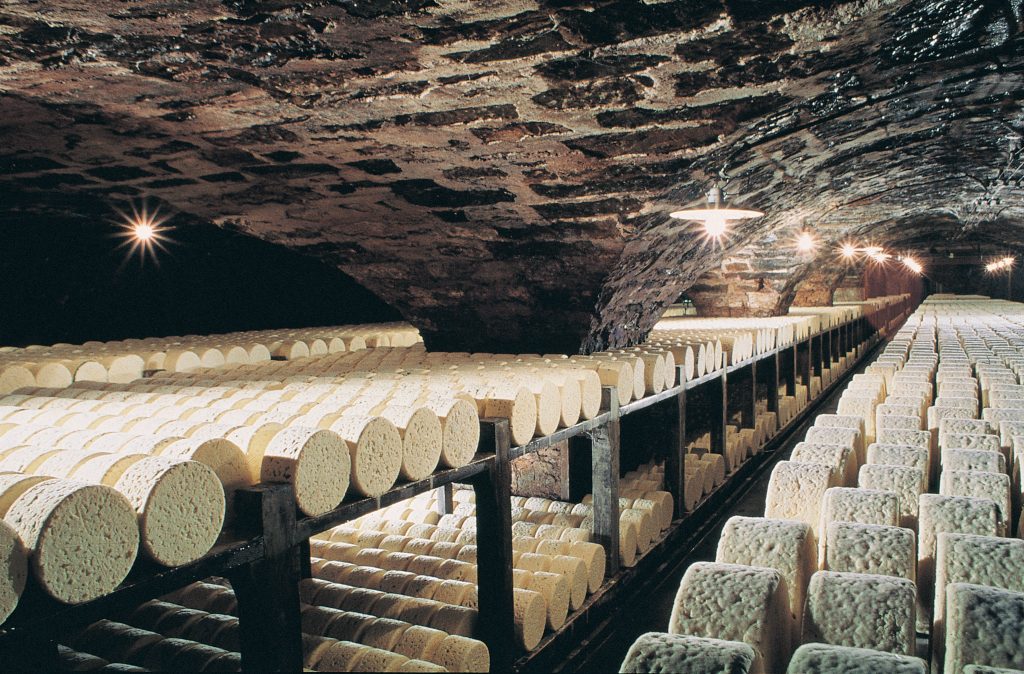 The cheese gets its first named mention way back in the year 1070, shortly after the French successfully invaded Britain (for the last time). By the 15th Century, the refining of Roquefort was monopolised in Roquefort-sur-Soulzon, and the Combalou caves were granted protected status. In 1666, Charles VII of France added further protection for Roquefort by instituting punishing sanctions for anyone making fake versions of it. In 1925, Roquefort received its AOC status, and was the first product of any kind to be granted this new accolade.
Today, Roquefort is made by just seven producers, which in interesting in the context that British Stilton (which has shared with Roquefort the moniker 'King of Cheeses') is made by five creameries.
The satisfying Roquefort salad given here is on the menu at Thierry Lefort's Brasserie de la Cour in Buxton, England, where it is a firm favourite. It takes it cue from many similar classic French salads.

Brasserie de la Cour can be found at 2–5 Old Court House, George St, Buxton SK17 6AY. Call Thierry's team on +44 1298 437024 for a reservation. Early, pre-theatre bookings are popular.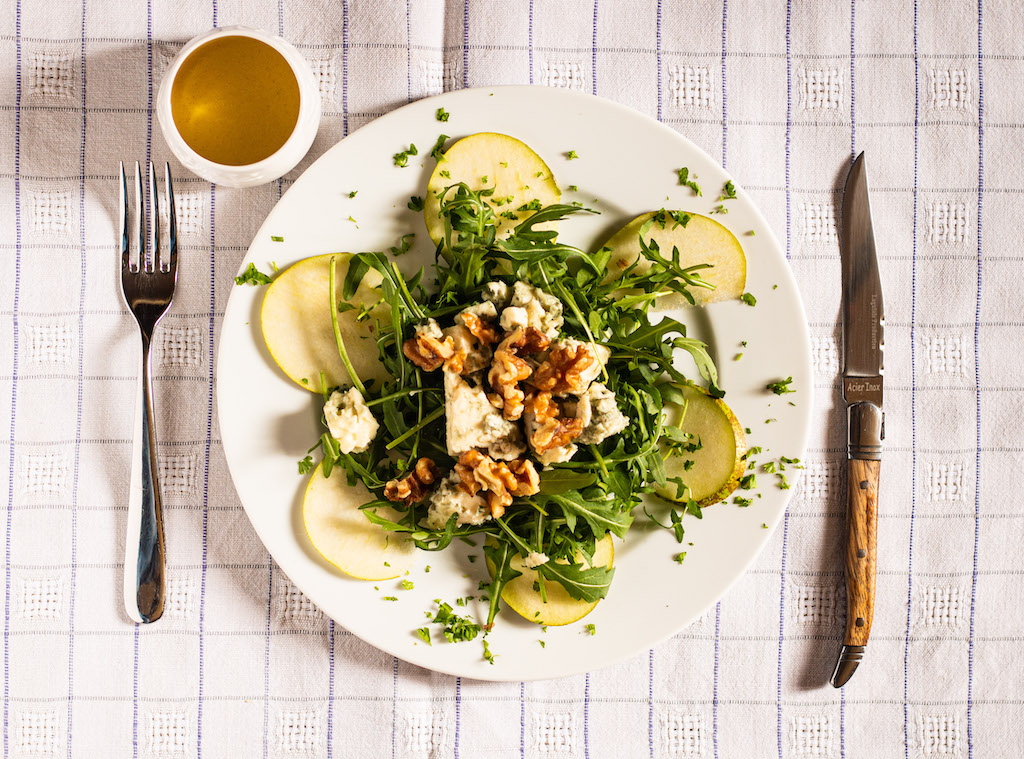 Print Recipe
Salade de Roquefort Thierry Lefort
Ingredients
For the salad:

1 pear, sliced

2 big handfuls of rocket

100g Roquefort, crumbled

1 handful of walnuts, broken up a bit

1 tbsp parsley, finely chopped

For the dressing:

3 tbsp olive oil

1 tbsp white wine vinegar

Dijon mustard to taste
Instructions
1
Arrange the sliced pear around the edge of the plates. Place the rocket in the centre and crumble the cheese over the top, followed by the walnuts. Sprinkle the parsley around the edge of the plate.
2
To make the dressing, whisk or shake the oil and vinegar together, and then whisk or shake in mustard by degrees until it is to your liking. Serve the dressing in a small jug on the side of the salad. Pour over to enjoy the salad.