There are people that say they can't cook. If you can use a knife, and know how to work the oven and can find the 'on' button on the blender, then you can cook, because that is all that is required for this simple, but tasty seasonal offering. Oh, you also need to be able to boil a kettle.
It will come as no surprise that soup has been about since man learned to put various ingredients in a pot of water over a fire. The word itself comes from the French 'soupe'  meaning broth, which in turn is derived from the vulgar latin 'suppa,' meaning bread soaked in broth. Soups can be found right across the culinary spectrum, from Dickensian gruel, through thick peasant affairs packed with large chunks of meat and vegetables, to the most refined haute cuisine consommés and bisques; served from workhouses to Michelin-starred establishments. Apparently, you can also buy it in tins. Oh, well it seemed to work for Andy Warhol.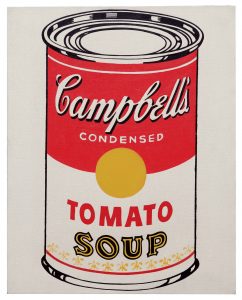 Not for the first time did my inspiration come from a desire to use the contents of my veg box. And, there is no better way to achieve this than by making soup. Unless you happen to be staring into a cardboard box that is all but empty, except for a Kohlrabi and a bag of chard. In which case I suggest you try a salad.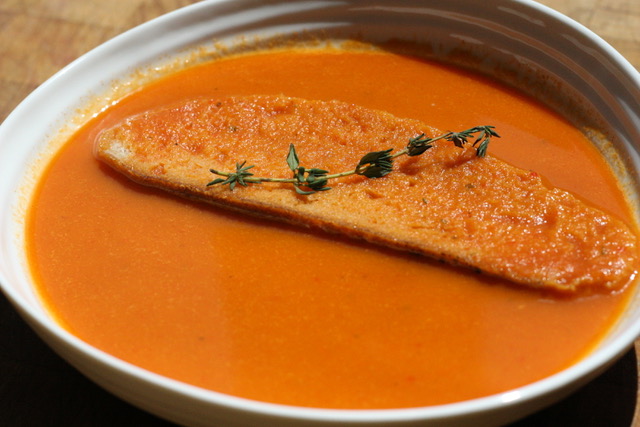 Print Recipe
Roasted tomato and red pepper soup
Ingredients
1kg ripe vine tomatoes

2 large red peppers

2 cloves of garlic

Olive oil

Few sprigs of thyme

1L of vegetable stock

1 tbsp sweet, smoked paprika

Salt and pepper
Instructions
1
Preheat the oven to 180ºC.
2
Chop the tomatoes in half (no need to peel or de-seed). Chop the peppers into large chunks. Place the whole lot in a roasting tin, with the cloves of garlic, peeled but not chopped. Drizzle with olive oil and place in the oven for 45 mins, turning occasionally.
3
Remove 15 mins before the end and throw in the sprigs of thyme and return to finish cooking. Everything should be nicely caramelised from the natural sugars in the tomatoes and peppers.
4
Place the roasted vegetables in a large saucepan with the stock and the paprika. Blend until completely smooth. Pass through a sieve and transfer back to the saucepan. Season with salt and pepper and serve piping hot.
5
This is a great way to use up the end of the sourdough loaf, by placing a thick slice in the bottom of each bowl before pouring the soup in. Feel free to add grated cheese or a dollop of soured cream, whichever takes your fancy.