All the way through the numerous books and films dedicated to James Bond it is clear that Commander Bond knows his alcohol. He tricked an enemy over a bottle Claret, he was mortally pissed on vodka shots when Teri Hatcher turned up for a shag, and when he recovered from being shot by Moneypenny, the MI5 physician attending was able to identify Bond according to the state of his liver. However, of all the drinks that are recorded over and over, the Vodka Martini, "shaken not stirred" makes an appearance more than most.
Now, let's be clear on this: as a Martini, the famous Bond version breaks pretty much every rule of a classic Dry Martini:
It is not that dry
It has absolutely no gin in it
It is shaken, not stirred.
It does not do to go over the countless articles and web pages that cover the James Bond Martini – many people have done this in far more detail than our little blog deserves. Suffice to say that Ian Fleming documented two Martini-like drinks in detail. One was the Casino Royale Vesper, which is mostly gin, with a bit of vodka and some Kina Lillet, with a twist of lemon (7:1 spirit to vermouth). The other is a vodka-only drink mixed 6:1 with lemon peel in it. The latter recipe requires study of two Fleming books to work out how it is made. The drink is shaken with ice, which slightly dilutes it, but also makes it very cold.
For the spirit:wine proportions, you need Live and Let Die. On page 226 of Penguin Classic version, right at the end of the book, Solitaire makes Bond a Vodka Martini according to his specifications. She says of it:
"I hope I've made it right. Six to one sounds terribly strong."

Live and Let Die
To get the garnish, you need to roll all the way back to Dr No and read the Penguin Classic page 137 where Bond and and Dr No are verbally sniffing each other's arses to learn:
"I would like a medium dry Vodka Martini – with a slice of lemon peel. Shaken not stirred, please. I would prefer Russian or Polish vodka."

Dr No
Not only does this collated information provide us with the definitive Bond Vodka Martini recipe, it also marks Bond out as a proper nightmare of a dinner guest.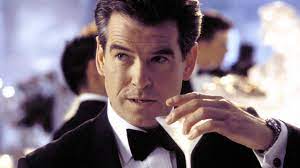 As a quick Martini on the way out for a party, a James Bond Vodka Martini (shaken, not stirred) is a very nice thing and a lot less faff than a stirred gin Martini.
For this article, thanks go to Bond superfan Ross Edwards for leafing through the Fleming books to locate the original, definitive recipe. While re-reading the relevant sections, we discovered another Bond drink: half a glass of whisky, three ice cubes and a benzedrine tablet. I think we will skip that one.

Print Recipe
Vodka Martini – shaken, not stirred
Ingredients
75ml Russian or Polish vodka

12ml dry, white vermouth (Martini Bianco Extra Dry)

1 slip of lemon peel
Instructions
1
Fill a Martini glass with ice. Leave the glassware to chill for a moment.
2
Add the liquid ingredients to a cocktail shaker, add three cubes of ice and shake until the outside of the shaker is quite cold. Discard the ice from the glass and strain the drink in. Briefly twist the peel over the glass and slip it in.