Like a lot of basic American recipes, the origin of peach cobbler lies with the early European settlers arriving in America. The dish has a lot in common with a fruit crumble, only that the crust is formed into biscuits before layering over. The peach variant of cobbler is prevalent in the southern states, where peaches grow very well. Berry cobblers borrow from Native American cooking traditions of foraging the forests to eat.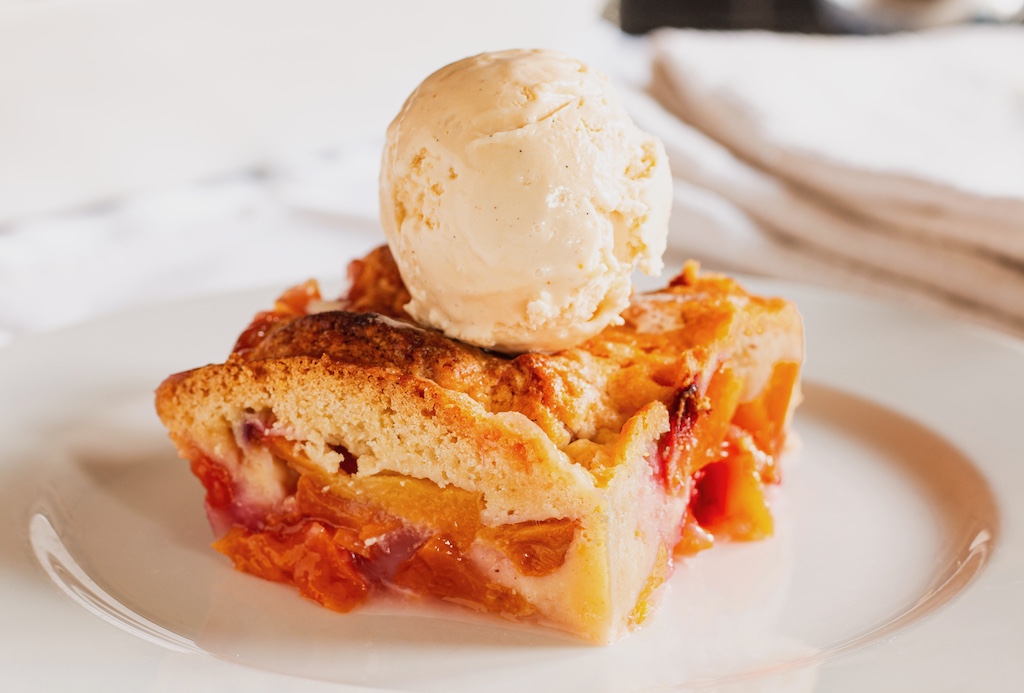 Print Recipe
Ingredients
For the filling:

10 peaches, stoned and sliced into eighths (about 1.25kg fruit; see notes)

0.3 cups granulated sugar

2 tbsp brown sugar

Juice of half a lemon

3 tbsp cornflour

0.25 tsp salt

1 tsp fresh grated ginger (optional, but nice)

For the biscuits:

2 cups plain flour

0.3 cups granulated sugar

2 tbsp baking powder

110g cold butter, cubed

1 cup double cream

Another 2 tbsp double cream for brushing

0.25 tsp vanilla powder or 1 tsp vanilla extract

1 tbsp caster sugar
Instructions
2
Combine the peaches, sugar (both kinds), lemon and cornflour, salt and ginger in a large mixing bowl and mix thoroughly. Transfer the mixture to a deep baking dish (about 20cm).
3
In a food processor, combine flour, sugar, baking powder and butter and run the machine until it you get a light crumb.
4
Add the cream and vanilla and run the processor until the mixture comes together in dough.
5
Roll the dough out on a floured surface and cut onto rounds. Arrange the rounds in an overlapping pattern on top of the filling. Brush the cream and dust over with caster.
6
Bake for about 1 hour until golden.
Notes
The fruit quantity calculated here can be used to translate this recipe to other cobblers.