In the 1920s the Dole food company sponsored a competition for recipes that used pineapple. Obviously, this was a marketing exercise, and one of the entrants was the pineapple upside down cake. Taking its cues from the tarte Tatin, the cake started with sugar and fruits and layers over the carbs.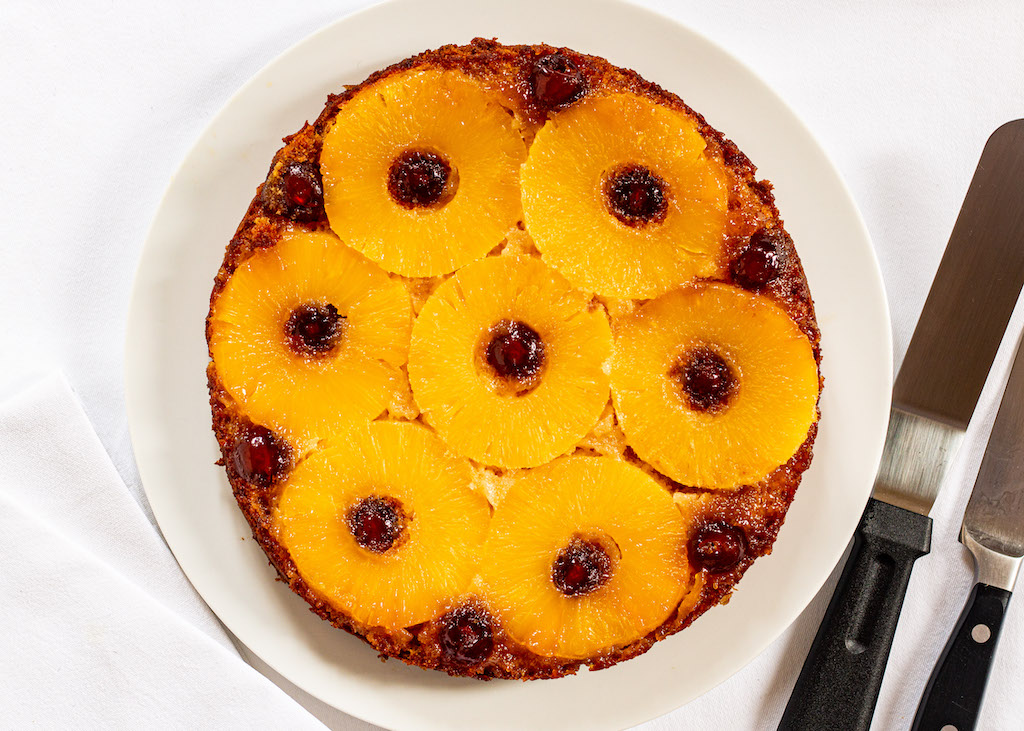 Print Recipe
Pineapple upside down cake
Ingredients
Knob of butter to grease the tin

2 tbsp sugar

6–7 slices canned pineapples, plus 3 tbsp of the can juice

Approximately 13 glace cherries

1 tsp baking powder

0.25 tsp bicarbonate of soda

100g butter, softened

100g caster sugar

2 large eggs
Instructions
1
Preheat an oven to 200°C.
2
Butter a tarte Tatin tin (or similar sized, solid-bottomed cake tin (no loose baes). Sprinkle the bottom of the tin with 2 tbsp sugar. Arrange the pineapple slices and cherries in the bottom of the tin in a nice pattern.
3
Place the flour, baking powder, bicarbonate of soda, butter, caster sugar and eggs into stand mixer and mix smooth. Mix in the reserved pineapple juice.
4
Pour the cake batter over the pineapple rings and spread to cover (may be quite thin).
5
Bake in the oven for 30 mins. Release and turn out upside down.