Winter 1943, Foynes Airport flying boat terminal, just southwest of Shannon and just inside County Limerick. Joe Sheridan, head chef at the on-site restaurant, decides to mix Irish whiskey with hot coffee and cream to warm the cockles of passengers suffering from the freezing-cold experience of mid 20th Century air travel. It is said that when Sheridan was asked by a traveller, "Is that Brazilian coffee?" the chef was heard to respond:
"No, that's IRISH coffee!"
That is the origin tale for Irish Coffee that does the rounds over and over. Sheridan, we are told, emigrated to San Francisco and seeded the recipe in the city's Buena Vista Café.
San Francisco is very proud of Irish Coffee, and has even had the temerity to call it 'San Francisco Irish Coffee' on account of special local adaptations that utilise Tullamore whiskey and a local coffee known as 'Peerless.'
However, adding hard liquor to hot coffee is not a wholly Irish invention. The Austrians have coffee-based cocktails that they exported to Germany and Denmark. The French had a thing called a 'Gloria.' For my own part, I would routinely chuck cheap Scotch in coffee and never think to give it a name.
When we wanted a recipe for Irish coffee, it clearly had to be the best. So we looked no further than the two-Michelin-starred Chapter One in Dublin. In Chapter One, Irish Coffee is made table-side, so there are numerous videos on YouTube showing how it is done. Interestingly, Chapter One flambés the whiskey. This may be done for show as it looks spectacular in the restaurant, but I would say that doing this would strip out most if not all of the alcohol, so feel free to skip that step if you want to get hammered.
Chapter One can be found at 18–19 Parnell Sq, Dublin 1, Ireland. Call +353 1 873 2266 between 9:30–17:30 Tues–Sat for a booking.
Contrast that with the frankly slap-dash technique used at Buena Vista in SF: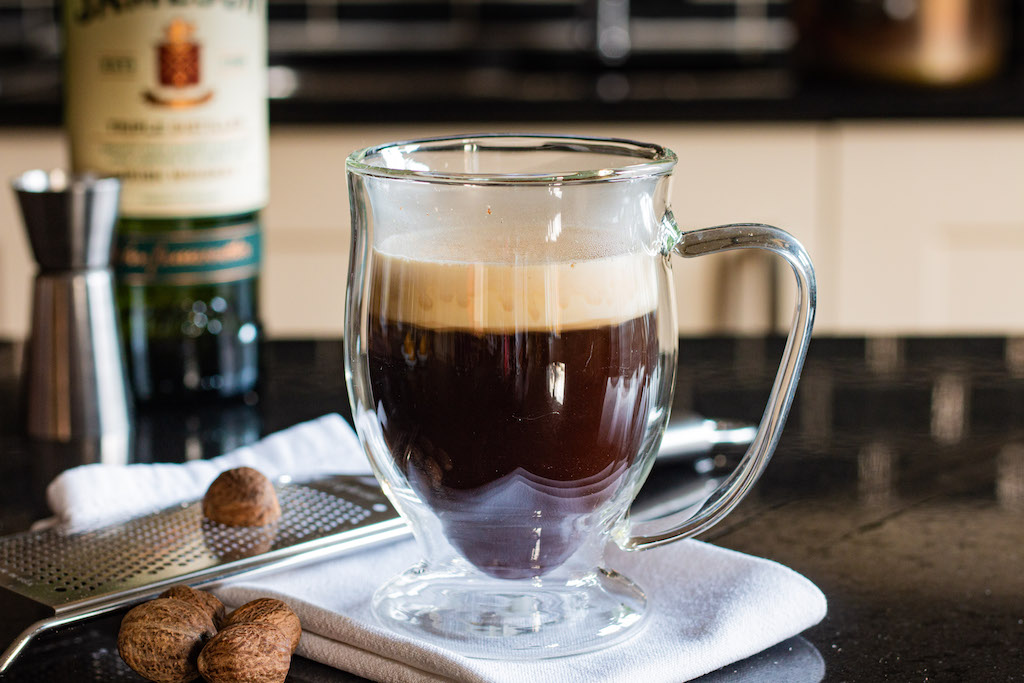 Print Recipe
Ingredients
Fresh nutmeg

1.5 tbsp brown sugar

30ml Jameson's Irish whiskey

1 cup fresh, hot, black coffee

4 tbsp double cream
Instructions
1
Heat a sauce pan and grate in some nutmeg. Add the sugar and watch carefully as it starts to caramelise.
2
Once caramelised, add 2 tbsp of the hot coffee and swirl to dissolve all the sugar. Add the whiskey and flambé it. Once the flames are done, add the rest of the coffee and mix.
3
Pour into a heat-proof glass and float over the cream of the face of a teaspoon. Grate over some more nutmeg.