Goi cuon are known in the West as 'Vietnamese summer rolls.' They are a popular starter or snack in Vietnam.
So far as history goes, there is a tale from the reign of king Nguyen Hue Quang Trung between 1788 and 1792. At the Battle of Battle of Ngoc Hoi-Dong Da in 1788, Quang Trung was on a roll. He led he troops from the back of an elephant, and moved the army so quickly that the men were required to sleep in hammocks while being carried by the others. The same men also needed a handy snack that could be eaten cold, presumably while still marching. This is the apparent origin of the Vietnamese summer roll.
Quang Trung won the battle for his Tay Son dynasty, heralding what is still considered to be the greatest military victory conducted on Vietnamese soil. Trung dies aged 40, and the Tay Son dynasty does with him. Goi cuon, however, live on.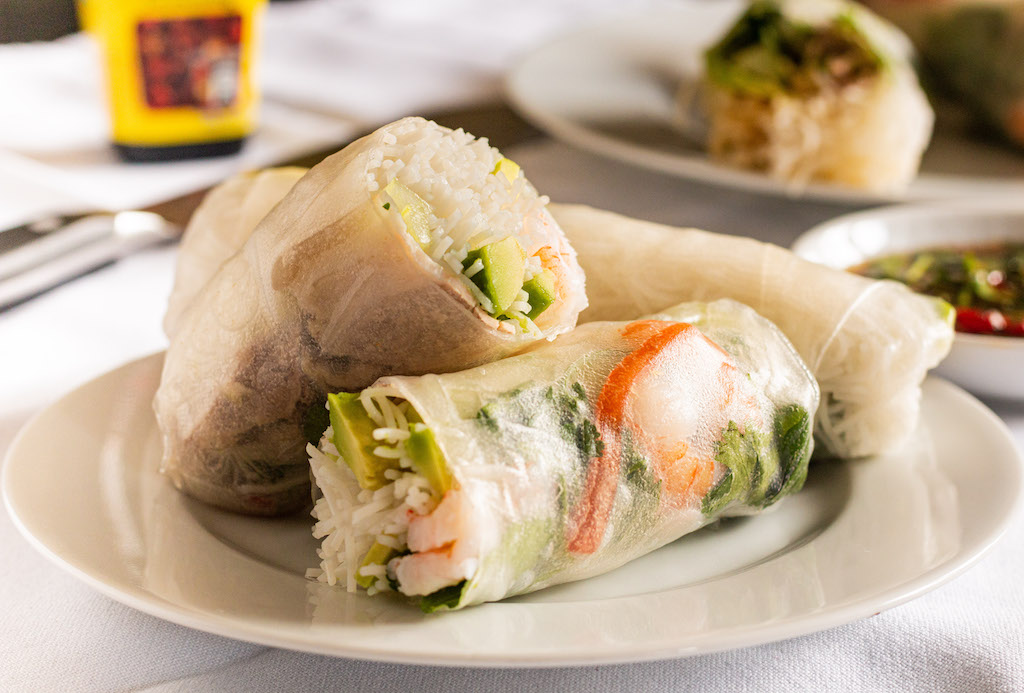 Print Recipe
Ingredients
For the rice paper rolls:

8 pieces rice paper

8 prawns, cooked, peeled and halved

60g rice vermicelli (uncooked weight)

4 sprigs mint leaves

4 sprigs coriander leaves

4 sprigs basil leaves

2 spring onions, cut lengthways

1 carrot, cut into matchsticks

1 cucumber, cut into matchsticks

1 lettuce

For the nuoc cham dipping sauce:

50g fish sauce

75g sugar

75g water

50g lime juice

3 garlic cloves (crushed)

Chopped red chilli to taste

Soy sauce

1 tbsp coriander, chopped.
Instructions
For the rice paper rolls:
1
Soak the vermicelli in hot water Once it is al dente, drain a place it in cold water to stop cooking. Drain.
2
Submerge the rice paper fully into the water for five seconds just before wrapping. Remove and pat dry.
3
Cut the carrots and cucumbers into matchsticks.
4
Choose a piece of lettuce with the length about 2/3 of the diameter of the rice paper. Place the carrot, cucumber and rice vermicelli on it.
5
Place a selection of the ingredients on the rice paper.
6
Fold the sides in over it, like closing an envelope. Then continue rolling away from you to wrap up the ingredients. Halve with a vey sharp knife.
7
Combine all the ingredients except the soy and coriander. Heat to dissolve sugar. Cool. Add a dash of soy sauce to colour it, and chuck in a load of chopped coriander.