Kinilaw is a daughter recipe of ceviche, and is essentially the Filipino version of the Peruvian classic. The origin story is simple in that both Peru and the Philippines were colonised by the Spanish. Ceviche in its original form (before 12-year-old Pedro Solari simplified it) has been around for hundred of years. It is obvious that the Spanish, having seen it made in Peru, would have taken the idea to the Philippines where refrigeration was rare and pickling was the solution to everything.
If you are used to eating and making ceviche, then think of kinilaw as ceviche turned up to 11. There is more vinegar (and harsher), more chilli, and the dish is often finished with a dash of coconut milk.
I made my kinilaw with tuna, and served it immediately with no extended curing time.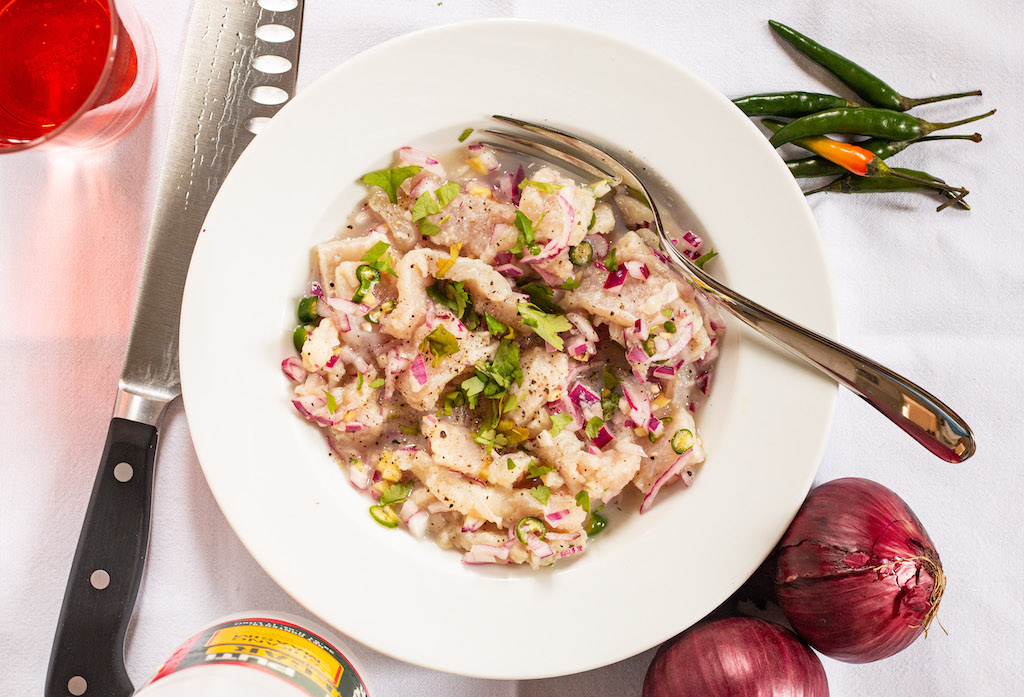 Print Recipe
Ingredients
For the marinade:

2 tuna steaks, very thinly sliced

1 red onion, finely chopped

3 finger chillis, chopped

1 thumb-sized piece of fresh ginger, peeled and thinly sliced

Juice of 1 lime or 2 calamansi

3 tbsp white vinegar (Datu Puti)

Pinch of salt

Pinch of MSG

70ml coconut milk (optional)

To finish:

Handul of coriander, chopped
Instructions
1
Combine all the marinade ingredients in a bowl, mix for a couple of minutes.
2
Add the coriander and serve.