Smoked salmon makes for a very good starter course. Many restaurants and gastropubs have some kind of smoked salmon dish as a staple menu item to start a meal. It is also hugely popular in the home too because it is very tasty, and can often be served on its own with a slice of buttered brown bread. Nothing is simpler nor finer than good Scottish smoked salmon served that way.
In this dish, I have created a simple, quick salmon mousse for spreading over bread, and wrapped it up in smoked salmon to create a good-looking, but devastatingly straightforward dish. Chopped prawns are added to the mousse to give a bit of texture. Taste your mousse with care to make sure the seasoning and lemon balance is right. The mousse can be very bland without it.
A quick cruise around the Internet throws up loads of versions of this dish. The cheese can be swapped for creme fraiche, dill is frequently added, and salmon roe makes for an attractive topping if you can get it.
The addition of sweet chilli sauce as an accompaniment is borderline genius.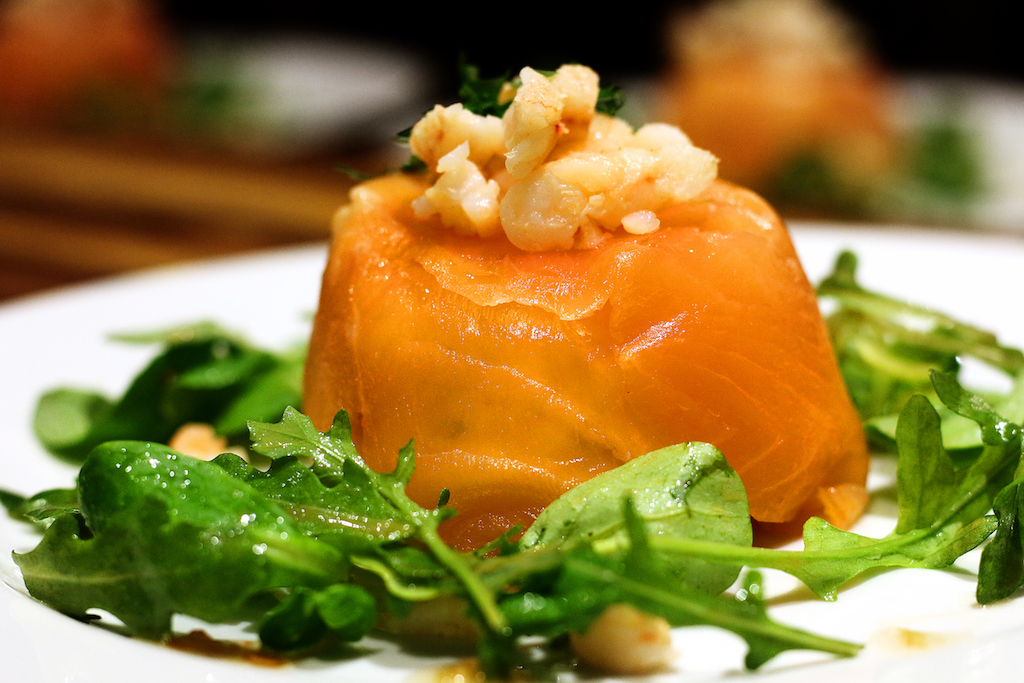 Print Recipe
Salmon mousse with a smoked salmon wrap
Ingredients
2 salmon steak fillets

2 sprigs of thyme

Drizzle of olive oil

200g cream cheese

A small amount of cream or cheese

1 tbsp chives, chopped

Juice of 1 lemon

Knob of butter

165g raw king prawns

300g sliced Scottish smoked salmon (you will have some left over, but you need more than 200g for 4 servings, and salmon comes in packs of about 100g)

A handful each of of rocket leaves and lambs lettuce

Drizzle of French salad dressing

4 tsp Chinese sweet chilli sauce

1 tbsp fresh flat leaf parsley, chopped

8 small slices of sourdough bread

Sea salt and freshly ground black pepper
Instructions
1
Heat an oven to 200˚C. Drizzle a sheet of kitchen foil with olive oil. Season the salmon, and put it on the foil with the thyme. Wrap and bake in the oven for 20 mins. Cool the salmon once cooked.
2
Combine the salmon with the cream cheese, and blitz in a blender until smooth. You may need to add a small amount of double cream to get the mixture to churn properly. Milk will also do, but you will need way less of that.
3
Once blitzed, add the chives and squeeze in some lemon. Season and taste. Adjust lemon and seasoning as needed.
4
Heat a frying pan with the knob of butter until foaming. Add the prawns and cook until pink and just done. If you cook prawns too far, they will be rubbery. Remove the prawns and chop them into small pieces. Save a handful of chopped prawns for garnish, and add the rest to the salmon mousse. Mix through.
5
Line four small ramekins or pudding moulds with cling film, and then with smoked salmon. Spoon in the mousse mixture, fold over the salmon, and then the cling wrap. Press the terrines a little and chill until needed.
6
Plate up by turning the terrines onto a plate, adding dressed salad and a little sweet chilli sauce. Put some of the reserved chopped prawns on top of the terrine, and garnish with a little parsley. Serve with some nice sliced bread, e.g. sourdough.
Notes
French salad dressing can be made by combining olive oil with red wine vinegar (4:1) and a bit of Dijon mustard to taste; shake in a bottle to emulsify. You can make a sweet chilli sauce, but it has rather a lot of ingredients for what is a little flourish to the dish – we just bought some Blue Dragon. Wine pairing: Smoked salmon goes very well with Chenin Blanc. TheDrinkShop.com do a Morgenhof Chenin Blanc 2014 750ml for £12.