The ravioli aperto was invented by Gualtiero Marchesi in the early 1980s.
The story goes that Marchesi was eating out one night at a particularly sloppy restaurant. The chef had failed to seal the ravioli properly, and they split in the pan and all over Marchesi's plate. The Milanese super-chef was inspired by this, and set about creating a dish of intentionally exploded ravioli. In doing so, he included the decidedly un-Italian ingredients of scallops, ginger and butter.
Marchesi's ravioli aperto was one of the key dishes that set out the Italian deconstruction theme that was exemplified by the tart-splattering Massimo Bottura.
To make this dish, you need to know how to make plain pasta and pasta verde.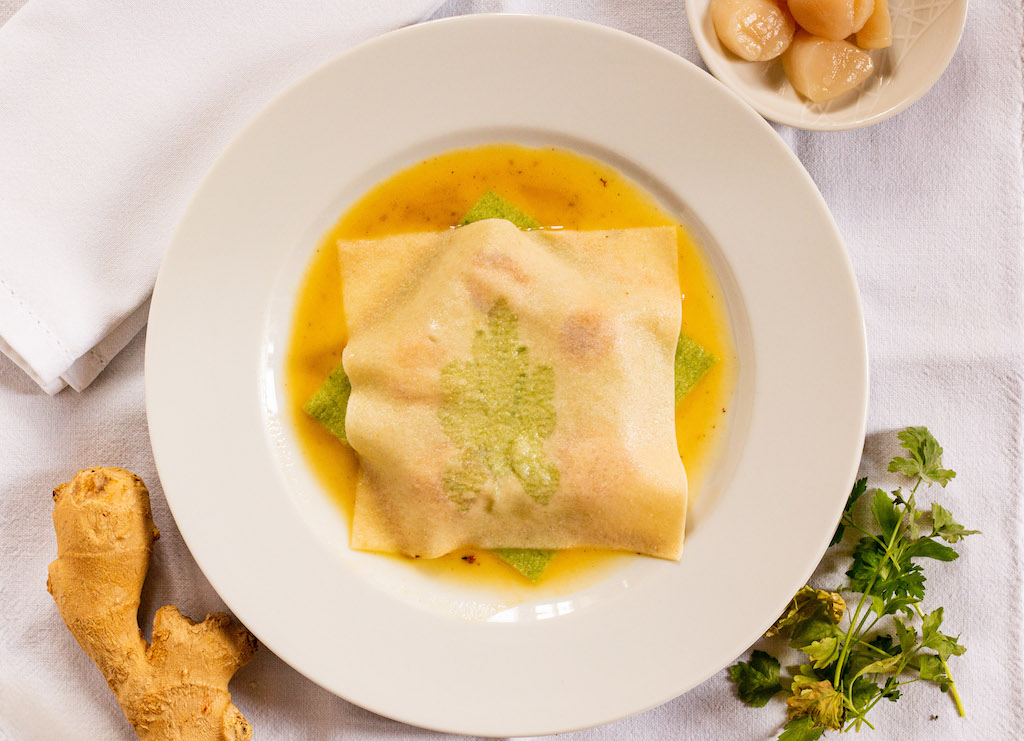 Print Recipe
Ingredients
For the pasta:

100g plain pasta dough

100g pasta verde dough (spinach-flavoured pasta)

4 fresh flatleaf parsley leaves

For the sauce and filling:

24 scallops, shelled and washed with white flesh and coral retained

220g butter

80ml white wine

120ml juice squeezed from a big-ass piece of grated root ginger

Sea salt
Instructions
1
Roll out the green pasta until thin and cut into large squares.
2
Roll out the plain pasta until thin, lay out on a bench, place the 4 parsley leaves on the sheet, fold over and run back though the pasta machine once. This will capture the leaves inside the pasta. Cut into large squares with one leaf central in each square.
3
Cook both pastas in simmering water for 2 mins and drain.
To make the filling and sauce:
4
Heat the butter in a pan until foaming and fy the scallops lightly on each side.
5
Add the wine, boil for a few seconds and then drain.
6
Add the ginger juice to the pan with the scallops and simmer for 1 minute.
7
Add the remaining butter and combine.
8
Lay one spoonful of the sauce on each plate. Add the green pasta square. Add some scallops on top. Rotate the plate through 45 degrees and lay over the white pasta square with the parsley leaf. Pour a little more sauce over and around and serve.