Olivier salad and 'Russian salad' are the same thing. The former is the true name, and the latter is the name most frequently used outside of Eastern Europe and the former Soviet bloc.
The dish originates from the Hermitage Restaurant in Moscow in the 1860s when the head chef was Franco-Belgian cook Lucien Olivier.
During the lifetime of Lucien Olivier, the recipe for his eponymous salad was kept secret, but the basic idea is to throw the contents of a fridge into a bowl of mayonnaise, charge a fortune and hope for the best. The original contained treats such as grouse, caviar, crayfish, tongue and smoked duck. As time has worn on, the common ingredients have changed, such that these days the dish usually comprises potato, pickles, peas, eggs, carrots and chicken.
However, to maintain authenticity with no need to run up a massive tab up at the butcher's, we can wind the clock back a little to 1903 and pick up the version written by Auguste Escoffier, which is much closer to that of Lucien Olivier, but without the expensive game birds. As with many salads, this takes the principle of quantities according to visual volume to create interest and a range of flavours.
The Hermitage restaurant is long-since closed. However, the building still stands on the corner of Petrovsky Boulevard and Neglinnoj Street on Trubnaya Square, and is currently occupied by the Школа Современной Пьесы (School of Modern Drama).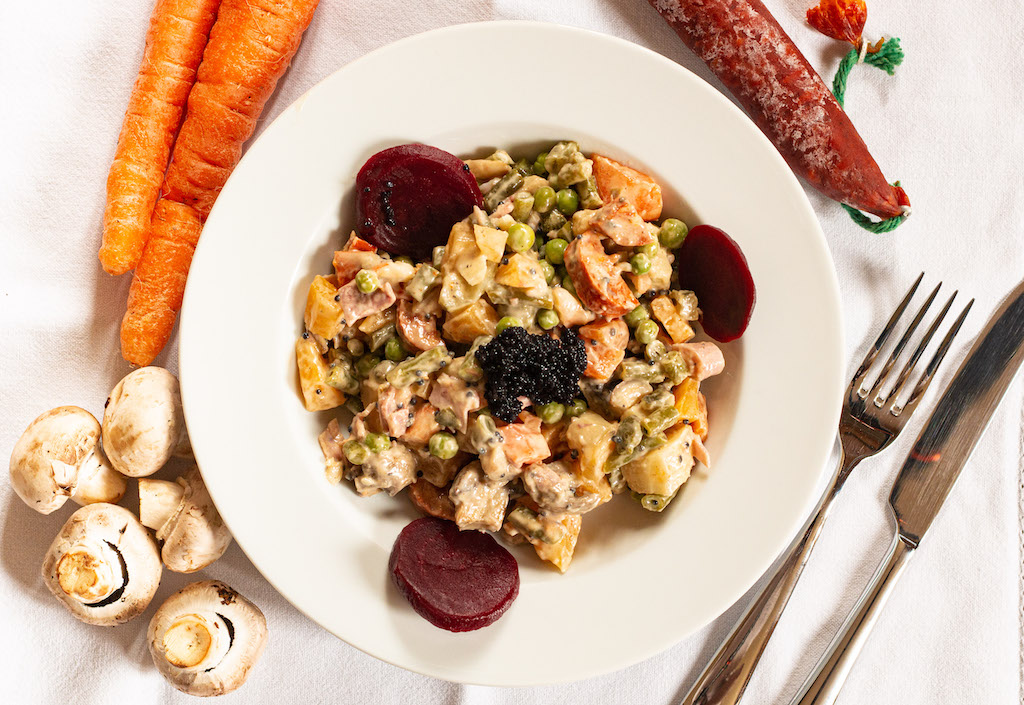 Print Recipe
Olivier ('Russian') salad
Ingredients
For the main ingredients, combine equal visual quantities of:

Carrot, cooked and diced

Turnips, cooked and diced

Potato, cooked and diced

French beans, cooked and sliced

Mushrooms, cooked (pan fry in butter) and diced

Ox tongue, chopped

Ham, chopped

Lobster (or king prawn or crayfish), cooked and diced

Pickled gherkins, chopped

Smoked sausage (e.g. chorizo), chopped

Anchovy fillets, chopped

1 tbsp caviar (use lumpfish eggs for affordability)

To finish:

Mayonnaise (enough to bind the mixture)

Beetroot, sliced

Another 1–2 tbsp caviar

Truffle, grated (optional)

Sea salt and freshly ground black pepper
Instructions
1
Combine all the main ingredients and bind together with the mayonnaise.
2
Garnish with the beetroot at the last moment to avoid it leaching into the rest of the salad.
3
Garnish with the extra caviar and grate over a little truffle if you are feeling wealthy.