The vol-au-vent is the often maligned dinner party classic from 1970's middle-class England. 'Wafts of air,' as they are called for their light, fluffy pastry, these were ubiquitously stuffed with creamed mushroom, and served on brown plates in a room lit by leftover Christmas candles, accompanied by other wild exotica like moussaka and cheese and pineapple on cocktail sticks.
Sadly, it was that aching naffness of the British dinner party, thrown into sharp comedic focus by the Mike Leigh play Abigail's Party, that led to the decline of the vol-au-vent. And this is not a good thing, because vol-au-vents are very nice to eat, they look great, and they are wildly adaptable. You can even make desserts with them.
The invention of the vol-au-vent is credited to Marie-Antoine Carême (1784–1833). Carême is a fascinating guy. He was a freelance chef, and he worked briefly for Napoleon Bonaparte, before switching to the winning side and cooking in London for George IV. He was engaged by Tsar Alexander I, but had so short a tenure, he never cooked a meal. Returning to Paris, he cooked for uber-banker James Mayer Rothschild. Along the way, he invented the 'mother sauce' system of four basic sauces (later modified by Auguste Escoffier), and he invented the chef's hat.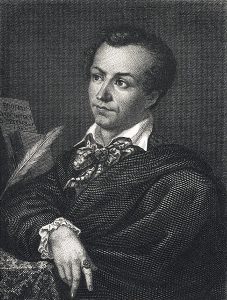 For his vol-au-vents, his signature recipe is small dumplings of minced chicken and breadcrumbs with mushrooms in a Madeira sauce. He called this 'Financière.' Of course, right there we have mushrooms, chicken and a creamy sauce – exactly akin to the creamy mushroom classic that made it to the teak sideboard in the UK.
When I bought Tom Kitchin's new Meat & Game book, the recipe that immediately jumped out at me was his wood pigeon breasts with creamed mushrooms, served in vol-au-vents. Kitchin proudly says that vol-au-vents are back in fashion, and I hope so because I love them.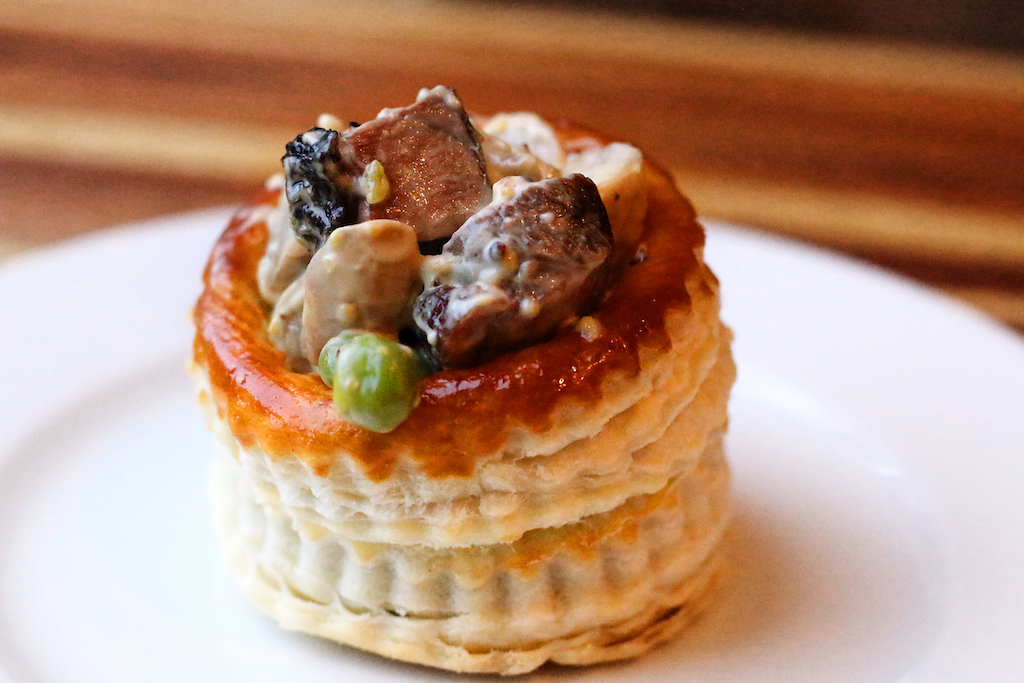 Print Recipe
Wood pigeon breasts with creamed mushrooms in vol-au-vents
Ingredients
2 wood pigeon breasts

2 tbsp olive oil

Sea salt and freshly ground black pepper

250g puff pastry (you may use more if your cutters are large)

1 egg yolk

1 knob of butter

2 tbps olive oil

60g bacon lardons (smoked if possible)

200g button mushrooms, chopped

100ml double cream

50g combined weight of garden peas and shelled and peeled broad beans.

2 tsp wholegrain mustard
Instructions
1
Preheat the oven to 200˚C.
2
Roll out the puff pastry on a very lightly floured surface with a lightly floured rolling pin until it is 4mm thick. Use a 9cm fluted round cutter to cut out 12 circles. Use a 6cm round cutter to cut the centre out of 6 of the circles. Chill the pastry circles for at least 20 minutes.
3
Place the 6 whole circles on a baking sheet and brush with beaten egg yolk. Place the remaining pastry rings on top and brush the tops with a little beaten egg. Don't get any egg on the sides or the vol-au-vents will not rise. Bake for 15 minutes, or until the pastry is well risen and golden brown. Use a sharp paring knife to remove the pastry in the centre. Leave to cool completely on a wire rack.
4
To make the creamed mushrooms, heat a large well-seasoned sauté or frying pan over a medium heat, then melt the butter with the oil. When they are hot, add the lardons and sauté until they have rendered their fat and are coloured all over. Add the mushrooms with a pinch of salt and continue sautéing until they are tender and have absorbed the liquid they give off.
5
Stir in the cream and bring to the boil. Stir in the peas, beans and mustard, and simmer until the peas and beans are tender. Adjust the seasoning with salt and pepper. Set aside and keep hot.
6
Adjust the oven to 170˚C. Season the pigeon breasts all over with salt and pepper.
7
Heat a large well-seasoned, ovenproof sauté or frying pan over a medium-high heat, then add the oil. When it is hot, add the breasts to the pan and brown them for 2 minutes on both sides. Transfer the pan to the oven and roast the breasts, skin side up, for 3 minutes for pink meat. Set aside to rest for 5 minutes covered with kitchen foil. When the breasts come out of the oven, turn the temperature up to 200°C.
8
Reheat the mushroom mixture and reheat the vol-au-vents in the oven for 1–2 minutes. Remove the skin from the pigeon breasts and finely chop the flesh. Stir the chopped flesh and any cooking juices into the mushroom mixture.
9
Divide the mushroom mixture among the vol-au-vents and serve.
Notes
You will need to blanch and rapidly cool the broad beans before peeling them. The vol-au-vent cases can be prepared up to 2 days in advance and stored in an airtight container until required, or they can be frozen.