Buffalo wings are so called because they were invented in 1964 by Teressa Bellissimo at the Anchor Bar in Buffalo, New York.
Like Caesar salad and spaghetti alla puttanesca, Buffalo wings came into being when hard-pressed kitchen staff were asked to come up with something on the spur of the moment. The story goes that Teressa's son Dominic came back to the Anchor Bar drunk with some friends and wanted food. A food delivery error meant that Terassa had chicken wings in the kitchen, but nothing on the regular menu to use them. So she fried them off, tossed them in hot pepper sauce and served them to the assembled pissheads with a dressing from the salad bar.
Within weeks, the wings went viral, and American food history was made.
The recipe given here is researched from the original and appears in Signature Dishes That Matter. The blue cheese dip is freestyled.
The Anchor Bar can be found at 1047 Main St, Buffalo, NY 14209, United States.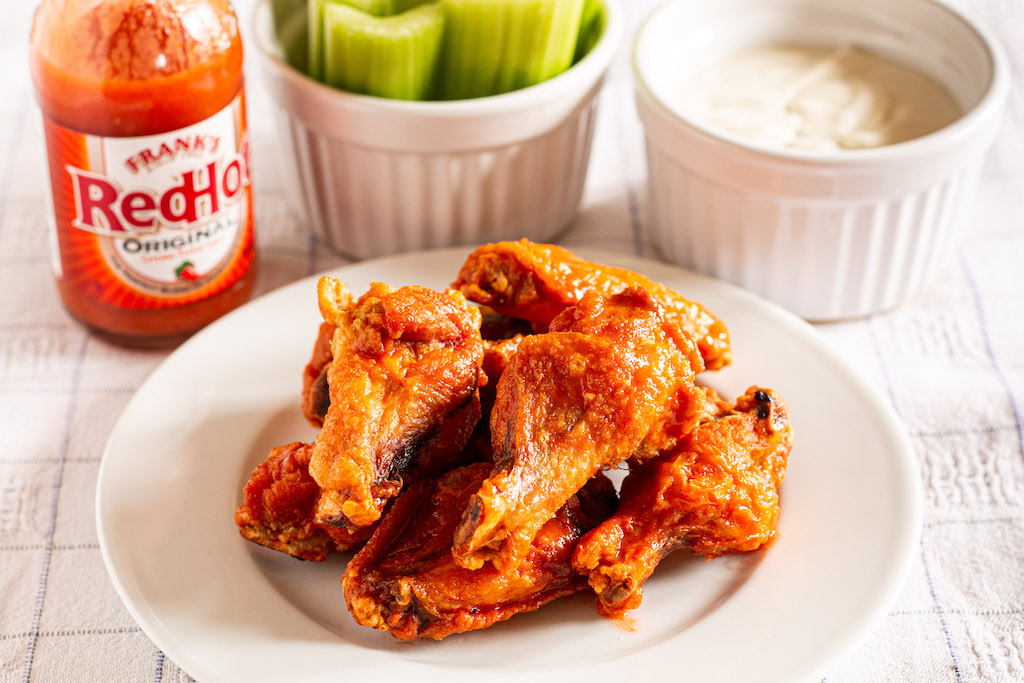 Print Recipe
Ingredients
For the wings:

12 chicken wings, winglets removed, jointed into two parts and blotted dry

150ml Frank's hot pepper sauce

For the blue cheese dip:

100g Roquefort cheese

100g mayonnaise

100g creme fraiche

1–2 tbsp white wine vinegar to taste

Dash of Worcestershire Sauce

Sea salt and freshly ground white pepper

Celery batons
Instructions
1
Heat a fryer to 170˚C (see notes). Fry the chicken pieces in the oil for 10–12 mins until crispy.
2
Meanwhile, make the dip by combining all the ingredients in a bowl and creaming the cheese with a spoon against the sides of the bowl (or whizz in a food processor). Season.
3
Drain the cooked chicken and toss it in a bowl with the hot sauce until well coated.
4
Serve the wings with the dip on the side and some celery batons.
Notes
If you do not have a fryer, you can bake the wings at 220˚C for 45 mins.