Ice cream has origins many, many years ago in 500BC or thereabouts. All kinds of peoples with access to snow would flavour it with fruit or other ingredients and eat it. In ancient Greece, Hippocrates advocated the eating of snow to enliven the senses of his patients.
In Europe, ice cream was socialised by none other than history's greatest distributor of culinary innovation, Catherine de' Medici. The Italian queen consort to Henry II of France transported herself, her wardrobe, her courtiers and her chefs over the Alps to France in 1547. Among the chattels of relocation was the recipe for ice cream. Presumably, they stopped on the way to pick up some snow.
Historically, ice cream was for the wealthy. Emperor Nero, not short of a few quid, would have ice transported from the mountains of northern Italy all the way to Rome, where it was flavoured with fruits and honey to make a range of chilled delights. More recently, the great stately homes of Britain would build an ice house where ice taken from high ground could be stored in cool conditions to make similar dishes.
With the advent of refrigeration in the late 1800s, ice cream was available to the masses, and new recipes were abundant. However, among these it is not clear at what point eggs started to be added. Our research suggests that there are three main types of ice cream: 1. Frozen cream (probably the original); 2. Frozen milk with a bit of cream (gelato); and 3. Frozen egg custard (modern ice cream).
Your basic ice cream flavour is, was and always will be vanilla. Vanilla is considered so ordinary a flavour for ice cream that the term 'vanilla' is used to describe many ordinary things. But, it makes so much sense as a taste. The rich eggy cream is made more so by sugar, and the vanilla is the perfect flavour counterpoint to all that, without being outright sharp.
In his reference volume Cook School, chef Nick Nairn has a recipe for vanilla ice cream that also adds glucose syrup. I have been making this recipe for years without really understanding why the glucose is used instead of normal sugar.
So I asked Chef Nick: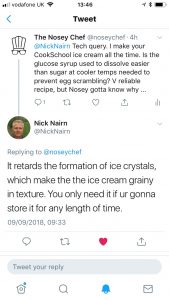 Here, Nick told me that glucose enables a home cook to store ice cream for longer than if using sugar alone. That explains why this recipe is so reliable.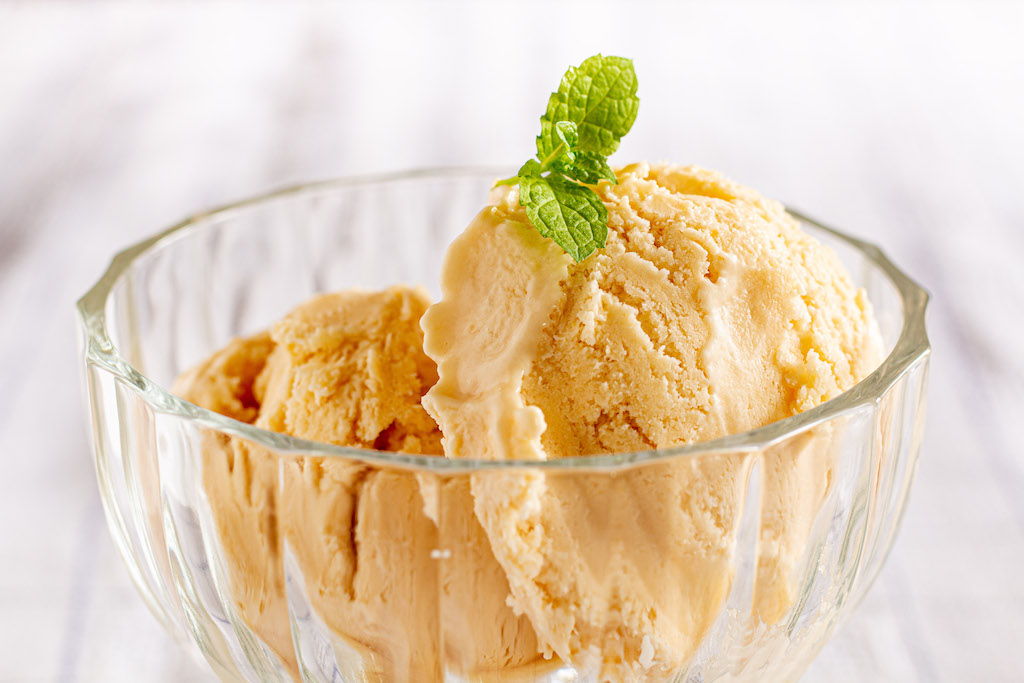 Print Recipe
Ingredients
300ml full fat milk

300ml double cream

30g liquid glucose

Seeds scraped from 1 split vanilla pod

5 egg yolks

90 g caster sugar
Instructions
1
Put the milk and cream in a pan, bring to the boil and remove from the heat. Stir in the glucose and vanilla seeds. Set aside.
2
Beat the egg yolks and sugar until fluffy and pale (use a stand mixer).
3
Reheat cream a little (just to make it flow, but not enough to scramble the eggs) and add it to the bowl with the eggs while whisking (just run the stand mixer and slowly put the cream in).
4
Scrape mixture back into the pan and heat slowly to 82˚C (use a thermometer) to thicken to coating consistency – do not boil or it will split). Strain to remove lumps and cool with some cling wrap on the surface to prevent skinning.
5
Churn the ice-cream in a machine, transfer to a plastic carton and freeze.