Murgh makhani (butter chicken) is a follow-on recipe for murgh tandoori tikka. The parent recipe (the tandoori chicken) was invented in Peshawar in modern Pakistan by Kundan Lal Gujral, who, in the mid-1940s, was running a restaurant in the city called Moti Mahal. The spiced and skewered chicken was borne of the necessity for the restaurant to cook off fresh chicken before it went off in the heat. Much of it was served straight from the tandoor, but Gujral was constantly finding himself with loads of it left over.
Restaurants abhor waste because it eats profits, so the kitchen of Moti Mahal started stewing it off in another sauce and finishing it with butter. This how butter chicken came to be. The recipe given here is the original version from the Peshwar restaurant before it closed in 1947. The same principle lies behind chicken tikka masala.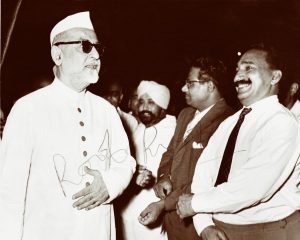 At the end of the Raj, Gujral had to move over the border to India and set up Moti Mahal all over again in Delhi. The flagship restaurant can be found at 3704, Netaji Subhash Marg, Old Dariya Ganj, Daryaganj, New Delhi, Delhi 110002, India. Call +91 11 2327 3011 for a reservation.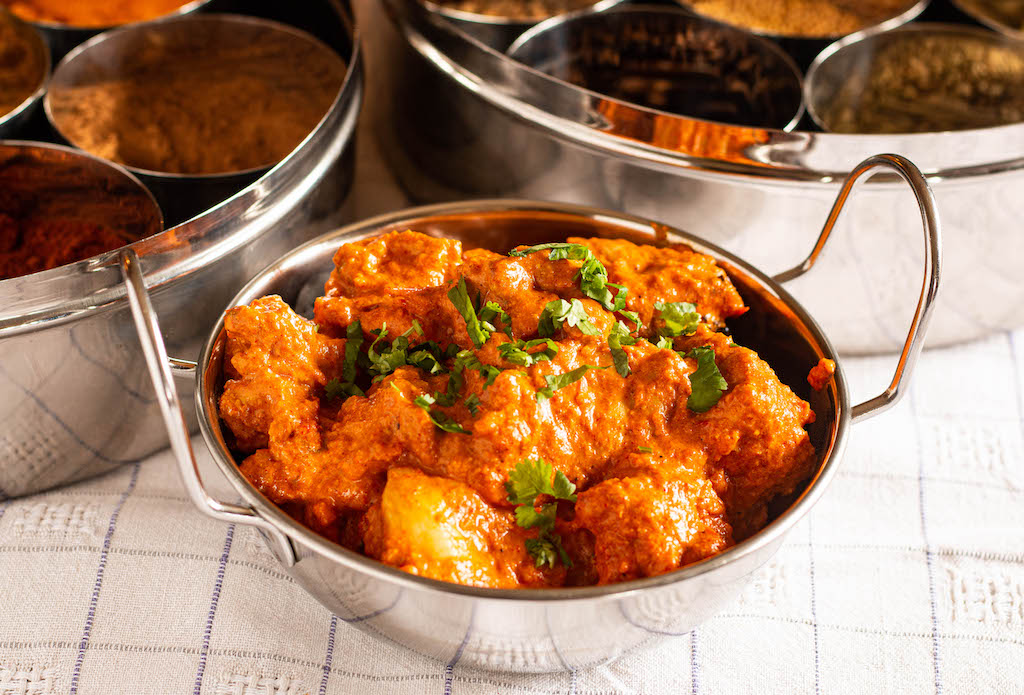 Print Recipe
Ingredients
For the chicken tandoori tikka:

680kg boneless skinless chicken, cut into 3cm chunks

1.5 tbsp fresh lime juice

1.5 tsp sea salt

1 teaspoon Kashmiri chilli powder (see notes)

6 tbsp plain yoghurt (do not use Greek-style yoghurt for a marinade – it will split when cooked)

2 tbsp ginger-garlic paste

2 tsp garam masala

Half a tsp ground fenugreek

For the sauce:

2 tbsp vegetable oil

1 onion, finely chopped

4 medium tomatoes, hulled and chopped

3 tsp ginger-garlic paste

1 tbsp Kashmiri chilli powder (see notes)

1 tbsp garam masala

1 tsp ground cumin

2 tbsp salted butter

100ml double cream
Instructions
To make the chicken tandoori tikka (mise en place: can be done a day in advance):
1
Combine the lime juice and salt in a bowl large enough to hold all the chicken pieces. Add the chicken and toss to coat evenly. Cover and refrigerate for 1 hour.
2
Add the chilli powder, yogurt, garlic, ginger, garam masala and fenugreek, tossing well to coat and distribute evenly. Cover and refrigerate for 3 hours.
3
Preheat the oven to 250˚C.
4
Thread the chicken pieces onto skewers, season with a little more garam masala or fenugreek if desired. Roast on the middle rack for 5 to 6 minutes. Baste with a little oil and continue roasting for 3 to 4 minutes.
5
Check if the chicken is done by cutting into one of the larger pieces. If it is still pink in the middle, roast for another 3 to 5 minutes and check again.
6
Heat the oil in a pot over medium heat. Add the onion and cook for 2–3 minutes, until softened. Stir in the tomato and cook for 10–12 minutes.
7
Use a spatula to press the sauce through a fine-mesh strainer back into the pot, or puree with an immersion (stick) blender in a jug, taking care not to lose any material. Stir in the ginger-garlic paste, chilli powder, garam masala and cumin until well blended, then add the chicken, stirring to coat it with sauce. Cook for 3–5 minutes, just until heated through.
8
Just before serving, add the butter. Once it has melted, stir in the cream, until well incorporated. Immediately remove from the heat and serve warm.
Notes
Kashmiri chilli powder is a very red chilli and lends a lot to the colour of the dish. It can be substituted with 50:50 paprika and cayenne pepper. This dish is quite spicy. If you wish to reduce the spiciness, then adjust the quantities of garam masala and chilli powder in the sauce step.