I know this dish as 'Portuguese sea bass.' Larousse records it as 'sea bass Portuguese.' I first had it in a restaurant called Gambrinus in Lisbon. There it was served as whole fish, filleted table side on a bed of tomatoes. The waiter sprinkled over a pile of parsley to finish it. I hunted high and low and tried various Internet recipes for it, most of which were too watery. Then I found the perfect version in the big French book.
Typically, this dish is served in the Algarve regional as a whole fish, but it is just as good done with fillets, and is a bit easier to eat. Many recipes call this dish 'sea bass Algarve-style.'
Spicing the sauce with Cayenne pepper is common, and it is true that the success of this dish is more about the quality of the tomato sauce than the cooking of the fish.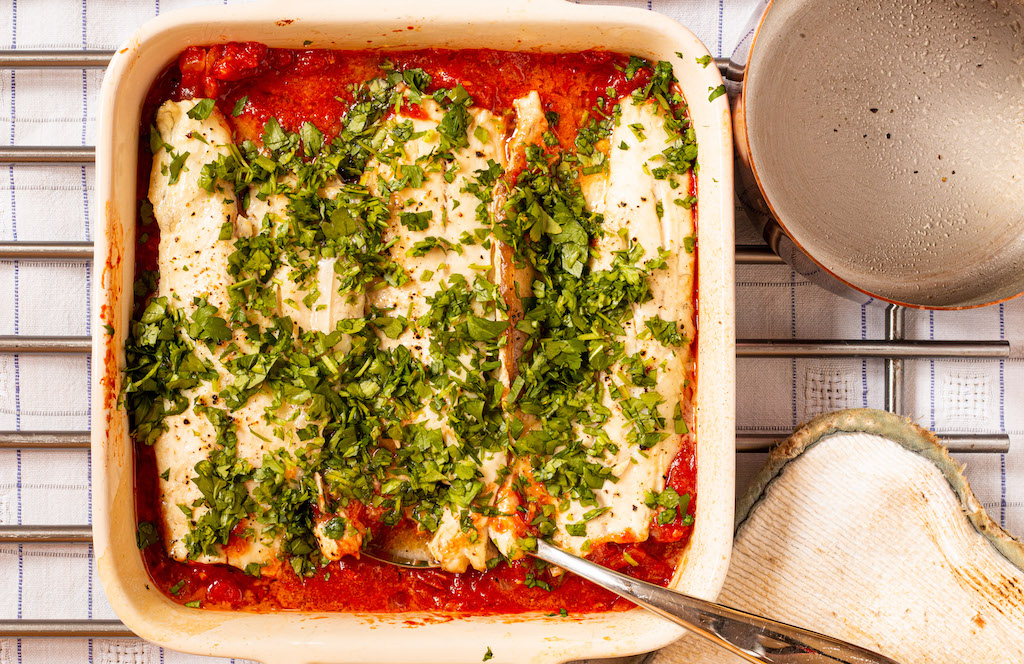 Print Recipe
Robalo assado com tomates
Ingredients
10g butter for greasing

100ml fish stock

100ml dry white wine

4 sea bass fillets

1 onion, chopped

2 garlic cloves, minced

4 tbsp parsley, chopped

400g canned chopped tomatoes

1 tsp Worcestershire sauce

2 tbsp tomato puree

1 pinch of granulated sugar

10g butter for the sauce

Sea salt and freshly ground black pepper
Instructions
2
Grease an earthenware dish with butter and place the fish in it. Trim the tails if needed.
3
Mix the fish stock and wine and pour over the fish. Put the fish in the oven for 15 mins, basting a few times.
4
Meanwhile, prepare the tomato sauce by sautéing the onion in the oil until softened. Add the tomatoes, tomato puree, Worcestershire sauce and sugar. Season to taste (see notes) and bubble on low while the fish is cooking.
5
Once the fish is done, lift it out and remove to a plate. Pour the liquor into a very small pan, add 10 of butter and heat and whisk into an emulsion. Reduce to a quarter its original volume.
6
Spread the tomato sauce in the bottom of an ovenproof dish, arrange the fish on top, and pour over with the reduced liquor. Return to the oven for 5 mins.
7
Scatter the parsley over the whole dish. Serve with some sautéed potatoes or crusty bread.
Notes
Many recipes spice the tomato sauce. To do this, use Cayenne pepper instead of black pepper in the tomato sauce.