I adore smoked haddock. I love its firm texture and earthy overtones that just let the sharpened taste of the original flesh poke through. I enjoy the way it complements creamy sauces perfectly, whereby the smooth of the cream is cut by the slight spice of the smoking. Why then, with a product so perfect, do we still encounter bright yellow, dyed haddock? The answer comes from the history of the smoking process. Back in the day, traditional smoking methods would yield a naturally smoked fish with a strong yellow colour. I cannot work out why that would be other than to suppose that peat may have been used for the smoking. These days, fish tends to be smoked using machinery (with some notable exceptions), which results in a whiter product. Some producers then add Quinoline Yellow (E104), tartrazine (E102) or turmeric to make the fish look like the old-fashioned stuff. This dying process has given yellow, smoked fish a bad rap, and people strive to get the white stuff because they think that are getting a traditional product. In reality, the active avoidance of yellow smoked fish makes it hard for the very traditional smokers to return to the market.
There is a particular smoked haddock dish that I enjoy more than any other. It is made and sold by the modest-sized Loch Fyne chain of restaurants, which I first encountered when they opened in Knutsford, Cheshire. Loch Fyne was started in 1977 as an oyster bar on the banks of Loch Fyne in Cairndow, Argyll, and Bute. When I was working in Knutsford, my team would occasionally treat ourselves to lunch at the local Loch Fyne restaurant, where I developed a cheeky liking for half a lobster with chips. My other favourite was the haddock, which appeared on the menu as:

I had a go at making it myself, but I was not in possession of any kind of recipe, so I had myself a facsimile, but with no certainty that I was getting it right.
Thankfully, Loch Fyne supported the 2017 Royal National Lifeboat Association (RNLI) 'Fish Supper' dining event. The restaurants offered a three-course set menu for £26, donating £2 to the RNLI for every meal served. The money raised by the RNLI Fish Suppers supports all aspects of RNLI lifesaving work and helps buy kit and fuel for the crews and boats. The RNLI posted the recipe for poached Loch Fyne smoked haddock on their Fish Supper's promotional web site. It was there that The Nosey Chef picked it up, and cooked it properly at last.
Do try to make this – it's positively glorious.
Sadly, the Knutsford Loch Fyne restaurant has closed, and there is now no edition of the chain this side of Nottingham.
You can buy Loch Fyne's own smoked haddock fillets (which are wood smoked and undyed) from their retail site. A combined fish weight of 350g can be bought for £11.95.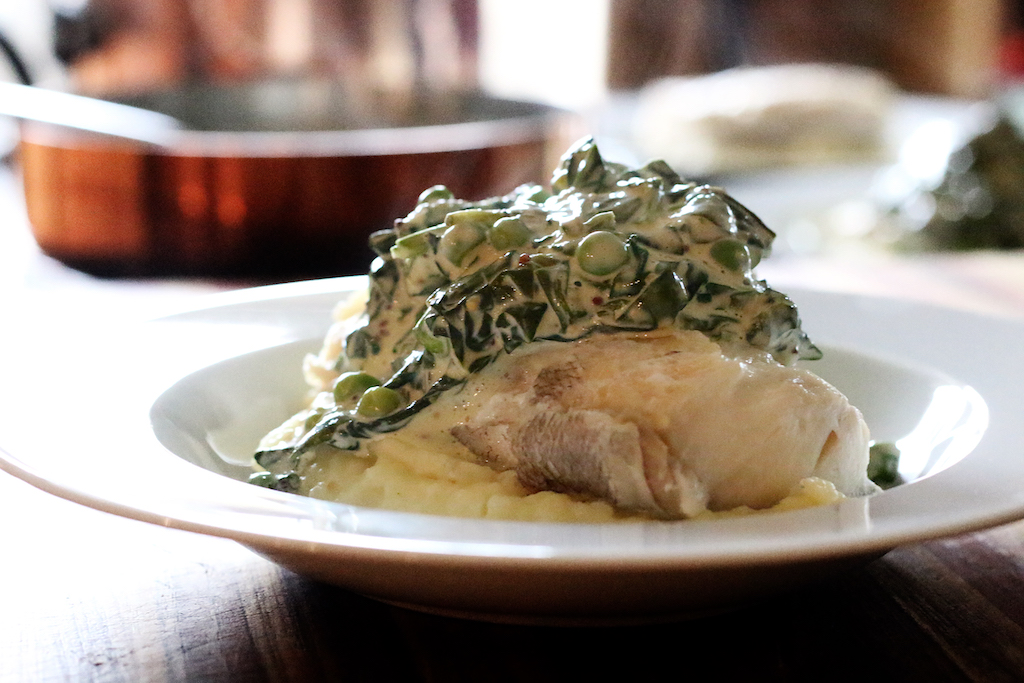 Print Recipe
Poached Loch Fyne® smoked haddock
Ingredients
300g potatoes (a good mashing variety)

60 unsalted butter

50ml milk

400g undyed, naturally smoked haddock in two fillets (you may need more total weight as these will be trimmed – it's two small fillets or one large one), skinned

200ml milk

200ml water

100g baby spinach, finely shredded

80g petit pois

2g chervil, picked and finely chopped (parsley will do in a pinch)

300ml double cream

10g garlic, minced

30g whole grain mustard

Sea salt and freshly ground white pepper
Instructions
1
First, make the mash – wash the potatoes, cover in cold water with a good pinch of salt, bring to the boil and simmer for 20–25 minutes until tender. Remove from the water and allow to cool slightly. Remove the skins – they should come away very easily if the potatoes are cooked. Mash the potatoes, a moulis works best but you can use a ricer or masher. Next, place the milk and butter in a pan and bring to the boil, reduce by about half. Add the mash and, using a wooden spoon or spatula, start to beat it slowly at first but then faster until combined. Season with salt and pepper to taste and set aside.
2
Remove any pin bones from the skinned haddock and cut into 4 equal pieces. Then trim away any really thin pieces of flesh leaving 4 lovely, regular pieces, roughly 90g each. Bring the milk and water to the boil and place the haddock in ensuring it is covered. Lower the heat so it's simmering gently, and leave to poach for 6–7 minutes.
3
Meanwhile, add the double cream to a small sauce pan with the minced garlic and wholegrain mustard. Bring to the boil and lower the heat to a gentle simmer for 3–4 minutes until the garlic is cooked, stirring occasionally to combine the mustard. Remove from the heat and add the finely shredded spinach, petit pois and chopped chervil. Place back on a gentle heat and cook until the spinach wilts.
4
To serve, quenelle or dollop the mash into two bowls. Remove the haddock from its poaching liquor ensuring it is well drained, and place on top of the mash. Spoon over the mustard cream, evenly distributing the peas and spinach.