About a year ago, in July 2018, we set about making the original Casear salad. This dish was made by Italian-born, American-Mexican restauranteur Cesare Cardini in Tijuana, Mexico on US Independence Day 1924 when his busy kitchen had run out of ingredients.
That original recipe was quite hard to find, and it used a whole coddled egg mixed with lemon, Worcestershire sauce and olive oil. There was pretty much nothing else in the dressing apart from that. The recipe we found was that of Julia Child and Jacques Pepin, and was related to Pepin by Child on the basis of a trip she had made to Hotel Caesar's with her parents in the 1920s.
We knew at the time that the Caesar salad has evolved since 1924, not only in domestic kitchens where mayonnaise is often used, but also in the dining room of Hotel Caesar's in Tijuana. There are two one three decent reference videos on YouTube that show you how the modern version is essentially a clever refinement of the original. It seems to us that the original recipe was very popular, but that tweaks were made to improve it. This means that over time, slightly different versions of the salad have been recorded. Interestingly, even when you look the video clips shot in Caesar's itself, you will find variations, such as lime being swapped for lemon, and a raw egg instead of a coddled one.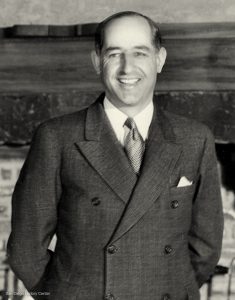 The recipe we have given here is the current incarnation that you will get if you go to Casear's tomorrow and have the house salad. The dish is always made table side in a large wooden bowl, and the dressing is mixed with a large, wooden spatula. The size of the bowl is important because you need to turn the whole romaine leaves in it. At home, you can use a big, size 12 Mason Cash bowl. When served, the the leaves are placed spine uppermost, and the salad is topped with a whole-slice crouton rather than smaller cubes.
The salad has appeared on the menu with various spellings over the years, such as 'Ensalada Caesar's,' 'The Original Caesar's Salad' and 'La Legendaria Ensalada Caesar's.'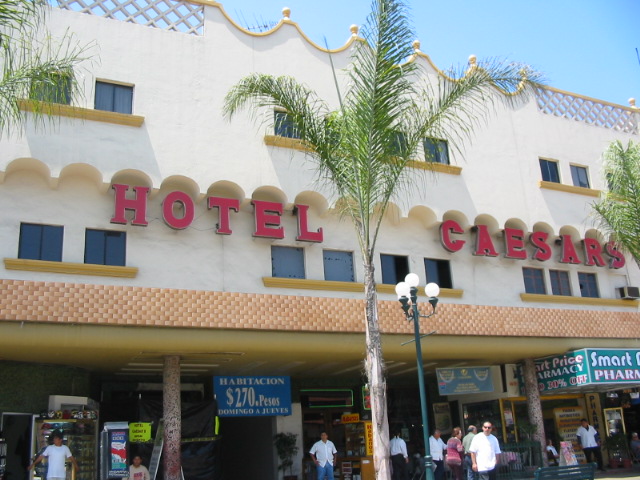 The Nosey Chef keeps banging on about originality, but there is a perfectly reasonable cheat to making a Caesar salad if you are not a person who likes whisking things. If we understand that mayonnaise is oil and acidic liquid emulsified using a mustard-spiked egg yolk, then it does not take a genius to look at the recipe below and decide that it is possible to put a big dollop of mayo and the rest of the dressing mix in a blender and whizz it for 10 seconds. This is exactly the method advocated by Edinburgh-based Tom Johnston on his Tom Cooks! blog. The result will be pretty similar to a Cardini dressing, but you will likely be swapping the lime for vinegar and the olive oil for neutral oil because you have no control over what is in your jar of shop-bought mayo. If you decide to use 'light' mayonnaise, then you are surrendering all hope of authenticity to whatever chemistry set the manufacturers were using when they made their low-fat emulsion – don't use that stuff.
Caesar's Restaurant can still be found at Revolución Avenue between 4th and 5th Streets, Tijuana, México, CP 22000.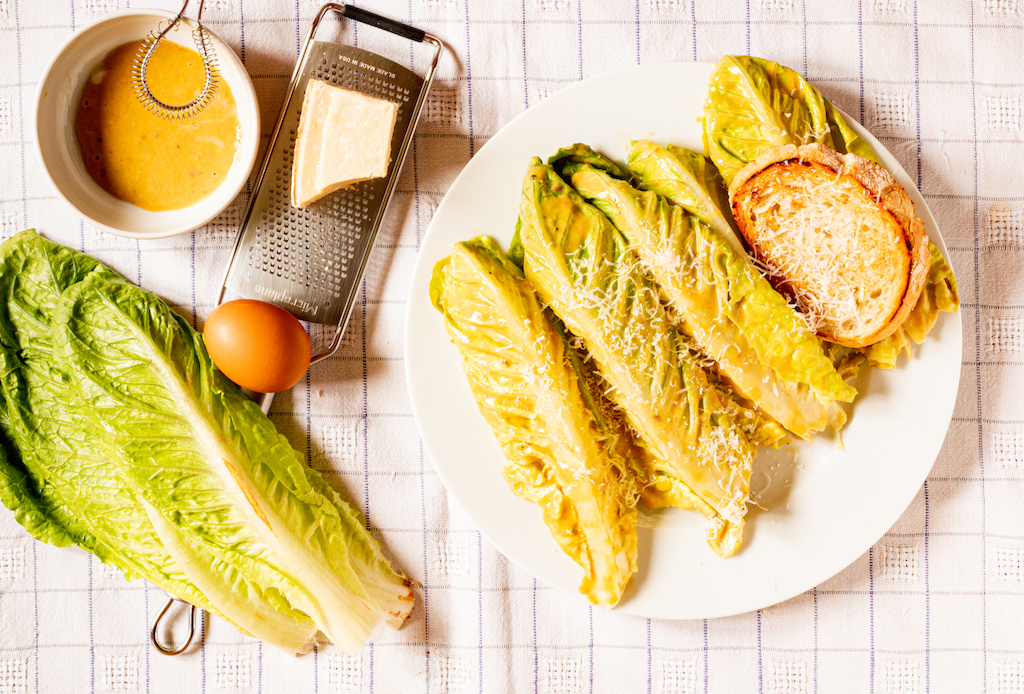 Print Recipe
Ensalada Caesar's (current version)
Ingredients
1 romaine lettuce, split into leaves (discard the outermost leaves)

1 egg (see notes)

Juice of 1 lime

2 tsp Dijon mustard

6 anchovy fillets, minced

1 clove garlic, minced

1 tsp Worcestershire sauce

Freshly ground black pepper

125ml high-grade extra-virgin olive oil

30g parmesan, finely grated

2 baguette slices, toasted
Instructions
1
Separate the lettuce leaves, wash and dry.
2
To coddle the egg, bring a pan of water to the boil and boil the egg for 2 minutes. Rapidly chill the egg and separate the yolk, discarding the semi-cooked white.
3
In a large bowl (wooden if you have it), combine the lime juice, mustard, anchovies, garlic and Worcestershire sauce. Add two twists of black pepper.
4
Whisk in the coddled egg yolk, and gradually whisk in the olive oil, maintaining a smooth emulsion. Add the cheese, reserving a bit to sprinkle over once the salad is done.
5
Add the lettuce leaves and turn them over and over in the dressing until thoroughly coated.
6
Serve the leaves onto a platter, spine side up. Spoon a little extra dressing over the spine of the uppermost leaf. Pop the crouton on top and sprinkle over with the remaining parmesan.
Notes
The 'proper' recipe uses a yolks of a coddled egg per the instructions given here. This slightly stiffens the yolk, but not by much. If you cannot be bothered with the faff of coddling an egg, you can just use the separated egg yolk – indeed one of the clips I have seen from Hotel Caesar's uses that method.