In March every year, the chefs of Twitter suddenly go mad for wild garlic. The last few years have seen it increase in popularity to the point where almost no kitchen with an interest in seasonality does not have it on the menu.
The fuss is easy to understand. Wild garlic grows in abundance in the UK, it is available from March until June, but is at its best before it flowers. This means it has a very short usable season. It is so flavoursome that the air around wild garlic patches takes on a strong aroma. A bag of it in your kitchen will fill the whole house with its distinctive niff. To use it, replace bulb garlic with chopped wild garlic, adding it along with the herbs rather than cooking with the onions/soffrito. It can be used raw as a garnish, and it is a great addition to mashed potato. One of the most popular applications is pesto, which can be used to very simply dress spaghetti.
Popular food history will tell you that anyone making wild garlic pesto is treading directly in the muddy footprints of Danny Kingston (@foodurchin), who was responsible for popularising the preparation in the UK.
Finding wild garlic is relatively easy. It grows in dappled shade in deciduous woodland close to running water. You do need to be careful of one thing though – wild garlic can look similar to lily of the valley, which is poisonous. The way to tell them apart is that only one of the two plants smells of garlic.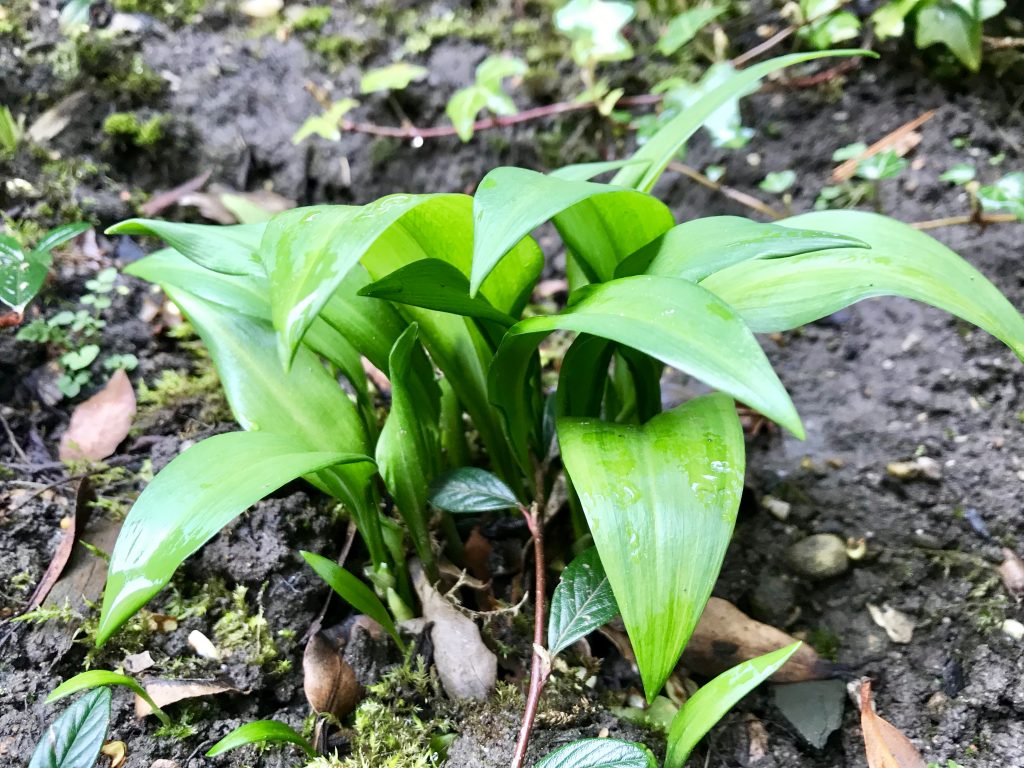 When foraging for wild garlic, it helps everyone concerned if you don't lift the bulbs. Just cut the leaves very close to the ground, and this will ensure a ready supply every year for all of us who like to bag a bit of free food from the woods. However, if you don't mind planting something in your garden that might go mental (like mint goes mental), then lift a few bulbs and plant them at home. It will take a full year for them to come back up with fresh leaves, but this will give you a very handy supply. We have an awkward area of our garden where nothing really grows that well, so we tried wild garlic bulbs, and 1 year later we had healthy plants.
The Nosey Chef gets his wild garlic from a 40 square-metre patch down on the Black Brook at Buxworth, High Peak. Walk from the Navigation Inn at Buxworth eastward along the Peak Forest tramway until you come to a wooden footbridge on the left. There is a low, broken wall on your left just ahead. Hop over that, and the garlic patch lies between the wall and the brook. Alternatively, ask Edwina Currie. She has loads growing in her garden on Whaley Lane.
Print Recipe
Ingredients
3 handfuls fresh wild garlic leaves

1 handful pine nuts, very lightly toasted in a frying pan

1 good handful Parmesan cheese, freshly grated

Extra virgin or vintage olive oil (the very best you can get)

Sea salt and freshly ground black pepper
Instructions
1
Run a food processor, and put in all the ingredients except the oil.
2
With the mixer running, slowly add the oil until the mixture gets an oozy consistency. You want to go a little beyond just binding it, but not so far that it is loose.
3
Season and store in a jar in the fridge.