Gratin Dauphinoise is dish of thinly sliced potatoes baked in cream. It originates from the Dauphiné region of France. The old Dauphiné Viennois, so called for the dolphin on the local count's coat of arms, now includes the Hautes-Alpes, which contains the Savoie, and le Savoie is famous for cheese. And that simple fact is where all the confusion over the recipe for gratin Dauphinoise comes from – does it contain cheese?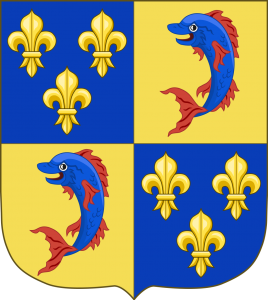 In her blog, French for Foodies, Paris-domiciled Aussie Rachel Bajada explains her first encounter with gratin Dauphinoise, and goes onto explain that cheese was a hot commodity in 17th Century Savoie. As such, it was not generally used for cooking, and other by products of cheese manufacture would be used to enrich the local tartifle potatoes – including cream. Bajada asserts that there is no cheese in a gratin Dauphinoise. This notion is backed up by American authors of The Spruce Eats, who add eggs to the list of banned components.
However, the canonical resources for French cuisine disagree. Auguste Escoffier, writing in 1903, smears garlic over the inside of a dish, and builds up his potatoes with boiled milk, Gruyere cheese and eggs. Larousse differentiates pomme de terre Dauphinoise from gratin Dauphinoise by describing the former as a simple dish of potatoes and cream, and the latter as the baked dish of potatoes, garlic and eggs with cheese sprinkled over. Larousse goes on to add a sub-recipe called gratin Savoyade that omits the eggs and layers the cheese in with the potatoes.
Once all this kerfuffle is absorbed, gratin Dauphinoise starts to look very like a traditional dish with fiercely defended ingredients that actually has no fixed recipe. Another plat de la mère.
The recipe we use is our own. We leave out the dubious eggs, add the garlic to the potatoes (so you can make mini gratins very easily), and mix cream with milk to give a mixture that has no risk of being runny in the absence of the albumin. Any notion of a pre-cook of the potatoes is completely unnecessary if you have cut very finely with a mandoline. We like to add the cheese, but as a sprinkle, per Larousse.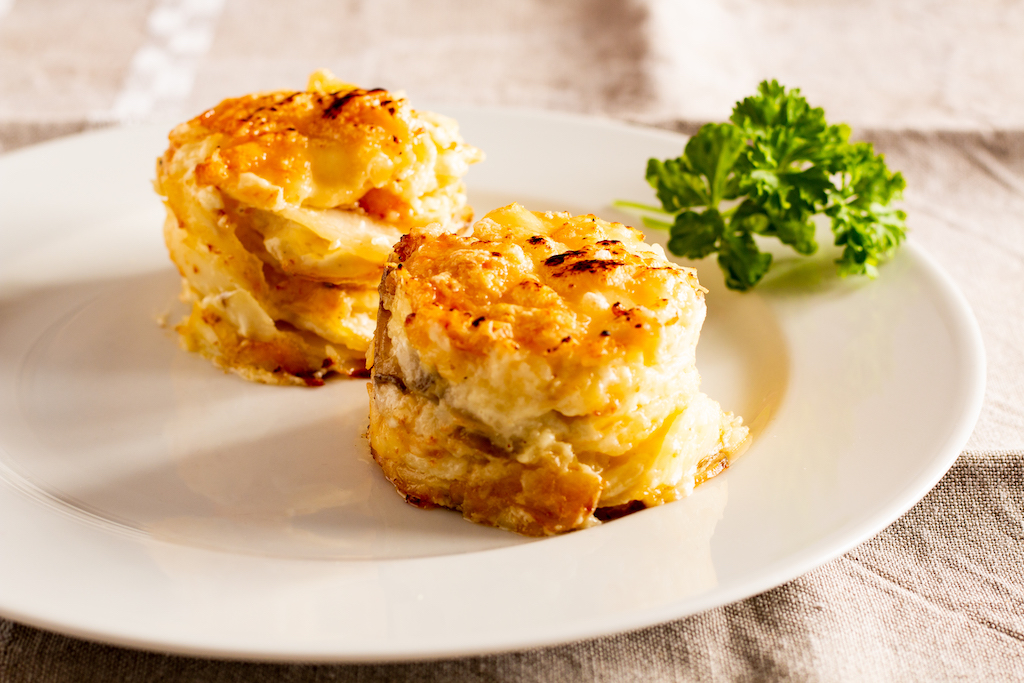 Print Recipe
Ingredients
10g unsalted butter

2 garlic cloves, minced

100ml milk

300ml double cream

500g potatoes

100g Gruyere or Comté cheese

Sea salt and freshly ground black pepper
Instructions
1
Preheat an oven to 160˚C and use all the butter to great a gratin dish really, really well.
2
Heat the garlic, milk and cream in a pan until boiling. Remove from the heat and season.
3
Slice the potatoes very thinly with a mandoline, and arrange in an overlapping fashion in the prepared dish. Season.
4
Pour the cream mixture over the potatoes and sprinkle with the cheese. Bake in the oven for 1.5h. Grill the top to finish for a crisp top.