Shortbread is credited to Mary Queen of Scots (1542–1587). Whether she invented it is in doubt, but she certainly loved to scoff it. Her favourite was 'petticoat tails,' which are a thin biscuit segment split from a large, scored round.
Shortbread is thought to have grown out of the thin rusks made from dough left over from medieval bread making. Over time, butter (which was expensive) got in there, and we ended up with 'modern' shortbread. Due to its expense, shortbread was viewed as a treat, and it was often wrapped and given as a gift. Scottish gift shops still sell it in little tartan tins as souvenirs for visitors. Walkers, which is the most prolific shortbread brand, is actually the largest food exporter in Scotland.
Making shortbread is ridiculously easy. Niki Segnit, author of 2018's runaway success cook book 'Lateral Cooking' breaks it down as:
1:2:3; sugar:butter:flour
If you want to add almond flour or other dry flavourings, then you steal weight from the flour allocation.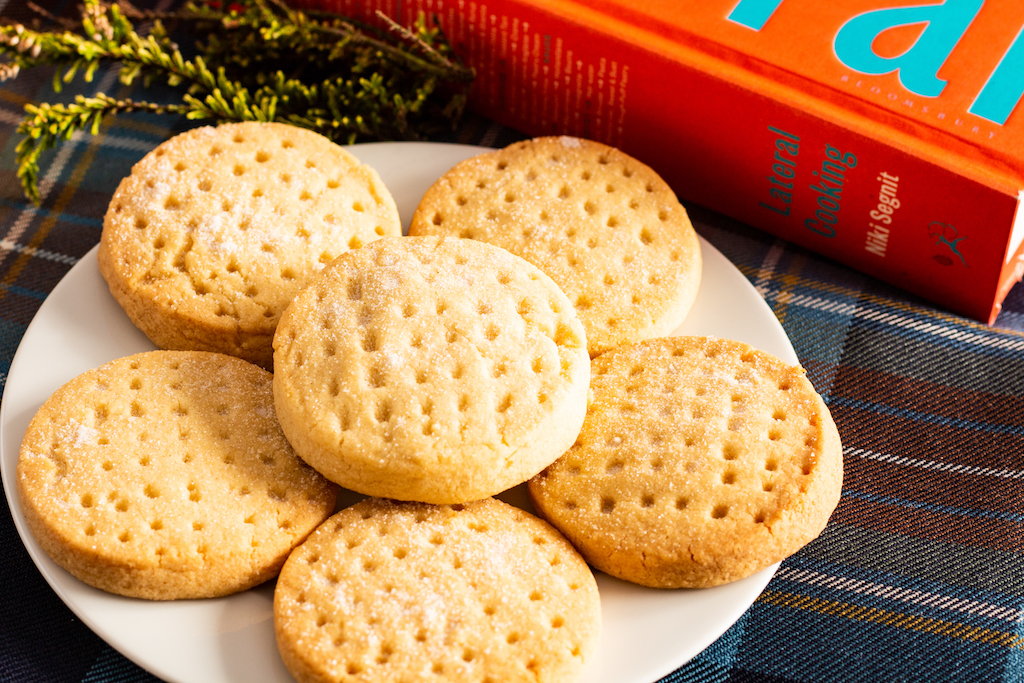 Print Recipe
Ingredients
100g caster sugar

200g unsalted butter, cubed (cool, but soft-ish)

300g plain flour
Instructions
2
Whizz the sugar and butter in a food processor until creamed. Combine the flour with a the processor, but do not run so long or the mixture will get warm.
3
Once the mixture is homogenous, it can be rolled 5mm thick in a lightly floured surface (dusted over with a bit more flour), cut into rounds and decorated with the prongs of a fork. Transfer to a lightly buttered baking tray. You can also make small balls and press them directly onto the buttered tray with the tines of a fork. Minimal handling is key.
4
Bake in the oven for about 15 mins. They will still be soft at this point, but going further will over-toast them.
5
Cool the shortbread a little on the tray and then carefully transfer to a wire rack to completely cool (if you completely cool the biscuits on the tray they may stick; if you move them too soon, they will just crumble away – basically move them once you can comfortably hold the tray). Dust with more caster to finish.
Notes
Our friend Joanne recommends replacing one third of the flour with cornflour for a lighter, crumblier shortbread. She also advocates light handling.