Simon Difford calls the Gin Fizz the cocktail that everyone has heard of, but nobody has tried. But skipping the Gin Fizz and opting for the easier, more popular G&T is to miss out on one of the finest beverages from the very beginnings of cocktail history.
The e Fizz family of cocktails is a freestyle group of drinks made with base spirit, citrus, sugar and soda. They first appear in Jerry Thomas's 1887 Bartender's Guide, and it is a lot like an unstirred Collins without the bitters (or a French 75 with the champers swapped for soda).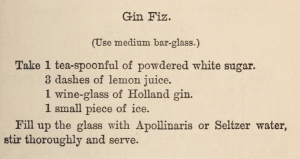 Sadly, the drink is now missing from most cocktail menus. Even those folk who profess to love gin have never tried one – and yet they are so easy to make at home.
Go on, treat yourself to a Fizz.
Print Recipe
Ingredients
45ml gin

30ml lemon juice

10ml simple syrup

80ml soda water
Instructions
1
Shake the first three ingredients with ice.
2
Tip the whole lot (with the ice) into an Old Fashioned or a small Collins (8oz glass).
3
Top with soda, stir gently and garnish with a lemon twist.
Notes
Simple syrup is made by heating 1:1 v/v caster sugar and water until dissolved. Bottle and chill.