This week, the thick hedgerows of the English Peak District have been groaning under the weight of a bumper crop of blackberries. I found a small patch opposite the house, but a neighbour tipped me off on a much larger bush just 20 feet away. This guy is producing kilos of berries, and new ones are ripening every couple of days. We executed a raid and got enough for jamming. I stole two off the top of the punnet for today's Friday Cocktail (I have decided that Friday cocktails are a great idea for the Nosey Chef).
The Bramble cocktail is one of a clutch of modern classics invented by London's Dick Bradsell. Bradsell is credited as the father of the cocktail revival that took recipes from the 1980s and 1990s, and injected the bright young things of London with a renewed passion for drinks mixed with other drinks. Prior to Bradsell, bars were turning out glass after glass of classics like the Tom Collins, the Manhattan, the Martini and the Cosmopolitan. These drinks all have their merits, but if you are 22 years old, working on the trading floor of a bank in John Major's post-Thatcherite Britain, would you really order a cocktail you have seen your dad drinking?
Bradsell set his jiggers up in London, first at Zanzibar and The Soho Brasserie, later at Fred's Club, and most famously at Oliver Peyton's Atlantic Bar and Grill. All these places have now gone, and sadly, so has Bradsell, who died of brain cancer in 2016 at the age of 56.
However, Bradsell left behind two unforgettable cocktails that have been carved into the IBA canon. These are the Espresso Martini and the Bramble. These days, the Espresso Martini arguably has the limelight; but for so long, the Bramble reigned supreme as the greatest modern cocktail of its time. Here is the IBA certified method of making it.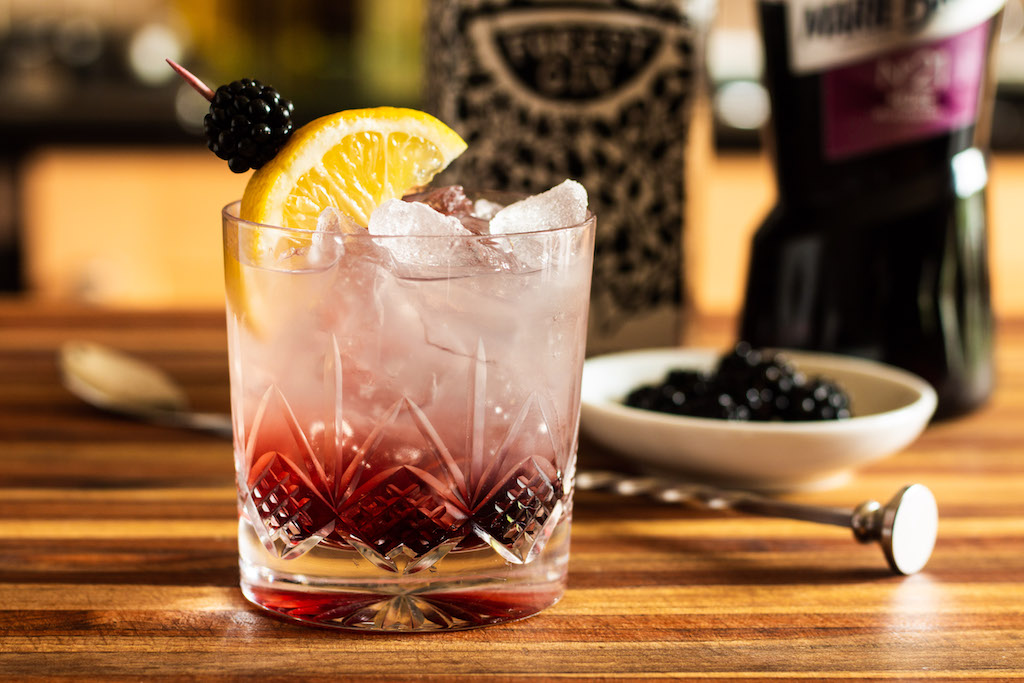 Print Recipe
Ingredients
40ml gin

15ml lemon juice

10ml simple syrup

15ml crème de mûre

2 blackberries

Slice of lemon
Instructions
1
Fill a tumbler or old fashioned with crushed ice.
2
Add the gin, juice and simple syrup. Stir.
3
Drizzle the crème de mûre over the top in a circular fashion and do not agitate.
4
Garnish with the lemon slice and blackberries.
Notes
Simple syrup is 50:50 volume:volume caster sugar and water (i.e. a mug of water and a mug of sugar), heated gently to dissolve the sugar and cooled – make a load of it and bottle it). It is actually possible to make crème de mûre from blackberries, wine, sugar and vodka, but the finished article is available from Amazon.