Caesar salad can be found on countless bistro menus, and seems particularly popular in faux Italian chain establishments like Strada and Bella Italia. This is super curious because Caesar salad is Mexican.
Now, I really like the Caesar salads I have eaten and made over the years. I liked them all apart from one notable exception that was served to me in a Bella Italia in Aberdeen, Scotland. The croutons were so cold in the centre, it was clear that they had been fried from frozen. The staff were adamant that the croutons were not frozen, but you cannot kid a kidder. These things were ice cold. They gave me a voucher. I never spent it.
When it came time for The Nosey Chef to make a Casear salad, we went off and tried to find the original as made by Italian-born, American-Mexican restauranteur Cesare Cardini in Tijuana, Mexico on 4 July 1924. It here that we learned just how far from the tree the Caesar salad as fallen. It has positively plummeted for leagues and leagues from the dish that Cardini made the on the occasion that an Independence Day rush emptied his larder and left him with pretty much fuck all to fill the bellies of his hungry customers.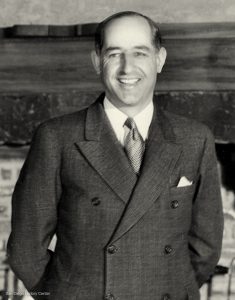 Many so-called Caesar dressings are made of mayonnaise, mixed with garlic, vinegar, anchovies and lemon. Caesar salads are often dressed with more anchovies, and frequently grilled chicken. Of all of those ingredients, the only one that is in the original dressing is the lemon.
I'll let that sink in for a moment.
Cardini's recipe was never written down, and more than one restaurant employee had claimed to have invented it. Normally, this would result in loss of the original recipe, and everything would be guesswork. Thankfully, Cardini used to make this salad tableside, in the same way that maître d's make crêpes Suzette with all the theatre of flambé and booze (but without the flames and the ethanol). Among the customers in Cardini's restaurant was none other than the family of one Julia Child.
Julia Child was what we would now term 'batshit crazy,' but she did so much for American home cooking, we have to forgive her for being completely mental. We also have to doff our hats to her for teaming up with Jacques Pepin to write a book entitled Julia and Jacques Cooking at Home. In it, Child used her recollection of Cardini's theatrics, and notes from Cardini's daughter Rosa, to pen a damn-near-close-as-you-are-going-to-get-to-original Caesar salad recipe. Its this recipe that we have provided here.
Child said of the dish:
"My parents were so excited, eating this famous salad that was suddenly very chic. Caesar himself was a great big old fellow who stood right in front of us to make it. I remember the turning of the salad in the bowl was very dramatic. And egg in a salad was unheard of at that point."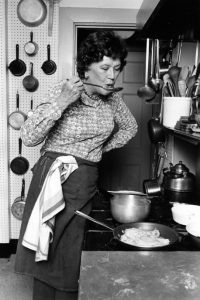 When eating the original Caesar, it is done with the fingers and a stack of napkins. More practical cooks and those making this for friends might want to shred the lettuce and equip them with a fork.
It is worth noting that The Nosey Chef has seen a few video clips of Caesar salads being made. One of these is shot in Cardini's old restaurant, and it differs from the Child recipe in that anchovies are added, and only the egg yolk is used. The whole dressing is combined before the salad leaves are added. On looking at these versions, I think we may be blogging a Caesar Salad II at some point because it looks like it may give a better result. As we said above, Cardini never wrote the recipe down, to it is not surprising that the method may change a little over time – even in his own establishment.
Caesar's Restaurant can still be found at Revolución Avenue between 4th and 5th Streets, Tijuana, México, CP 22000.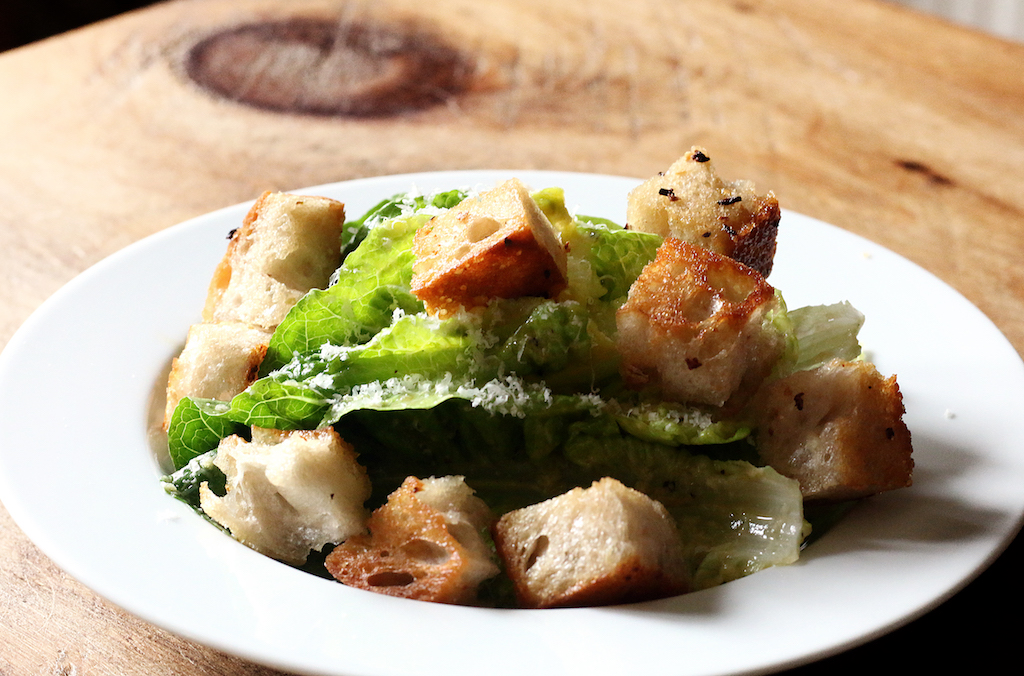 Print Recipe
Ensalada Casear's (1924 version)
Ingredients
1 romaine lettuce

2 thick slices of bread, cubed

1 clove garlic, peeled

2 tbsp olive oil (the best you can find)

1 medium egg

Juice of 1 lemon

Worcestershire sauce

2 tbsp freshly grated Parmesan

Sea salt and freshly ground black pepper
Instructions
1
Separate the lettuce leaves and wash.
2
Flavour the croutons by mincing the garlic with some salt (see cheffy videos on how to do this with just a knife – garlic presses are evil), adding about a tablespoon of olive oil and mashing again with the knife, rubbing and pressing to make a soft purée. Scrape the purée into the frying pan, add another tablespoon of oil, and warm over low-medium heat. Add the bread and toss for a minute or two to infuse the croutons with the garlic oil, and then remove from the heat.
3
To coddle the egg, bring a small saucepan of water to a simmer and cook the egg in its shell for just 1 minute.
4
For a Caesar salad, we dress just before serving. Drizzle 2 tablespoons of olive oil over the romaine leaves and toss to coat. Sprinkle with plenty of salt and pepper, toss again. Add the lemon juice and several drops of Worcestershire sauce. Toss again. Check seasoning.
5
Crack the egg and drop it right on the romaine leaves, then toss to break it up and coat the leaves. Sprinkle on the cheese, toss briefly, then add the croutons and toss one last time.
6
To serve, arrange 6 or so leaves in a single layer on your serving plates, scatter the croutons around.