Whilst clearing out the freezer, in a vain attempt to use stuff up at a greater rate than it seems to accumulate, I pulled out a rather snowy package, that on closer inspection contained a couple of salmon steaks. Let's face it lots of other cooks you speak to, unless you are engaged in conversation with Rick Stein, tell you that they don't cook enough fish. We live on an island for crying out loud and, the vagaries of international fishing laws aside, we should have plenty of it. Salmon is a really easy fish to cook. It is readily available, and if you get it wrong it hasn't cost you the entire week's food budget, like turbot would.
The historical importance of salmon to humans goes back thousands of years (25,000 to be precise) to a cave painting in the Dordogne region in France, where the world's oldest illustrations of a fish is actually a picture of a salmon. In the UK we tend to associate salmon, with Scotland. The Atlantic salmon can only breed in the purest of waters and there are estimated to be salmon populations in over 350 of Scotland's river systems. Back in Victorian times the Scots had worked out how to cultivate salmon eggs, for the purpose of restocking their rivers. However, it wasn't until 1969 that the commercial farming of Atlantic salmon started in Scotland. Today, Scotland produces approximately 180,000 tonnes of commercially farmed Atlantic salmon per year, netting–no pun intended, honest–in excess of £500 million through sales worldwide. Recently, however, the industry has experienced a significant decline due to the impact of sea lice infestation in many of the farms. Notwithstanding this, Scottish salmon has in recent years been voted the best farmed salmon in the world. Without wishing to get embroiled in controversy of farmed versus wild, the majority of salmon on sale in the UK today is of the farmed variety. Even if it is marketed as wild salmon it might not be, with some well known supermarket chains in recent years having been found guilty of selling farmed salmon, mislabelled as the wild variety. Whatever your preference, this oily 'king of fish' is a fantastic source of protein, as well as vitamins B12 and D, and omega 3 fatty acids, all of which are supposed to keep us healthy.
Fish on a Friday; nothing unusual about that, just cast your mind back to religious education lessons at school. But, what to go with it? Don't forget Friday is also veg box day in The Nosey Chef South household. So, I have fish, potatoes and a selection of other veg, including a bag of something that I initially thought was watercress. Fantastic. Nothing like the acidity and pepperiness of a smooth watercress puree to cut through the fattines of a fish like salmon, until I realised my fundamental culinary error – this was a bag of lamb's lettuce. Not sure what it is like puréed. If the truth be known, having been bombarded with various cooked lettuce accompaniments on Masterchef over the past few weeks, I'm not sure I'm ready for any more. Don't get me wrong I'm as partial as the next person to the occasional braised baby gem, but not with everything. The Nosey Chef  believes in a number of basic principles, one of them being good food, cooked well using quality produce that speaks for itself. This was what the late Antonio Carluccio described as MOF MOF – maximum of flavour, minimum of fuss. Sometimes, you don't have to do anything apart from serve something as nature intended. So this is what I did; naked lamb's lettuce.
Pomme purée is one of those things that sounds complicated. In fact it can be as complicated as you want to make it, and it can contain what you want in terms of butter, cream etc. What it does require is something to loosen the glutinous product, with the texture of wallpaper paste, that results from simply blending potatoes. I used a small amount of milk, that had been brought gently to the boil, with a couple of my favourite herbs, that also happen to go particularly well with fish; bay leaf and thyme. I added just a very small amount of butter, but you can add as little or as much as you want, as well as cream, according to taste. Some recipes call for as much butter as there are potatoes, but that is between your and your waistline.
Whilst we are on the subject of butter, lemon butter is a classic accompaniment to fish. It really is what-it-says-on-the-tin butter and lemon with just a splash of Worcestershire sauce for piquancy, and it compliments most kinds of fish beautifully.
So there we have it, a quick to prepare, well balanced and flavoursome dish. Perfect for a Friday night, or any other night of the week for that matter. Once you have decided on which fish to use–trout would do equally well–there  are no fancy or exotic ingredients required. Perfect with a glass or two (it is the start of the weekend after all) of crisp, chilled white wine.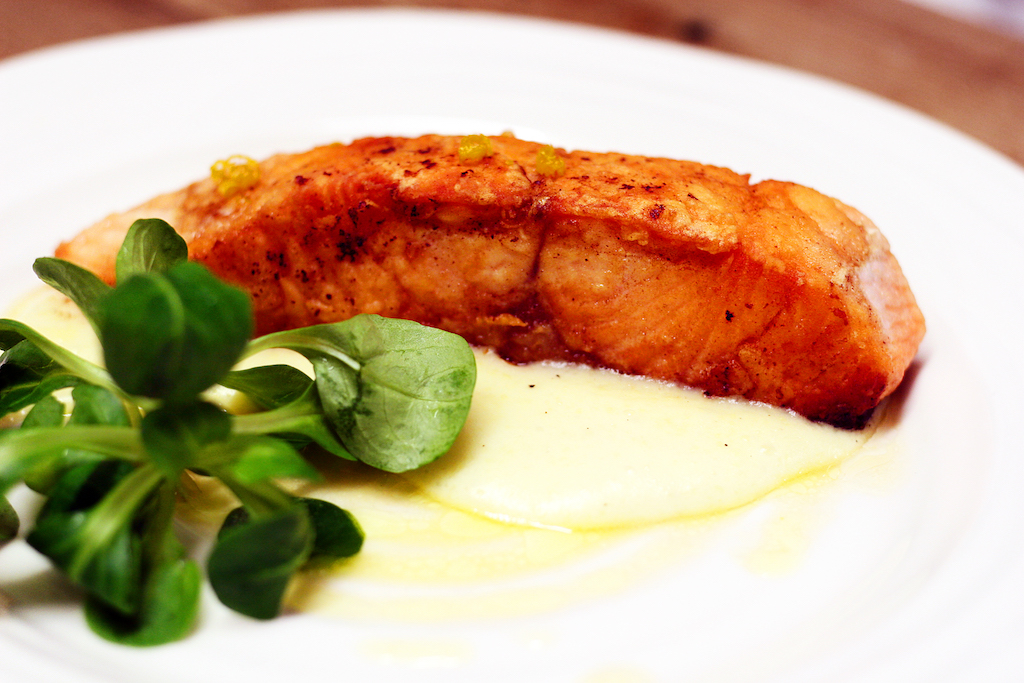 Print Recipe
Pan fried salmon with pomme purée, lamb's lettuce and lemon butter
Ingredients
4 floury potatoes e.g. Maris Piper or King Edward

100ml milk

1 bay leaf

1 sprig of thyme

20g butter

1 tbsp lemon juice

1 tsp Worcestershire sauce

2 tbsp neutral oil

2 salmon steaks

2 tbsp flour

1 handful of lamb's lettuce
Instructions
1
Peel the potatoes and cut into small cubes. Place the potato cubes in a large pan of cold, salted water. Bring to the boil and cook for about 15 minute or until tender.
2
Meantime place the milk and the herbs into a small pan and bring gently to the boil. Turn off the heat and leave to infuse while the potatoes are cooking.
3
Once the potatoes are cooked, drain and place into the blender. Add the milk infusion, and 10g of butter, adjusting according to consistency. Blend until completely smooth. Season and keep warm.
4
Melt another 10 g of butter butter in a small pan. Add the lemon juice and Worcestershire sauce . Whisk lightly and season to taste. Set aside.
5
In a frying pan heat the oil. Dust the salmon lightly with flour and cook in the oil until golden.
6
To serve, place a large spoonful of pomme purée on each plate. Place a piece of salmon on top of the pomme purée. Drizzle over a generous quantity of lemon butter. Finish with a few small bunches of lamb's lettuce and serve.