There are certain flavours and smells that conjure up images of a location, a fond memory or a particular season. The ingredients of this week's cocktail are no exception. The rich nutty tones of almonds, the warmth of cognac and the zestiness of oranges, combined with just a hint of fresh cream – for me, that is winter, log fires and, dare I say with still five weeks to go, Christmas.
I was flicking lazily through my Difford's Guide to Cocktails, when this beauty caught my eye. As far as cocktails go, this one is a bit of a young whipper snapper, having been invented as recently as 2005 by Xavier Laigle at Bar Le Forum in Paris. This establishment has been pushing out cocktails to discerning Parisian punters since, or should I say 'depuis,' 1930. Punters have included a number of distinguished and notable clients from the world of film, music and literature, such is the popularity of Le Forum. In many ways, the Orange Brûlée shares some of the characteristics of these media – it has the depth of a good novel, the presence of a velvet–clad screen star walking the red carpet, and the ability to lift the spirits in the way that only one's favourite piece of music can.
This drink is already a blinder but The Nosey Chef has added its own seasonal and festive twist in the form of something that everyone has knocking around at Christmas time – a Terry's Chocolate Orange. By grating this over the top we really have created Christmas in a glass. However, don't be tempted to use any other of the contents of your stocking on Christmas Day, as satsumas, chocolate coins, monkey nuts and Matchbox cars just aren't quite the same.
Le Forum can be found at 29 Rue du Louvre, 75002 Paris, France.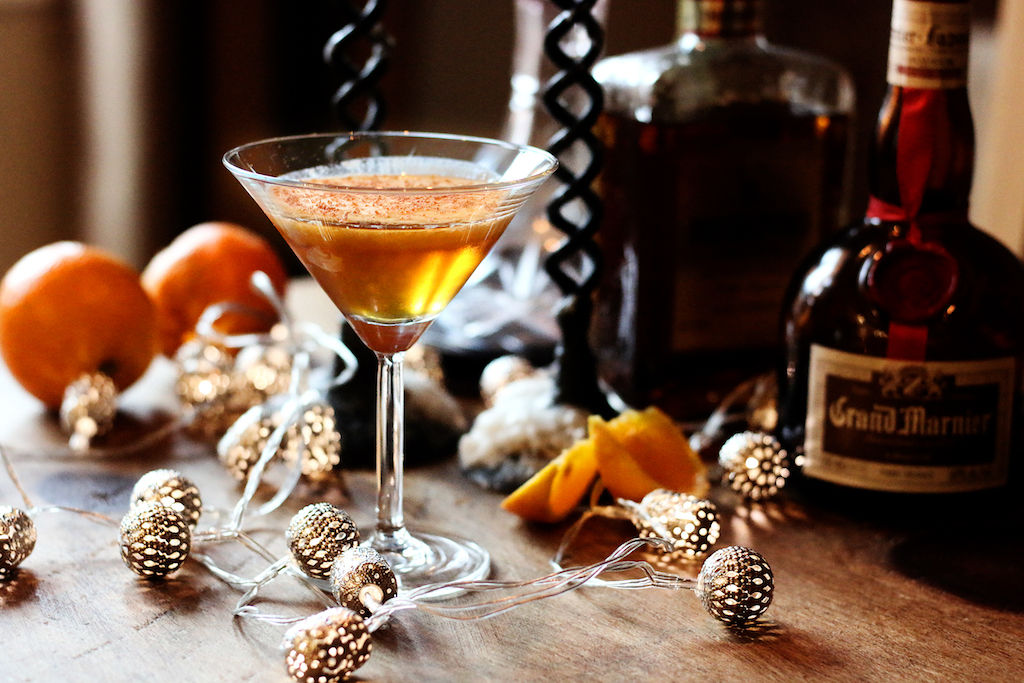 Print Recipe
Ingredients
30ml amaretto

30ml Grand Marnier

15ml brandy

15ml single cream

Some chocolate
Instructions
1
Shake the first three ingredients in a shaker with ice. Strain into a cocktail glass
2
Float the single creal on top over the back of a spoon
3
Grate over with chocolate.
Notes
The Nosey Chef team would like to add that if you use a segment of Terry's Chocolate Orange for the chocolate, then you are in next-level territory because it adds additional orange aromas.