The history of ice cream and the story of Florentine kid Catherine di Medici has been covered before.
We have been making ice cream for a while now. Both Nosey locations have the same Buffalo 2-litre refrigerated ice cream maker, and this massively simplifies and shortens ice cream production. The price has dropped a lot lately, and £170 is pretty reasonable for such a capable machine. This recipe is written for that device.
For chocolate ice cream, the bitterness of the flavouring means that the sugar quantity needs to be doubled from 90g to 180g.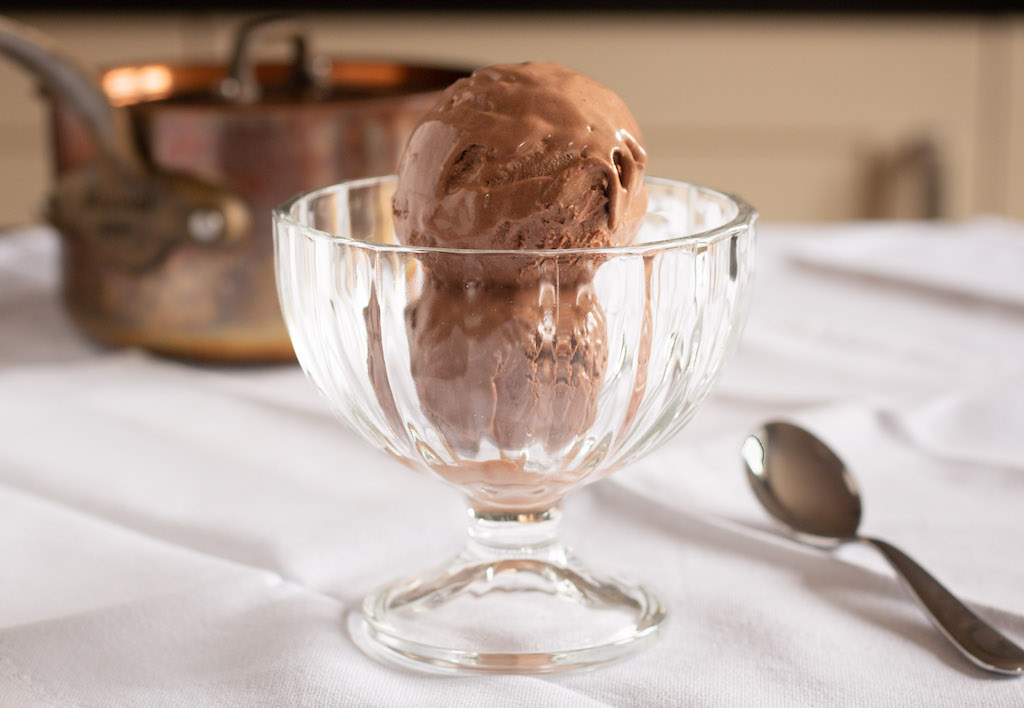 Print Recipe
Ingredients
300ml full fat milk

300ml double cream

30g liquid glucose (option if storing the ice cream for more than a week)

5 egg yolks

180 g caster sugar (i.e. double the normal amount).

100g 75% cocoa cook's chocolate
Instructions
1
Put the milk and cream in a pan, bring to the boil and remove from the heat. Set aside.
2
Beat the egg yolks and sugar until fluffy and pale (use a stand mixer).
3
Add the dairy to the sugared eggs and mix in the stand mixer. Transfer back to a clean saucepan.
4
Chop up the chocolate and heat in a bowl set over a pan of simmering water (bain marie). Stir until melted. Using a silicone spatula, scrape all the chocolate into the custard mixture.
5
Heat slowly to 82˚C (use a thermometer) to thicken to coating consistency – do not boil or it will split). Strain to into a large jug and tip straight into the ice cream maker bowl (see notes). Churn for 1 hour. Freeze.
Notes
If you are not using an independently cooled ice cream maker, then you must let the mixture cool before putting it in the machine.