Alongside the chicken pakora, the onion bhaji is another popular Indian staple that makes its way into the canon of the culinary collision course that is British Indian Cuisine (BIC). You will not find an Indian restaurant in Britain that does not offer an onion bhaji as a starter alongside some kind of faintly. pointless micro-salad. 'Bhaji' is spelt in as may ways as there are menu writers, and is taken to mean a fritter of a battered, deep-fried foodstuff.
Onion bhajis (and other fritters) originate from the Karnataka region of southwest India where they originated as a snack, often eaten with a cup pf tea. In the UK, they are a popular starter of hors d'oeuvre either as part of a longer Indian meal.
As with many British Indian restaurant recipes, you do not need to go further than Latif's Inspired for an authentic recipe and method. You can watch Latif make bhajis here: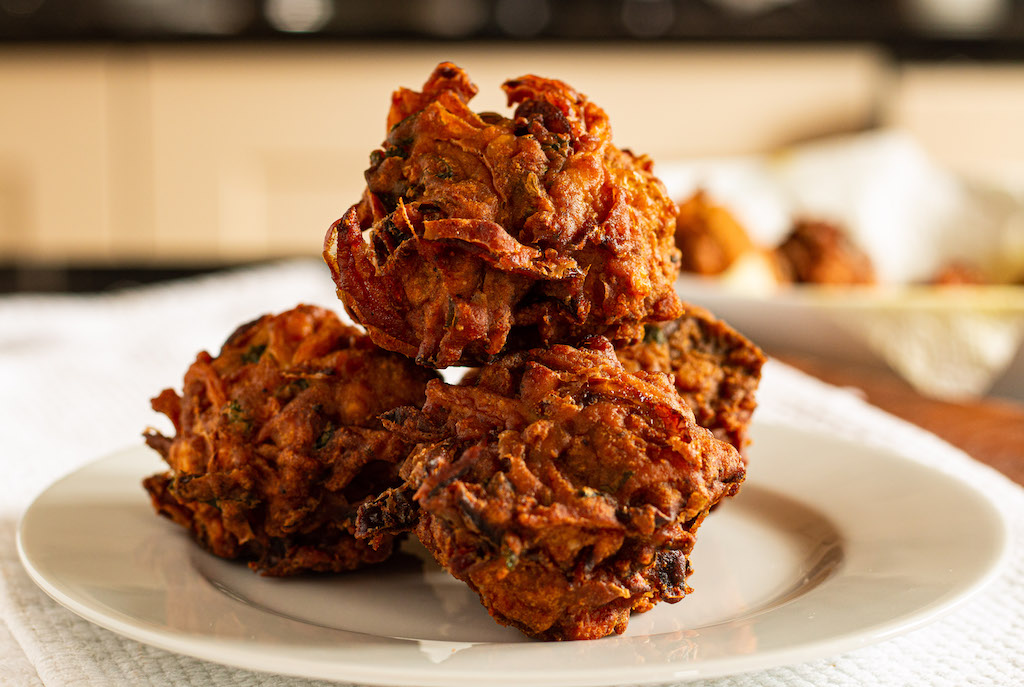 Print Recipe
Ingredients
4 onions, thinly chopped

1 potato, peeled and thinly chipped

Half a green pepper, thinly sliced

1 green chilli, finely chopped

2 tbsp split split lentils, soaked for 20 mins and drained

1 tbsp ginger garlic paste

2 tsp fennel seeds

Handful fresh coriander, chopped

4 tsp of curry powder

1 tsp salt

3 eggs

2 cups gram flour (approx.)

Vegetable oil for frying
Instructions
1
Combine all the ingredients except the salt, eggs and flour. Leave for a few minutes to infuse.
2
Add the salt and eggs and combine until the vegetables are nice and coated. Add more egg if needed. Add the flour and combine until sticky. Adjust the flour to ensure the mixture will ball.
4
Wet your hands and make a golf ball-sized sphere without compressing it (compressions will stop the centre of the bhaji from cooking). Drop into the oil and cook for about 4 mins until well browned (test one to see if the onion is cooked through). Drain and repeat on batches until the mixture is used up.