In the UK, one does not simply 'go to Nando's.' The accepted common parlance for going to Nando's is to go for a 'cheeky Nando's'. The origin of of this slang is unknown, but it he's definitely stuck.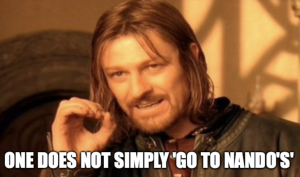 Nando's was founded in Johannesbug in 1987 and essentially specialises in one dish – peri-peri (piri-piri) chicken. Ordering at Nando's is confusing as it involves coaching from an FSA on how to navigate a multiple-choice menu that can generate 120 different versions of the same dish, there is a hybrid ordering system, and you get a wooden chicken on a stick so the staff know who you are.
While Nando's has popularised peri-peri chicken in the 30 countries it operates in, it did not invent the dish. Peri-peri chicken has a complicated story that starts in Portugal. Fifteenth Century Portuguese explorers landed in the south of Africa and discovered eye-wateringly hot birds-eye chillies growing all over the place. They combined these with European spices and vinegar to make a marinade. Mozambican cooks also latched onto the same idea, and took the preparation to Johannesburg. It was there that the Radium Beer Hall put peri-peri chicken on the menu. The Radium Beer Hall can also be celebrated for being the first establishment to illegally serve blacks along side whites in defiance of South African apartheid.
Peri-peri chicken is traditionally cooked over charcoal. The Radium Beer Hall recipe has been kept a secret. We have discovered a lovely oven-cooked version from Eb Gargano. This recipe can be adapted to safe cooking over coals by cooking the chicken for 30 mins in the oven and then finishing over fire.
Radium Beer Hall can be found at District of Freedom, #8573311##, 282 Louis Botha Ave, Orange Grove, Johannesburg, 2192, South Africa. Call +27 11 728 3866 for information.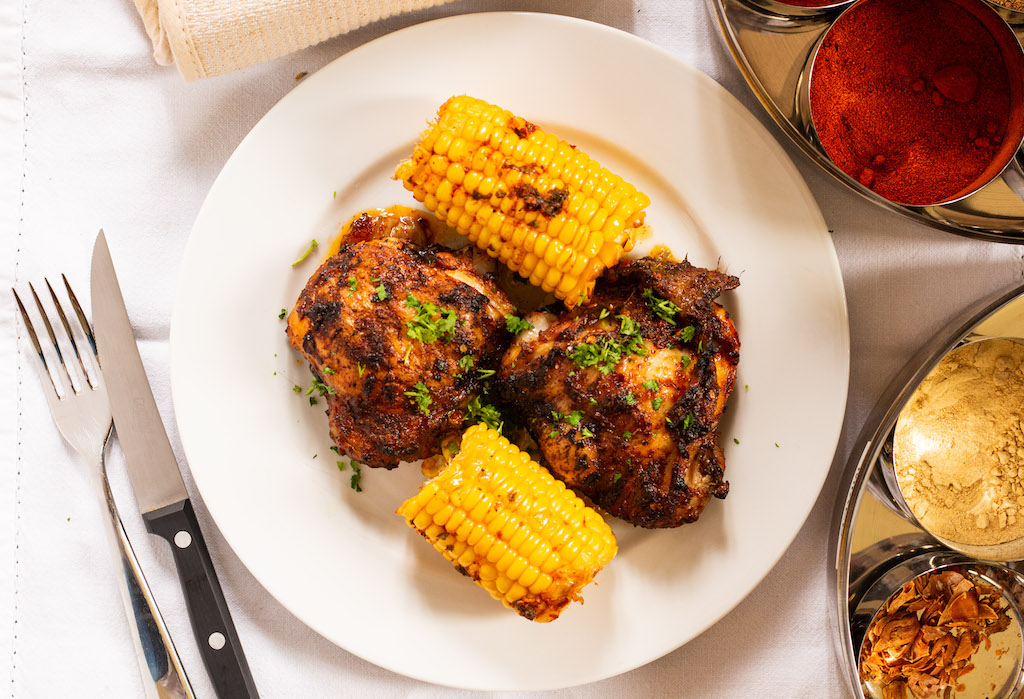 Print Recipe
Ingredients
For the marinade:

2 tbsp olive oil

2 tsp chilli flakes

4 cloves garlic,

Juice of 2 limes

2 tsp smoked paprika

2 tsp dried oregano (pr 1 tbsp fresh oregano, chopped)

Sea salt and freshly ground black pepper

For the main ingredients:

8 chicken legs

2 corn on the cob, halved
Instructions
1
Preheat an oven to 220˚C.
2
Mix together all of the marinade ingredients in a large bowl. Score the skin of the chicken all over and place in the marinade to cover. Marinade at least 1 hour.
3
Place the chicken legs on a baking tray and roast in the oven for 30 mins. Add the corn and roast another 10 mins with turning.