Chicken nuggets were invented in the 1950s as a means of enabling mechanically recovered meat to stay in one piece without covering it with a skin and thereby making a sausage. The nugget was invented by food chemist Professor Robert C Baker of Cornell University, New York, who worked out the correct formula of coatings to enable a nugget to survive chilling, freezing, ovens and fryers. Tasty ingredients included tertiary butylhydroquinone, and the ever-versatile dimethylpolysiloxane, which is found in silicone breast implants.*
Along with the chicken nugget, Baker was also responsible for inventing chicken hot dogs, and was often lauded as the 'George Washington Carver of chicken.' In turn, Carver was responsible for improving crop rotation in traditional cotton-producing areas, and was the champion of the peanut.
Obviously, the two most popular chicken nuggets in the world are the famous Chicken McNugget and the less-widely distributed Chick-fil-A Nuggets. I have tried McDonalds McNuggets, and I just think they are dreadful. The internal texture is just nothing like fresh chicken. The recipe we have here uses whole chunks of chicken breast, and then coats them in mashed-up Doritos for the dirty bit. Doritos contain quite a lot of MSG, which explains why they taste so great as a seasoning.
*Both or these ingredients are banned in the UK, but are still present in USA nuggets.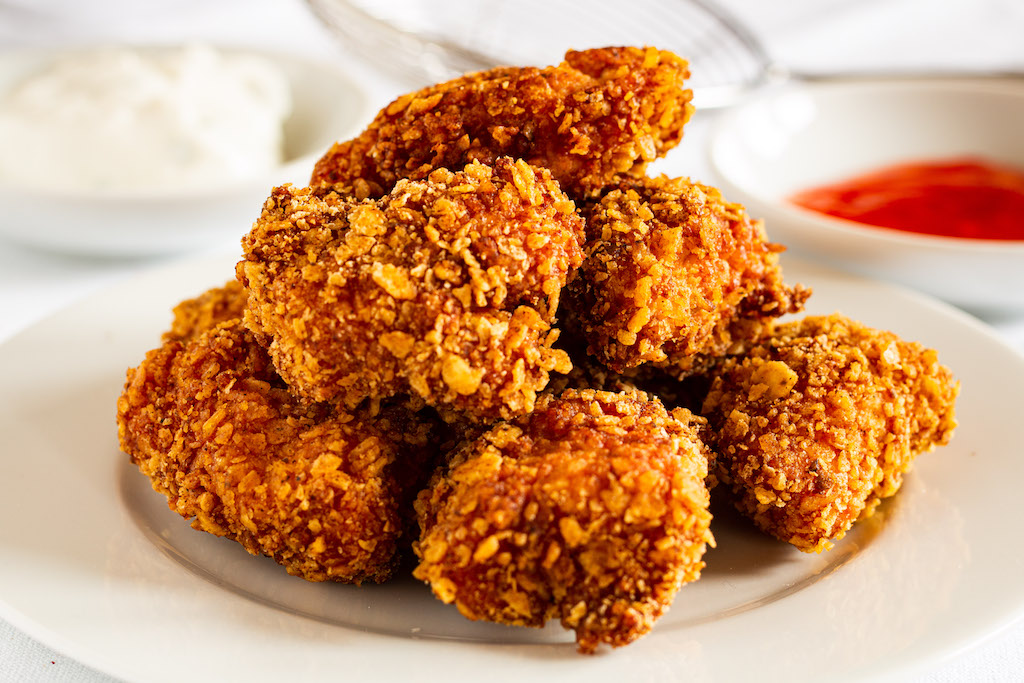 Print Recipe
Ingredients
600g chicken, cubed

4–8 tbsp plain flour

Pinch garlic salt

1 tsp smoked paprika

2 eggs beaten with a pinch of salt

2 bags of Doritos, processed into crumbs

Sea salt and freshly ground black pepper
Instructions
1
Heat a deep-fat fryer to 180˚C.
2
Combine the flour, paprika and garlic salt, and season literally with salt and pepper.
3
In batches, coat the chicken pieces sequentially in seasoned flour, egg and Dorito crumbs. Fry in batches for 5 mins. Drain.
4
Serve with a selection of dips.