Hake is the national fish of Spain. I first ate hake in Majorca, and published recipes for hake have a Spanish feel. As a fish for eating, hake is cod-like but arguably better. The Spanish hakelust has led to over fishing, and the Marine Conservation Society is adamant that the Mediterranean stocks are at risk. The Spanish are going farther field for their hake, and this is causing supply issues elsewhere. Argentina is so low on hake that the price has risen to levels that are not economically justifiable.
Italy has good access to Mediterranean hake, and the consumption there is a little more moderate. The recipe given here is adapted from one found in the Italian classic The Silver Spoon. It is a great dish for a family mid-week meal, and can be served directly to the middle of the table. The original recipe does not include the parboil, which woefully undercooks the potatoes and leaves The Nosey Chef embarrassed in front of his son's friend. Don't be that guy, and do the parboil step for perfectly cooked tatties.
Hake must be eaten fresh. If it is a bit old, then the cooked fish will take on the texture of cotton wool. We get our fresh hake from RG Morris of Buxton. Call Russ on +44 7817 414454 to get yourself on the delivery round.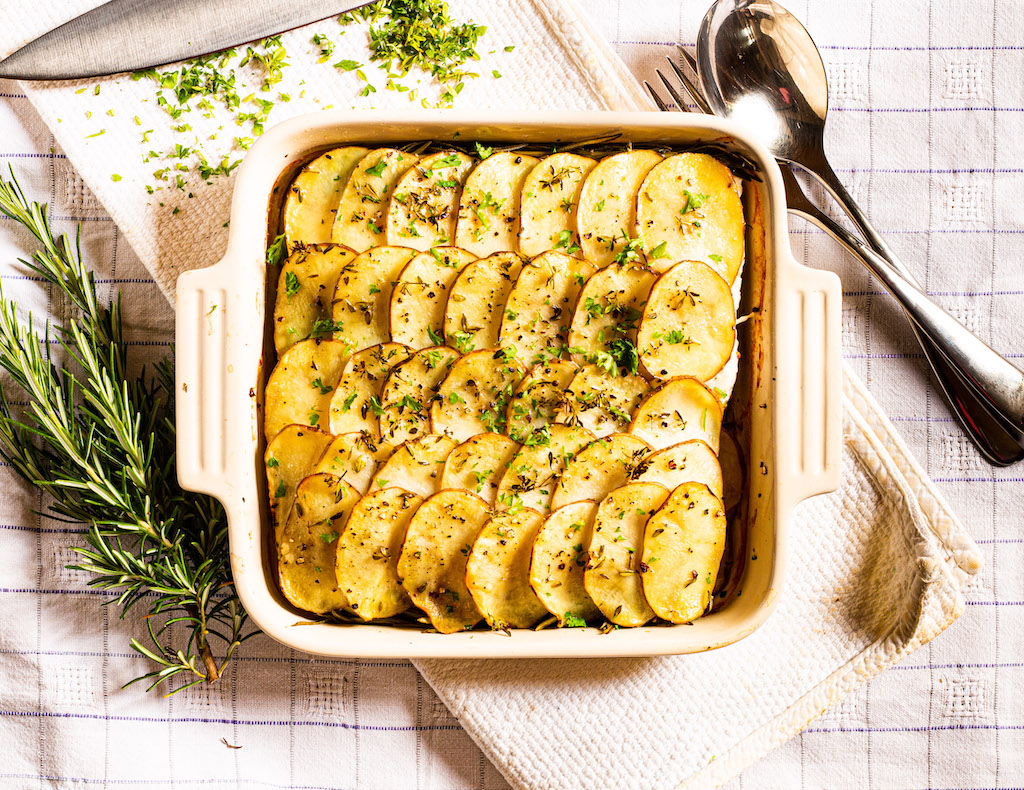 Print Recipe
Ingredients
2 large hake fillets (800g total)

4 potatoes, unpeeled and thinly sliced to 1–2mm with a mandoline

3 sprigs of thyme, roughly chopped

3 sprigs of rosemary, whole

Olive oil

Salt and freshly ground white pepper
Instructions
2
Parboil the potatoes until only just done (5 mins).
3
Brush an oven-proof dish with oil, and arrange half the potatoes in the bottom. Add the fish (skin-side down) and herbs. Season.
4
Top with the rest of the potatoes, drizzle over more oil, and bake in the oven for 30 mins.