When Westerners think of Japanese food, it is fair to say that if sushi is the first thing that comes to mind, then toriniku teriyaki (toriniku, chicken 鳥肉; tere, shiny タレ; yaki, grill 焼き) is the second.
First cooked up some time in the 17th Century, teriyaki combines soy with mirin, rice wine and sugar to create a rich marinade that has been used and adapted for hundreds of years. Typically, it was America that altered it beyond reasonable recognition. Japanese immigrants settling in Hawaii in the 1960s mixed local ingredients like pineapple juice and corn starch with soy sauce to create an irresistible, dark, sticky marinade that swept across America nearly as quickly as HIV.
If teriyaki has a home from home, then that would be Seattle. In 1976 Toshihiro Kasahara opened his first Seattle restaurant on Roy Street selling his own teriyaki brew. Toshi franchised 17 more restaurants, and many others followed. At its peak, Seattle had something getting on for 300 restaurants with the name 'teriyaki in them.' By 2015, the tide was ebbing, teriyaki shops are slowly closing (there are only two branches of Toshi's left) and sushi is on the ascendant. It does seem that while tastes change, you can never underestimate the Japanese.
This recipe is lightly adapted from that of Charlotte's Lively Kitchen, which was one of the simplest, most authentic (i.e. not Hawaiian) versions we could find that did not use annoying USA cup measures.
Toshi's Teriyaki can be found opposite Staples in a strip mall at 16212 Bothwell Everett Highway, Mill Creek, WA 98012, USA.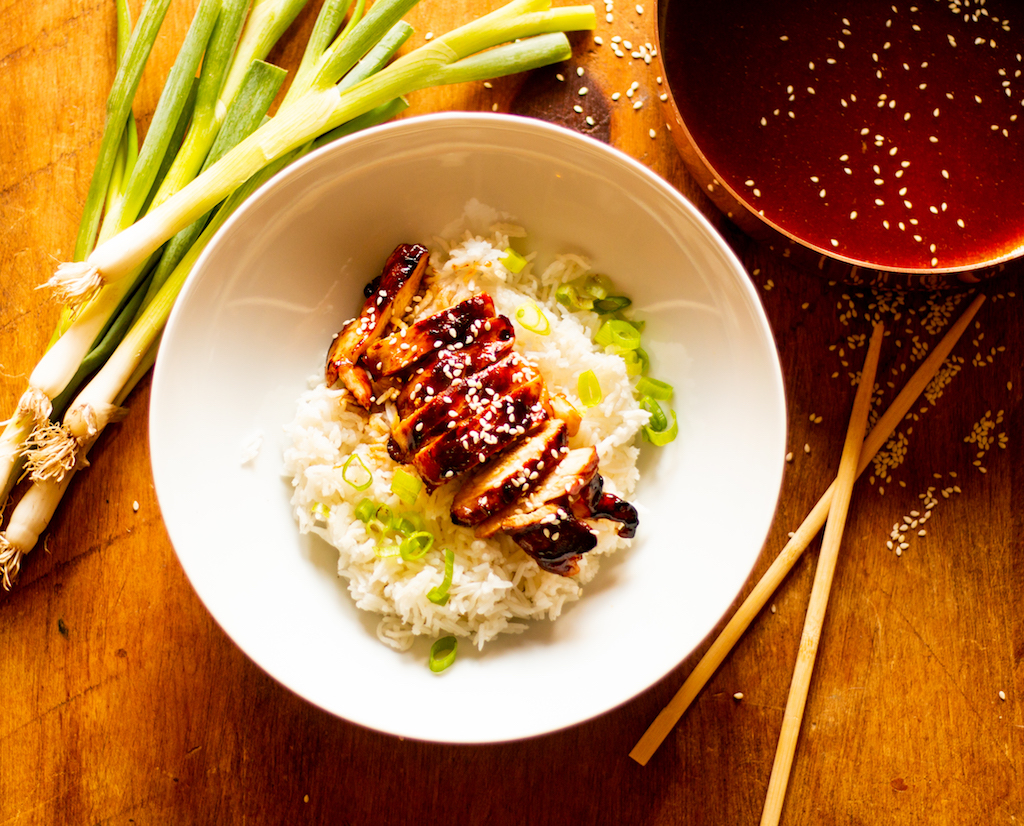 Print Recipe
Ingredients
6 free-range chicken thigh fillets

4 tbsp soy sauce

4 tbsp mirin

2 tbsp rice wine vinegar

1 tbsp toasted sesame oil

3 tbsp demerara sugar

2cm piece of fresh ginger, grated
Instructions
1
Put all the ingredients except the chicken in a pan. Heat to dissolve the sugar, and then reduce to about half volume, stirring to avoid burning the sugar.
2
Prick the chicken a little with a fork and marinade it in the sauce for 15 mins to 1 hour. Obviously the longer the better. If longer, then you probably want to be chilling that to prevent bacterial expansion in the chicken. Turn once during the marinade to ensure an even coating.
3
Heat a frying pan with a little more sesame oil, and fry the chicken on high for about 10 minutes. Turn, reduce the heat and cook for another 10–15 mins. Take care not to burn the chicken, so you may need to turn a few times towards the end. Poke the chicken with a finger to ensure it is just firmed up. If you have a temperature probe, you are looking for 75˚C in the fattest parts.
4
Remove the chicken to rest for a moment before carving into bite-sized pieces with a sharp knife.
5
Serve with sticky, boiled rice, spring onions and a sesame seed garnish.